GREETINGS, TERRANS!
CHECK OUT
WHAT'S NEW!

Just Released!
ALL THE BAD STUFF COMES IN THREES

ZETI CHILD, LOST UPON A ONE STAR WORLD

Welcome to Earth Star on the Web. Here you will find a wealth of articles on diverse topics including UFOs and extraterrestrials, the paranormal, healing, earth changes, spirituality, the latest sightings, channeling, astrology, book reviews, art, poetry, plus conference news and reports, and a whole lot more.
WHERE WOULD YOU
LIKE TO GO?


The Star Beacon: Earth Star's monthly paranormal newsletter. Subscription info can be found by clicking here.




BOOKS, T-SHIRTS, TAPES -- NEW!
Earth Star's Store features metaphysical, self-help, children's literature and adult fiction, plus original T-shirts and conference lecture tapes. Visit now by clicking here.





PSYCHIC READERS
The NEW Psychic Readers Directory lists Intuitive Counselors from all over. Check out who's doing what, and how to contact them, by clicking here.




THE BEST OF
THE BEACON
Selected articles which have appeared over the years in The Star Beacon
Click here.




CONFERENCES
Check out upcoming conferences by clicking here.





FRIENDSHIP CLUB
Earth Star's Galaxy Wide Friendship Club is the place to find like-minded pen pals. Visit now by clicking here.





ART GALLERY
Earth Star's NEW Art Gallery features paintings by Ryan Ulrich plus an assortment of art (including extraterrestrial). Visit now by clicking here.





ARIZONA PAGE
Visit exotic and beautiful Why, Arizona. You can go there by clicking here.




MULES
Animal lovers will get a "kick" out of our Mule Page, featuring the Stucker Mesa Mules. Click here.


PUBLISHING
Earth Star Publications offers book packaging services for self-publishing authors, as well as a lot more. Please see our List of Services.
ADVERTISE HERE!
Advertise your wares or services here by placing an ad in The Star Beacon. To view CLASSIFIED ADS click here. For more information on advertising, e-mail us at UFOeditor@yahoo.com. For information regarding the Psychic Readers and Healers Directory, please e-mail UFOeditor@yahoo.com.
Life's challenges may have been pre-arranged by us

from the September 2007 Star Beacon

Cosmic Book Review
by Ann Ulrich Miller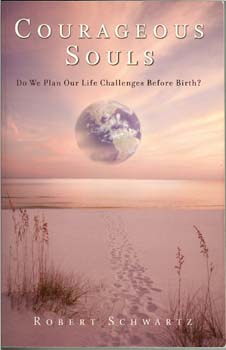 Courageous Souls: Do We Plan Our Life challenges Before Birth?
by Robert Schwartz
ISBN 0-9776794-5-4, 327 pages, paperback, $14.95.
Whispering Winds Press, Second edition, 2007
www.CourageousSouls.com

Quite often it's hard to understand why bad things happen to good people. Have you ever tried to justify a bad accident that leaves someone paralyzed for life? Or have you been guilty of judging a loved one who has embraced a life of drug or alcohol addiction? What about when you lose someone close to you — particularly a child — and it just seems so darn unfair?
These questions are the premise of Robert Schwartz's book, Courageous Souls, in which he interviews a number of individuals who share their stories and allow their souls to be read by various psychics and mediums, who are able to extract information from the "other side" as to why they chose the life experiences they did.
I remember an instance in my teen-age years when a neighbor woman's husband died, and then a year or two later her daughter suffered with the fatal disease leukemia. A Catholic friend disclosed to me, "She's being punished." I didn't buy it then, and I don't buy it now.
In Courageous Souls, Schwartz stresses that we are mistaken when we consider ourselves victims of the universe and blame others for the "bad" things that happen to us. He suggests that many of the events in our lives were pre-planned, along with the cooperation of other souls who agree to help us, before our birth. In collaboration with four chosen psychics who showed extraordinary abilities in mediumship and channeling, he interviewed people who replied to messages he posted on the Internet who were willing to talk about their challenges in a metaphysical context.
After each interview of a courageous soul, Schwartz follows with one or more sessions with the mediums, who explain what went on at the pre-birth planning session, through spirit guides or the person's higher self.
The book makes interesting reading, starting with two cases of physical illness, including a homosexual man with AIDs. It also includes the story of a parent with handicapped children, persons who suffer with lifetime deafness and blindness, and a woman whose son died from an overdose of drugs. A man talks about his alcoholism. A woman who suffered the loss of a child, and then the man she was engaged to, has insights that are enlightening and hopeful.
Not everything is predestined, however. In one case in the book, things went wrong for the soul in the beginning and he had to either "bow out" or change the course ahead of him. I found that to be most intriguing, and was happy to see that free will still overrules every situation.
To me, the most profound examples in the book were the two people at the end of the book who had pre-arranged major accidents that completely changed the courses of their lives.
Why would anyone want to experience such devastating events in their life? From a metaphysical standpoint, there is a very good answer. But it takes a lot of soul searching and cutting through our stubborn mindsets to grasp the understanding and to come to a point where we can accept this idea.
I found I had trouble absorbing some of the ideas at first. By the end of the book, I was convinced, however, that these individuals were indeed courageous souls, and it has given me a whole new perspective on people around me, especially those in my life who have chosen certain lifestyles that society frowns upon, or who are alcoholics. I realize I was wrong to look at such people and label them, in my mind, as the "dregs of society." They may very well be more highly evolved than some so-called spiritual leaders!
Forgiveness, compassion and gratitude are the key elements here. You'll have a better understanding of soul growth by reading this courageous book.

Ann Ulrich Miller is editor and publisher of The Star Beacon.
Check out WHAT'S NEW

Subscribe to The Star Beacon


---
Copyright © 2007 Earth Star Publications
For permission to reprint articles or use graphics, e-mail UFOeditor@yahoo.com.