GREETINGS, TERRANS!
CHECK OUT
WHAT'S NEW!

NEW!
READ TODAY'S BLOG


Order your copy of
THE LIGHT BEING

Welcome to Earth Star on the Web. Here you will find a wealth of articles on diverse topics including UFOs and extraterrestrials, the paranormal, healing, earth changes, spirituality, the latest sightings, channeling, astrology, book reviews, art, poetry, plus conference news and reports, and a whole lot more.
WHERE WOULD YOU
LIKE TO GO?


The Star Beacon: Earth Star's monthly paranormal newsletter. Subscription info can be found by clicking here.




BOOKS, T-SHIRTS, TAPES -- NEW!
Earth Star's Store features metaphysical, self-help, children's literature and adult fiction, plus original T-shirts and conference lecture tapes. Visit now by clicking here.





PSYCHIC READERS
The NEW Psychic Readers Directory lists Intuitive Counselors from all over. Check out who's doing what, and how to contact them, by clicking here.




THE BEST OF
THE BEACON
Selected articles which have appeared over the years in The Star Beacon
Click here.




CONFERENCES
Check out conferences by clicking here.





FRIENDSHIP CLUB
Earth Star's Galaxy Wide Friendship Club is the place to find like-minded pen pals. Visit now by clicking here.





ART GALLERY
Earth Star's NEW Art Gallery features paintings by Ryan Ulrich plus an assortment of art (including extraterrestrial). Visit now by clicking here.





ARIZONA PAGE
Visit exotic and beautiful Why, Arizona. You can go there by clicking here.




MULES
Animal lovers will get a "kick" out of our Mule Page, featuring the Stucker Mesa Mules. Click here.


PUBLISHING
Earth Star Publications offers book packaging services for self-publishing authors, as well as a lot more. Please see our List of Services.
ADVERTISE HERE!
Advertise your wares or services here by placing an ad in The Star Beacon. To view CLASSIFIED ADS click here. For more information on advertising, e-mail us at UFOeditor@yahoo.com. For information regarding the Psychic Readers and Healers Directory, please e-mail starbeacon@gmail.com.
Cosmic Films and Music Reviews

COSMIC REVIEWS
from the October 2008 Star Beacon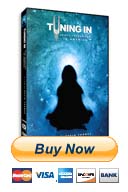 Tuning In: Spirit Channelers in America, Mouska Media
80 minutes, DVD
Produced by Matthiew Klinck and David Thomas
www.tuninginmovie.com
Review by Ann Ulrich Miller

Tuning In is a full-length documary featuring six of today's prominent channels and their spirit guides, which include Darryl Anka (Bashar), John Cali (Chief Joseph), Lee Carroll (Kryon), Geoffrey Hoppe (Tobias), Wendy Kennedy (The Pleiadian Collective), and Shawn Randall (Torah). These wise spirits and their channels are remarkable for their compassion and love for humanity. This is a truly unique movie, one like no other before it.
The movie is divided into segments, each covering a different one of the most pressing human concerns in a seemingly scary world teetering on the brink of global catastrophe. You'll find answers here to those two eternal questions: Who am I? and Why am I here?
I found the film captivating and well produced. I felt as though I were having a personal sitting with each person and their guide(s). I especially liked how we are shown segments of each channeling by topic. John Cali, who channels Chief Joseph and offers his articles each month to the Beacon, says, "It was a pleasure for Chief Joseph and me to work with David and Matt in this film. This is the first such experience we've ever had. I've watched the movie several times already, and it was a surreal experience every time. The insights and the down-to-earth, practical guidance from these loving, wise spirits was far more than I'd expected, even after 16 years of channeling Chief Joseph. I think you'll find this movie truly does have the power to change your life forever."
You can order the movie by contacting John Cali at john@greatwesternpublishing.org or you can visit the Web site at www.tuninginmovie.com.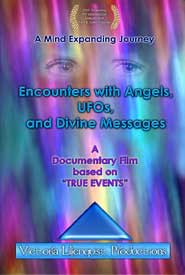 Encounters with Angels, UFOs, and Divine
Messages, Victoria Liljenquist Productions,
44 minutes, DVD

A contactee since age 5, Victoria Liljenquist has the ability to communicate telepathically with Angels and UFOs, and she can initiate contact with these "heavenly" vehicles (light ships) as evidenced in her film, Encounters with Angels, UFOs, and Divine Messages. Here is a profound documentary based on true events experienced by Victoria, and includes footage she has taken with her camera of numerous UFO sightings.
As you view the film, your third eye is activated. "We are in the next phase of the transformation for Humanity," says Victoria, "as our world moves into a New Reality, merging with us now."
In 1947, Victoria's father had an experience with an Angelic/Biblical looking Being in the desert. He rode in the car with her father, indicating many truths of the Universe and of her father's personal life. Before he stepped out of the car, he told her father he would have a child who would be contacted to initiate major events in the future around 2000 and on. With that, the Angelic Being left the car and immediately dematerialized before her father's eyes.


Sacred Tones, CD by Victoria Liljenquist and
Journey to Empowerment, Self-Healing
& Inner Peace (also by Victoria Liljenquist)
www.victoriaslight.com

The CD Sacred Tones is a remarkable healing tool as Victoria sings the Sacred Adamic Tones with her angelic perfectly pitched voice, which transcends the listener to higher states of enlightenment. When I first listened, I was in an extremely stressed-out mood, driving to Marietta in my car during a Hospice respite period. I had not been aware that you shouldn't listen to the CD while operating a vehicle, yet it helped me calm down and enter a higher vibrational state of awareness that carried me through the difficult days ahead. What also amazed me most was Victoria's voice. I couldn't believe the tones were created solely from her vocal chords. She has the gift of a powerful vibration that assists in regenerating your DNA cellular memory.
The CD Journey to Empowerment is a guided and inspired journey into the inner soul and subconscious for releasing, claiming what you desire, loving and forgiving. It is helpful for those in the grieving process, and I will attest to that whole-heartedly as it rescued me recently from a very dark place. Track two provides 37 minutes of music for beautiful, reflective meditation.
Order these products at www.victoriaslight.com.
Check out WHAT'S NEW

Subscribe to The Star Beacon


---
Copyright © 2008 Earth Star Publications
For permission to reprint articles or use graphics, e-mail lightworker@earthstarpublications.com.