GREETINGS, TERRANS!
CHECK OUT
WHAT'S NEW!

Order your copy of
THROUGHOUT ALL TIME
A Cosmic Love Story

Welcome to Earth Star on the Web. Here you will find a wealth of articles on diverse topics including UFOs and extraterrestrials, the paranormal, healing, earth changes, spirituality, the latest sightings, channeling, astrology, book reviews, art, poetry, plus conference news and reports, and a whole lot more.
WHERE WOULD YOU
LIKE TO GO?


The Star Beacon: Earth Star's monthly paranormal newsletter. Subscription info can be found by clicking here.




BOOKS, T-SHIRTS, TAPES -- NEW!
Earth Star's Store features metaphysical, self-help, children's literature and adult fiction, plus original T-shirts and conference lecture tapes. Visit now by clicking here.





PSYCHIC READERS
The NEW Psychic Readers Directory lists Intuitive Counselors from all over. Check out who's doing what, and how to contact them, by clicking here.




THE BEST OF
THE BEACON
Selected articles which have appeared over the years in The Star Beacon
Click here.




CONFERENCES
Check out conferences by clicking here.





FRIENDSHIP CLUB
Earth Star's Galaxy Wide Friendship Club is the place to find like-minded pen pals. Visit now by clicking here.





ART GALLERY
Earth Star's NEW Art Gallery features paintings by Ryan Ulrich plus an assortment of art (including extraterrestrial). Visit now by clicking here.





ARIZONA PAGE
Visit exotic and beautiful Why, Arizona. You can go there by clicking here.




MULES
Animal lovers will get a "kick" out of our Mule Page, featuring the Stucker Mesa Mules. Click here.


PUBLISHING
Earth Star Publications offers book packaging services for self-publishing authors, as well as a lot more. Please see our List of Services.
ADVERTISE HERE!
Advertise your wares or services here by placing an ad in The Star Beacon. To view CLASSIFIED ADS click here. For more information on advertising, e-mail us at UFOeditor@yahoo.com. For information regarding the Psychic Readers and Healers Directory, please email starbeacon@gmail.com.
COSMIC BOOK REVIEW
Roswell cover-up supported by evidence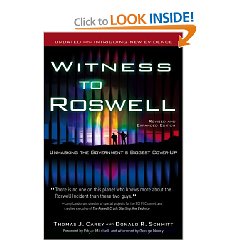 from the October 2009 Star Beacon
Witness to Roswell: Unmasking the Government's Biggest Cover-up
(Revised and Expanded Edition) by Thomas J Carey, Donald R Schmitt, George Noory and Edgar Mitchell, ISBN-13: 978-1601630667, New Page Books, Franklin Lakes, N.J. Paper, 318 pages, $16.99

Review by Marty Ulrich
Witness to Roswell claims to be the most factual book about Roswell ever published. The amount of evidence that was presented is quite overwhelming.
More amazing is the evidence of a cover-up. There is more evidence of the fact that it was covered up than there is of the Roswell crash itself.
Throughout the investigation by Carey and Schmitt, they never actually found a piece of the wreckage. They did find an enormous amount of information about the Roswell crash based on countless witnesses.
If anything, this book could have been 200 pages shorter, but they really did want to include every single important witness to the incident or its subsequent events. I found myself convinced early on in the book, and the rest of the information was redundant.
I find it funny that the truth shines brightly though lies. The Air Force tried so incredibly hard to conceal evidence that they neglected to cover up the fact that it was a cover-up! This book also reveals painfully obvious flaws in the "official story" from the US Government.
I could not help but think of Sanni Ceto while reading this book. Witness to Roswell has some new evidence not published in prior versions of this book, including some beyond-the-grave witness evidence.
It has an index, in case you do not want to read every single story. I have another Roswell book to review, but I think I'll skip it after reading this one.

Marty Ulrich resides in San Marcos, Calif., where he is a student at DeVry University and the CEO of MAU-E Enterprises.

Check out WHAT'S NEW

Subscribe to The Star Beacon




---
Copyright © 2009 Earth Star Publications
For permission to reprint articles or use graphics, e-mail lightworker@earthstarpublications.com.