GREETINGS, TERRANS!

CHECK OUT
WHAT'S NEW!

NEW!
READ TODAY'S BLOG


Order your copy of
THE LIGHT BEING

Welcome to Earth Star on the Web. Here you will find a wealth of articles on diverse topics including UFOs and extraterrestrials, the paranormal, healing, earth changes, spirituality, the latest sightings, channeling, astrology, book reviews, art, poetry, plus conference news and reports, and a whole lot more.
WHERE WOULD YOU
LIKE TO GO?


The Star Beacon: Earth Star's monthly paranormal newsletter. Subscription info can be found by clicking here.




BOOKS, T-SHIRTS, TAPES -- NEW!
Earth Star's Store features metaphysical, self-help, children's literature and adult fiction, plus original T-shirts and conference lecture tapes. Visit now by clicking here.





PSYCHIC READERS
The NEW Psychic Readers Directory lists Intuitive Counselors from all over. Check out who's doing what, and how to contact them, by clicking here.




THE BEST OF
THE BEACON
Selected articles which have appeared over the years in The Star Beacon
Click here.




CONFERENCES
Check out conferences by clicking here.





FRIENDSHIP CLUB
Earth Star's Galaxy Wide Friendship Club is the place to find like-minded pen pals. Visit now by clicking here.





ART GALLERY
Earth Star's NEW Art Gallery features paintings by Ryan Ulrich plus an assortment of art (including extraterrestrial). Visit now by clicking here.





ARIZONA PAGE
Visit exotic and beautiful Why, Arizona. You can go there by clicking here.




MULES
Animal lovers will get a "kick" out of our Mule Page, featuring the Stucker Mesa Mules. Click here.


PUBLISHING
Earth Star Publications offers book packaging services for self-publishing authors, as well as a lot more. Please see our List of Services.
ADVERTISE HERE!
Advertise your wares or services here by placing an ad in The Star Beacon. To view CLASSIFIED ADS click here. For more information on advertising, e-mail us at UFOeditor@yahoo.com. For information regarding the Psychic Readers and Healers Directory, please e-mail starbeacon@gmail.com.
Cosmic Book Reviews

COSMIC BOOK REVIEWS
from the December 2008 Star Beacon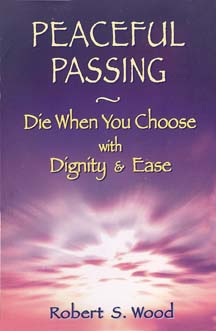 Peaceful Passing: Die When You Choose With Dignity & Ease,
by Robert S. Wood
ISBN 1-886966-17-6, In Print Publishing, Sedona, Ariz., 2000, paperback, 240 pages with illustrations. $14.95.
Review by Ann Ulrich Miller

This precious little book came into my hands, thanks to Star Beacon subscriber R.P. Jones, just before my late husband made his transition last September. It had obviously been well read as all the pages had fallen out of it. Still, I managed to read the entire book to Ethan in the last weeks of his life.
It is more than merely a guidebook showing you how to let go and die with dignity. It starts with an overview of what death is and how we can change our attitudes about it. There are examples of individuals who, given the option and the instructions, were able to choose an easier, dignified departure simply by letting go... passing on during sleep as opposed to having to "kill" their bodies in order to die.
The author discusses the difference between euthanasia (mercy killing) and peaceful passing, and makes the argument that "every death" is a suicide. He incorporates many topics, including Dr. Kevorkian, near death experiences, the Right to Die movement, secrecy and denial by state, church, science and parents, and the new option that he offers.
The premise of the book centers around the Universal View of Creation, the Law of Attraction and the belief that we create everything that happens to us, including our death. He presents advice, procedures and techniques, with the aid of channeled entities, for peacefully parting from our bodies in order to re-emerge into the non-physical realm.
Woods' style is gentle and informative, inviting skeptics to put aside their objections and withhold judgment until they've read what he has to say, and what channeled spirits such as Abraham have to offer. I found the book helpful and comforting and would definitely recommend it to anyone faced with a pending transition.


Matthew, Tell Me About Heaven, a Firsthand Description of the Afterlife, by Suzanne Ward
ISBN 0-9717875-1-4, Matthew Books, Camas, Wash., revised 2002, paperback, 205 pages. $15.00

Review by Ann Ulrich Miller


If you are already familiar with Suzanne Ward and her son Matthew, then you already know what powerful messages come through the mother-son dialogues. This is the first in the series of four books channeled by Suzanne after she made contact with Matthew, who was killed in a tragic car accident in Panama when he was 17. Fourteen years would pass before he would speak to her directly and was able to tell her, in his own words, that the experience had been part of a "family agreement."
Matthew, Tell Me About Heaven is certainly one of the most fascinating reads I've ever enjoyed, metaphysically or otherwise. Numerous telepathic communications between mother and son give eye-opening glimpses of the realm to which our loved ones return once they have passed, what we've come to know as Heaven.
Only Matthew corrects us by informing us of its true name: Nirvana. Not only does he explain what happens when we are instantaneously welcomed to the Other Side, but he describes the beauty of a world we can only start to imagine because of the veils we wear on Earth.
Three more Matthew books follow, but this is the one to start with if you are interested in knowing the location of Nirvana and its purpose, relationships between those who dwell there, what happens to your pets, your angels and spirit guides, how suicide is treated, whether residents eat food and travel, work or play, and hundreds of questions that cross our minds when we contemplate the Other Side.
A career in journalism helped Suzanne Ward prepare for the important task of chronicling the ongoing messages from not only Matthew but other spirit connections. I read this book aloud to my late husband, then picked it up again after his transition. It brought me a great deal of comfort.
Check out WHAT'S NEW

Subscribe to The Star Beacon


create & buy custom products at Zazzle
---
Copyright © 2008 Earth Star Publications
For permission to reprint articles or use graphics, e-mail lightworker@earthstarpublications.com.