GREETINGS, TERRANS!
CHECK OUT
WHAT'S NEW!

Order your copy of
THROUGHOUT ALL TIME
A Cosmic Love Story

Welcome to Earth Star on the Web. Here you will find a wealth of articles on diverse topics including UFOs and extraterrestrials, the paranormal, healing, earth changes, spirituality, the latest sightings, channeling, astrology, book reviews, art, poetry, plus conference news and reports, and a whole lot more.
WHERE WOULD YOU
LIKE TO GO?


The Star Beacon: Earth Star's monthly paranormal newsletter. Subscription info can be found by clicking here.




BOOKS, T-SHIRTS, TAPES -- NEW!
Earth Star's Store features metaphysical, self-help, children's literature and adult fiction, plus original T-shirts and conference lecture tapes. Visit now by clicking here.





PSYCHIC READERS
The NEW Psychic Readers Directory lists Intuitive Counselors from all over. Check out who's doing what, and how to contact them, by clicking here.




THE BEST OF
THE BEACON
Selected articles which have appeared over the years in The Star Beacon
Click here.




CONFERENCES
Check out conferences by clicking here.





FRIENDSHIP CLUB
Earth Star's Galaxy Wide Friendship Club is the place to find like-minded pen pals. Visit now by clicking here.





ART GALLERY
Earth Star's NEW Art Gallery features paintings by Ryan Ulrich plus an assortment of art (including extraterrestrial). Visit now by clicking here.





ARIZONA PAGE
Visit exotic and beautiful Why, Arizona. You can go there by clicking here.




MULES
Animal lovers will get a "kick" out of our Mule Page, featuring the Stucker Mesa Mules. Click here.


PUBLISHING
Earth Star Publications offers book packaging services for self-publishing authors, as well as a lot more. Please see our List of Services.
ADVERTISE HERE!
Advertise your wares or services here by placing an ad in The Star Beacon. To view CLASSIFIED ADS click here. For more information on advertising, e-mail us at UFOeditor@yahoo.com. For information regarding the Psychic Readers and Healers Directory, please email starbeacon@gmail.com.
COSMIC BOOK REVIEW
Got a question for Jesus?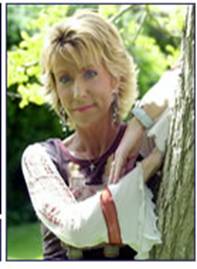 from the December 2009 Star Beacon
A Question For Jesus by Tonika Rinar
O Books, John Hunt Publishing, Ltd.
ISBN 978-1-84694-2341
paper, 115 pages

Review by Ann Ulrich Miller
"I walked this planet as you walk now. I often walked without clarity. I was a man, a friend, a son. I had no mystical powers..." ...the words of Jesus as communicated through Tonika Rinar, a British psychic and visionary, international speaker, author and workshop leader.
If you had the opportunity to ask Jesus one question, what would you ask? Over a period of 16 years, Jesus' spirit communicated with Tonika Rinar, and during this time people from all walks of life actually had the opportunity to ask questions of this most influential leader in our history.
A world-renowned expert on bio-magnetism (the human energy field), with 21 years of clinical experience working with people suffering injury and illness, Rinar's new book, A Question for Jesus, provides remarkable new insights into the life of Jesus, and challenges some previously held beliefs about the events in his life.
For instance, she describes what happened at his birth, as well as the historical view of Judas as "the betrayer" — information confirmed six years later in the ancient Gospel of Judas, revealed to the public by the National Geographic Society in April 2006.
In this easy to read book, you will find the answers Jesus gave to questions such as:
• What was your relationship with Mary Magdalene?
• What was your life's purpose?
• Did you really die on the cross?
• What occurred during your 40 days in the wilderness?
• Can you explain more about the miracles you were said to have performed?
• Who is God? and
• If you had the opportunity once more, what would you share with us?
With Christmas just a few weeks away, this book makes a perfect gift for that special one on your gift list that's always a challenge to buy for. It's a fascinating read and presented in an honest, unobtrusive way.
More information on the book can be found at http://www.o-books.net. To order a copy in the USA, e-mail: custserve@nbnbooks.com. In the UK,
e-mail: orders@orcabookservices.co.uk.



Check out WHAT'S NEW

Subscribe to The Star Beacon




---
Copyright © 2009 Earth Star Publications
For permission to reprint articles or use graphics, e-mail lightworker@earthstarpublications.com.