GREETINGS, TERRANS!
CHECK OUT
WHAT'S NEW!


NEW!
READ TODAY'S BLOG


Order your copy of
ZETI CHILD


STRANDED
ON EARTH
Order the book!

Order your copy of
THE LIGHT BEING

Welcome to Earth Star on the Web. Here you will find a wealth of articles on diverse topics including UFOs and extraterrestrials, the paranormal, healing, earth changes, spirituality, the latest sightings, channeling, astrology, book reviews, art, poetry, plus conference news and reports, and a whole lot more.
WHERE WOULD YOU
LIKE TO GO?


The Star Beacon: Earth Star's monthly paranormal newsletter. Subscription info can be found by clicking here.




BOOKS, T-SHIRTS, TAPES -- NEW!
Earth Star's Store features metaphysical, self-help, children's literature and adult fiction, plus original T-shirts and conference lecture tapes. Visit now by clicking here.





PSYCHIC READERS
The NEW Psychic Readers Directory lists Intuitive Counselors from all over. Check out who's doing what, and how to contact them, by clicking here.




THE BEST OF
THE BEACON
Selected articles which have appeared over the years in The Star Beacon
Click here.




CONFERENCES
Check out conferences by clicking here.





FRIENDSHIP CLUB
Earth Star's Galaxy Wide Friendship Club is the place to find like-minded pen pals. Visit now by clicking here.





ART GALLERY
Earth Star's NEW Art Gallery features paintings by Ryan Ulrich plus an assortment of art (including extraterrestrial). Visit now by clicking here.





ARIZONA PAGE
Visit exotic and beautiful Why, Arizona. You can go there by clicking here.




MULES
Animal lovers will get a "kick" out of our Mule Page, featuring the Stucker Mesa Mules. Click here.


PUBLISHING
Earth Star Publications offers book packaging services for self-publishing authors, as well as a lot more. Please see our List of Services.
ADVERTISE HERE!
Advertise your wares or services here by placing an ad in The Star Beacon. To view CLASSIFIED ADS click here. For more information on advertising, e-mail us at UFOeditor@yahoo.com. For information regarding the Psychic Readers and Healers Directory, please e-mail starbeacon@gmail.com.
Commander's Star Base: Ask an ET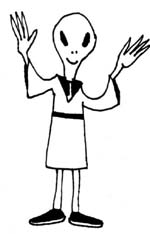 from the January 2009 Star Beacon
By Commander Sanni Ceto

Q: Dear Commander,
As a former long distance space pilot in this galaxy (and perhaps to neighboring ones as well), you are ideally placed to enlighten me in this matter. After the battle for Jerusalem in 586 BC, many prominent Jews were taken captive to Babylon. Three Jewish youth, Shadrach, Meschac and Abednego, were eventually sentenced to death by fire for not obeying the king's rules. They prayed for deliverance and within moments an angel appeared in the furnace and negated the effect of the heat. I have heard that Pleiadian ships can travel by "hyperdrive" and so could reach Earth in seven seconds or so. They do not do this often because of danger of sonic boom to inhabited planets.
Was this velocity possible by Pleiadian ships built 2,500 earth-years ago, or is this almost unimaginable feat mere fantasy, assuming that the angel was a Pleiadian? Thanks! Patrick

A: Dear Patrick,
Pleiadian ships using a hyperdrive propulsion system still have to utilize a worm hole or other shortcut to travel such distances to reach Earth from their own system. Their propulsion system reduces drag in a planet's atmosphere, so there's no sonic boom as in Earth's aerocrafts.
The angel in that story was a Pleiadian crew member who beamed down from his disc ship and, by his advanced technology, put out the fire and super-cooled the place from its heat. Remember that on other worlds technology has to grow and evolve as do civilizations, with each hitting its advanced stage or peak of achievement before going into its demise.
Most Pleiadian worlds are halfway through this stage while Earth is merely starting to develop such advanced technology.
Namasté, Commander Sanni

Q: Dear Commander,
Will you please explain the process of how your people's ships are built? And if you don't mind, for fun, please explain how they are cleaned from all of that space dust? Thank you so much! Jujuolui

A: Dear Juju,
Ships are created first of all from archived blueprints which are stored in the planets' and cities' tech departments as all planets have their civilization's development and other things stored on disc-like technology for future reference.
After the measurements are scanned by advanced machines, a ship is grown from a tiny cell in a matrix, like a honeycomb. This cell is a pliable soft substance that multiplies itself as a living cell reproduces and divides through mitosis and encoding itself from the original cell.
This applies to the outer hull and lower hull structures. While this is grown, it hardens and is removed from the mold and the inner workings and cabins are created as are the hulls, and melded together using the same materials, which is seamless and a perfect fit, like a puzzle piece fits tightly together.
Life-support systems and reactor units and consoles are added last as is any furniture in the different cabins and other rooms. Each ship is designed according to its class and size as to carrying capacity and gross tonnage and weight, and all things are balanced in a ship's construction.
A typical disc takes about 24 hours in your time to grow from a matrix and another 24 hours to solidify and be mated with the inner and outer structures while servo-bots and other machines do the inner frame work and machinery included inside the cabins.
The propulsion systems are tedious and done by machines that are programmed to each do a certain task. After a ship is finished, it's tested inside and out as to performance and operational systems for that class of vehicle. Ships are finally encoded with a seal that has the crew's DNA in it as well as the trilateral emblem of the nation that built it, etc.
A fully completed scout ship takes about three weeks to be fully operational while mother ships are created in segments as their cylinders can take many years to complete. They are made at space docks and created by robots under control of super computer technology.
A ship is cleaned externally by its forcefield setting at high frequency until it glows a deep red. Then the dust and other waste is rejected by reversing the forcefield to a low frequency, creating antigravity. On-board waste systems incinerate any trash. This is especially true on Pleiadian ships. Air is recycled on all ships and purified.
Namasté, Commander Sanni

EDITOR'S NOTE: If you have questions to ask ET, please direct them to Commander Sanni by e-mail at UFOeditor@yahoo.com, or send them in to The Star Beacon, 3885 Jackson Run, New Matamoras, OH 45767
Check out WHAT'S NEW

Subscribe to The Star Beacon




---
Copyright © 2009 Earth Star Publications
For permission to reprint articles or use graphics, e-mail lightworker@earthstarpublications.com.