GREETINGS, TERRANS!
CHECK OUT
WHAT'S NEW!


NEW!
READ TODAY'S BLOG


Order your copy of
ZETI CHILD


NEW!
READ TODAY'S BLOG

Order your copy of
THE LIGHT BEING

Welcome to Earth Star on the Web. Here you will find a wealth of articles on diverse topics including UFOs and extraterrestrials, the paranormal, healing, earth changes, spirituality, the latest sightings, channeling, astrology, book reviews, art, poetry, plus conference news and reports, and a whole lot more.
WHERE WOULD YOU
LIKE TO GO?


The Star Beacon: Earth Star's monthly paranormal newsletter. Subscription info can be found by clicking here.




BOOKS, T-SHIRTS, TAPES -- NEW!
Earth Star's Store features metaphysical, self-help, children's literature and adult fiction, plus original T-shirts and conference lecture tapes. Visit now by clicking here.





PSYCHIC READERS
The NEW Psychic Readers Directory lists Intuitive Counselors from all over. Check out who's doing what, and how to contact them, by clicking here.




THE BEST OF
THE BEACON
Selected articles which have appeared over the years in The Star Beacon
Click here.




CONFERENCES
Check out conferences by clicking here.





FRIENDSHIP CLUB
Earth Star's Galaxy Wide Friendship Club is the place to find like-minded pen pals. Visit now by clicking here.





ART GALLERY
Earth Star's NEW Art Gallery features paintings by Ryan Ulrich plus an assortment of art (including extraterrestrial). Visit now by clicking here.





ARIZONA PAGE
Visit exotic and beautiful Why, Arizona. You can go there by clicking here.




MULES
Animal lovers will get a "kick" out of our Mule Page, featuring the Stucker Mesa Mules. Click here.


PUBLISHING
Earth Star Publications offers book packaging services for self-publishing authors, as well as a lot more. Please see our List of Services.
ADVERTISE HERE!
Advertise your wares or services here by placing an ad in The Star Beacon. To view CLASSIFIED ADS click here. For more information on advertising, e-mail us at UFOeditor@yahoo.com. For information regarding the Psychic Readers and Healers Directory, please e-mail starbeacon@gmail.com.
Commander's Star Base: Ask an ET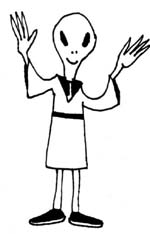 from the August 2008 Star Beacon
By Commander Sanni Ceto

Q: Dear Commander,
The writings of the prophet Enoch seem to suggest that some ancient Pleiadian (the "sons of the gods") disobeyed their Commander and interbred with any Earth females who they lusted after — married women or maidens, thereby playing havoc with Earth's social structure. They also took it upon themselves to teach various things such as warfare , abortion ("the blows of the womb") and more traditional occupations. One passage reads: "...Semjasa taught incantations and the cutting of roots, Armaros the answer to incantations, Kokabeel astrology, Ezeqeel the lore of the clouds, Arakiel the signs of the earth, Samsaveel the signs of the sun..." Is this Semjasa a previous incarnation of Semjase?
Thank you. Patrick

A: Dear Patrick,
The Pleiadians, who colonized Earth, never taught the humans on Earth warfare. Nor did they lust after their females as this was Draconian lizards who had shape-shifted to appear as Pleiadians and, no, this isn't the Semyases that the Pleiadian fleets sent here as a scientist. This woman, who taught them these things, was a lizard female disguised as a Pleiadian. The Pleiadians are far more evolved in many ways beyond their Earth cousins, who are descended from their colony experiments.
Namasté, Commander Sanni


Q: Sanni, you are the best and I miss my talks with you very much. I would like to know what it is I should do to be in contact with my real family not from this earth.
Love Angie

A: My dear Angie, you may contact me by messenger if you like, and now your question — go into a meditation and try to raise your vibrational level to the level that they operate on, and hold this energy inside of you, along with using your inner sight or inner eye, until you are able to bring them into your 3D level. They are flesh and blood as you are, but come from a much higher level than your low frequency planet.
Love and Light from Commander Sanni

Q: Commander Ceto,
Can you please discuss the role the ancient matriarchies played on/off our planet? It is an area of great interest for me. I know much has been secreted away regarding this. Also if you can give me some good sources here on Earth to learn more about this, I would appreciate it.Thank you.
In Peace and Love, Michelle

A: Most of their ancient teachings were handed down to them by their Pleiadian emissaries who created them eons ago and sent them here as teachers to awaken those who were still asleep to their true origins. Many temples in India and the Himalayas hold their teachings as sacred and are the keepers of their true origins.
Namasté, Commander Sanni


EDITOR'S NOTE: If you have questions to ask ET, please direct them to Commander Sanni by e-mail at UFOeditor@yahoo.com, or send them in to The Star Beacon, 3885 Jackson Run, New Matamoras, OH 45767
Check out WHAT'S NEW

Subscribe to The Star Beacon


---
Copyright © 2008 Earth Star Publications
For permission to reprint articles or use graphics, e-mail lightworker@earthstarpublications.com.