GREETINGS, TERRANS!
CHECK OUT
WHAT'S NEW!


NEW!
READ TODAY'S BLOG


Order your copy of
ZETI CHILD


STRANDED
ON EARTH
Order the book!

Order your copy of
THE LIGHT BEING

Welcome to Earth Star on the Web. Here you will find a wealth of articles on diverse topics including UFOs and extraterrestrials, the paranormal, healing, earth changes, spirituality, the latest sightings, channeling, astrology, book reviews, art, poetry, plus conference news and reports, and a whole lot more.
WHERE WOULD YOU
LIKE TO GO?


The Star Beacon: Earth Star's monthly paranormal newsletter. Subscription info can be found by clicking here.




BOOKS, T-SHIRTS, TAPES -- NEW!
Earth Star's Store features metaphysical, self-help, children's literature and adult fiction, plus original T-shirts and conference lecture tapes. Visit now by clicking here.





PSYCHIC READERS
The NEW Psychic Readers Directory lists Intuitive Counselors from all over. Check out who's doing what, and how to contact them, by clicking here.




THE BEST OF
THE BEACON
Selected articles which have appeared over the years in The Star Beacon
Click here.




CONFERENCES
Check out conferences by clicking here.





FRIENDSHIP CLUB
Earth Star's Galaxy Wide Friendship Club is the place to find like-minded pen pals. Visit now by clicking here.





ART GALLERY
Earth Star's NEW Art Gallery features paintings by Ryan Ulrich plus an assortment of art (including extraterrestrial). Visit now by clicking here.





ARIZONA PAGE
Visit exotic and beautiful Why, Arizona. You can go there by clicking here.




MULES
Animal lovers will get a "kick" out of our Mule Page, featuring the Stucker Mesa Mules. Click here.


PUBLISHING
Earth Star Publications offers book packaging services for self-publishing authors, as well as a lot more. Please see our List of Services.
ADVERTISE HERE!
Advertise your wares or services here by placing an ad in The Star Beacon. To view CLASSIFIED ADS click here. For more information on advertising, e-mail us at UFOeditor@yahoo.com. For information regarding the Psychic Readers and Healers Directory, please e-mail starbeacon@gmail.com.
Commander's Star Base: Ask an ET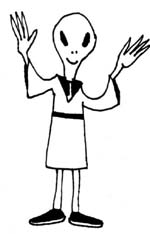 from the September 2008 Star Beacon
By Commander Sanni Ceto

Q: Dear Commander,
I thank you for the great work you are doing to enlighten us on this planet in spiritual/paranormal matters. My question relates to worship. It is said that during the ice age before the flood, the Elohim Great Council of twelve, chaired by Yahweh, became disgusted with the regression into cannibalism, etc., and so did not take steps to alleviate widespread starvation among the humans they created genetically. One dissenting member of the Council, however, repudiated this policy of deliberate inaction, and advised, covertly, that humans withhold their worship and their prayers. Is "energy" passed to our gods by religious worship, and if so, what is its form, and how can they use it? Thank You.
Patrick

A: Dear Patrick,
All energy is sent to all freely from the Creator source, which is an endless stream of energy from the central spark that created all universes and all galaxies. And it's sent to all beings and is free to utilize according to their desires. Religious worship helps to tap into this energy and bring it into the soul, where it can be channeled into creative endeavors, etc., and it helps to keep people grounded into their religion via a connection to this energy from the central spark of infinite energies.
Namasté, Commander Sanni


Q: I have recently read a book (I will not disclose), that explains how your people are actually two different races; "The Zetis" — who are the good Grays and "The Grays" — the bad Grays who do the abductions here on Earth. The book also states how your people separated after some war in space. The Zetis found their new home in the Zeta Reticulum star system and the Grays found a new home somewhere else. Would you please set us straight on the facts here? Thank you, my Commander.
Love, Jujuolui .Z. //: -7

A: Dear Juju,
First off, there's a correction. Number one: The Zetis and the Grays are the same people and same species, and we didn't have a war as my species is a peaceful species. Abductions are done by your military operatives, who are making duplicates of my people, and using these clones to abduct humans so as to make all humans hate Grays.
This is a reptoid form of control by instilling fear into their minds and using clones taken from captured Grays, to create prejudice and fear so they will not lose their control over Earth. There is no good or bad species of Grays as that is a generalization in Earthlings' minds, put there by the propaganda machines created by governments and militaries. The wars on my home solar system were caused by invading reptoids against Grays and not my own people against our own species as it is on Earth with nations fighting nations.
All Grays are related and all Grays are Zetis, and they didn't leave their solar system, nor did they conquer others to take over as the Draconians and other lizard people have.
Namasté, Commander Sanni

Q: I am from the Constellation Cassieopia and I believe Planet Seguin. Are there any others here on Earth? I was told there are very few, and I am feeling I won't have anyone to say hello to when First Contact happens.
Liz
A: Dear Liz,
First of all, as you're from another off-planet system, then you have memories of others of your species as well as others who are here and for ETs already here upon Earth there isn't any "first contact" as we have already known others. But for humans, they're the ones who are awaiting first contact from the stars.
Namasté, Commander Sanni


EDITOR'S NOTE: If you have questions to ask ET, please direct them to Commander Sanni by e-mail at UFOeditor@yahoo.com, or send them in to The Star Beacon, 3885 Jackson Run, New Matamoras, OH 45767
Check out WHAT'S NEW

Subscribe to The Star Beacon


---
Copyright © 2008 Earth Star Publications
For permission to reprint articles or use graphics, e-mail lightworker@earthstarpublications.com.