GREETINGS, TERRANS!
CHECK OUT
WHAT'S NEW!

NEW!
READ TODAY'S BLOG


Order your copy of
ZETI CHILD, Lost Upon a One Star World

Welcome to Earth Star on the Web. Here you will find a wealth of articles on diverse topics including UFOs and extraterrestrials, the paranormal, healing, earth changes, spirituality, the latest sightings, channeling, astrology, book reviews, art, poetry, plus conference news and reports, and a whole lot more.
WHERE WOULD YOU
LIKE TO GO?


The Star Beacon: Earth Star's monthly paranormal newsletter. Subscription info can be found by clicking here.




BOOKS, T-SHIRTS, TAPES -- NEW!
Earth Star's Store features metaphysical, self-help, children's literature and adult fiction, plus original T-shirts and conference lecture tapes. Visit now by clicking here.





PSYCHIC READERS
The NEW Psychic Readers Directory lists Intuitive Counselors from all over. Check out who's doing what, and how to contact them, by clicking here.




THE BEST OF
THE BEACON
Selected articles which have appeared over the years in The Star Beacon
Click here.




CONFERENCES
Check out upcoming conferences by clicking here.





FRIENDSHIP CLUB
Earth Star's Galaxy Wide Friendship Club is the place to find like-minded pen pals. Visit now by clicking here.





ART GALLERY
Earth Star's NEW Art Gallery features paintings by Ryan Ulrich plus an assortment of art (including extraterrestrial). Visit now by clicking here.





ARIZONA PAGE
Visit exotic and beautiful Why, Arizona. You can go there by clicking here.




MULES
Animal lovers will get a "kick" out of our Mule Page, featuring the Stucker Mesa Mules. Click here.


PUBLISHING
Earth Star Publications offers book packaging services for self-publishing authors, as well as a lot more. Please see our List of Services.
ADVERTISE HERE!
Advertise your wares or services here by placing an ad in The Star Beacon. To view CLASSIFIED ADS click here. For more information on advertising, e-mail us at UFOeditor@yahoo.com. For information regarding the Psychic Readers and Healers Directory, please e-mail UFOeditor@yahoo.com.
Commander's Star Base

Ask an ET
from the November 2007 Star Beacon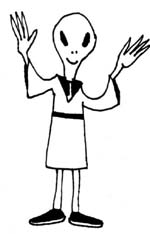 Q:
Dear Sanni,
I love you very much, because I feel like I have known you, but I want to ask a question: I know someone who is in contact with other beings on other planets, and she tells me that they don't do experiments on humans and that there are no such thing as bad ETs. For me, I have never felt threatened by any, and was just wondering what you think.
Love you, Angie

A: Dear Angie,
In all solar systems with inhabited worlds there's a mixture of both good and bad —evolved and unevolved worlds — in different levels of evolution. Many different species of ETs have different agendas and are ruled by different government systems that permit or deny active exploration of different planets, which includes collecting specimens of that planet's native animals, plants, etc. for study. This includes higher organisms, which may be experimented on.
Look at what humans do to lower animals. They experiment on them, and when humans go into space, they, too, collect specimens of rocks, etc. Humans mirror their ways and ethnocentrism upon other inhabited planets as part of their own thinking about their own societies. In other words, when humans say other planets abduct humans, it's their popular culture that has conditioned them to think this, and it's a stereotype — their projection out of their inner fears about ETs as to how a person should act and think about ETs before they have ever met any. They have preconceived notions about ETs, due to their society's conditioning about ETs and others, and most of these conditionings are false and fear-based.
Namasté, Commander Sanni


If you have a question to ask ET, please direct them to Commander Sanni by e-mail at UFOeditor@yahoo.com, or send them in to The Star Beacon, 3885 Jackson Run, New Matamoras, OH 45767 (or FAX 866-882-1346).
Visit Commander Sanni's Web site at http://julieanux.tripod.com/Sanni.html
Check out WHAT'S NEW

Subscribe to The Star Beacon


---
Copyright © 2007 Earth Star Publications
For permission to reprint articles or use graphics, e-mail UFOeditor@yahoo.com.