GREETINGS, TERRANS!
CHECK OUT
WHAT'S NEW!

NEW!
READ TODAY'S BLOG


Order your copy of
THE LIGHT BEING

Welcome to Earth Star on the Web. Here you will find a wealth of articles on diverse topics including UFOs and extraterrestrials, the paranormal, healing, earth changes, spirituality, the latest sightings, channeling, astrology, book reviews, art, poetry, plus conference news and reports, and a whole lot more.
WHERE WOULD YOU
LIKE TO GO?


The Star Beacon: Earth Star's monthly paranormal newsletter. Subscription info can be found by clicking here.




BOOKS, T-SHIRTS, TAPES -- NEW!
Earth Star's Store features metaphysical, self-help, children's literature and adult fiction, plus original T-shirts and conference lecture tapes. Visit now by clicking here.





PSYCHIC READERS
The NEW Psychic Readers Directory lists Intuitive Counselors from all over. Check out who's doing what, and how to contact them, by clicking here.




THE BEST OF
THE BEACON
Selected articles which have appeared over the years in The Star Beacon
Click here.




CONFERENCES
Earth Star's annual Love and Light Conference. Also check out other conferences by clicking here.





FRIENDSHIP CLUB
Earth Star's Galaxy Wide Friendship Club is the place to find like-minded pen pals. Visit now by clicking here.





ART GALLERY
Earth Star's NEW Art Gallery features paintings by Ryan Ulrich plus an assortment of art (including extraterrestrial). Visit now by clicking here.





ARIZONA PAGE
Visit exotic and beautiful Why, Arizona. You can go there by clicking here.




MULES
Animal lovers will get a "kick" out of our Mule Page, featuring the Stucker Mesa Mules. Click here.


PUBLISHING
Earth Star Publications offers book packaging services for self-publishing authors, as well as a lot more. Please see our List of Services.
ADVERTISE HERE!
Advertise your wares or services here by placing an ad in The Star Beacon. To view CLASSIFIED ADS click here. For more information on advertising, e-mail us at UFOeditor@yahoo.com. For information regarding the Psychic Readers and Healers Directory, please e-mail earthstar@tripod.net.
One Soul Searching for the 'Other'
from the February 2005 Star Beacon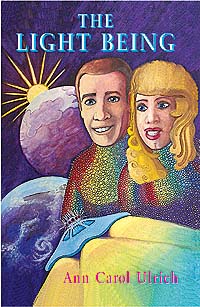 by Ann Carol Ulrich
The following is the first chapter from the editor's newly published novel,
The Light Being.
Eons ago, after the split, one of the once-joined souls decided to go off and experience many lifetimes, while the other ("L.B.") remained incarnate. What is it in us that stirs so deeply our desire to find the "Other"?
Chapter One
The Summons

by Ann Carol Ulrich

He traveled alone. No planet was his home. The vast reaches of space held no limits, for he was free. Completely free of any encumbrances, free to go where he pleased, to do what pleased him most. Nothing bound him nor restrained him in any way. He had chosen freedom after the Separation, after knowing unification but nothing more.
The Other had chosen challenge. She desired to expose Her beingness to the diverse array of experiences the universe had to offer. She was an explorer. Her desire had been to know what it was to be separated, to be a fragment, to undergo unlimited physical lifetimes in order to understand the purpose of it all.
And in so doing, he had granted Her that desire, and had experienced separation in his own way. Yet he always knew that one day She would return to him. When She grew weary of the game, perhaps, or when the great cosmic clock had come full circle, the waves of time would pull the two drifting soul-halves together.
He didn't know what it was. Perhaps it was his own thought to beckon Her back, for he had waited an eternity. A nagging urgency prompted him to find Her. It was as though something deep within him knew when She was ready to join him again.
A stimulus from an unknown source began to prick at the inner core of his being. "Go home," it prompted.
"Where is home?" he asked. "I have no home. I travel the universes."
"Look within," said the voice.
"Who are you?" he demanded. "And why should I listen to you? I am free.''
"Yes, you are free,'' it said, "but what have you gained?''
He thought for a moment. "Nothing,'' he admitted. "I have gained nothing. But I am free!''
"Then if it has fulfilled you, go on as you were,'' the voice told him. "You are free. It is your choice.''
"What are you talking about?'' he cried. But the voice had left him. Now he was disturbed. Before, he had been free of any such feelings, but the voice had spoken to him and left him with unanswered questions.
What had it meant when it talked of fulfillment? What was there to gain except a whole lot of complications and trouble? He had observed. He had watched many lives living on many planets in many galaxies. He had seen a whole lot of trouble and had wanted nothing to do with any of it.
He tried over and over to forget the intruding voice. But now there was a growing ache from within. As it grew stronger and his thoughts began to stray, he realized it was Her. He missed Her. He began to remember what it had been like when they had been one, and his thoughts could focus on only one thing: It was time to find Her and go home.

The Light Being is the third novel in Ann Carol Ulrich's Space Trilogy. To order the book, send $17.95 (postpaid) to Earth Star Publications, P.O. Box 117, Paonia, CO 81428, or you may use your credit card with PayPal on line at http://www.earthstarpublications.com/LightBeing.html


Check out WHAT'S NEW

Subscribe to The Star Beacon


---
Copyright © 2005 Earth Star Publications
For permission to reprint articles or use graphics, e-mail earthstar@tripod.net.