from the September 2005 Star Beacon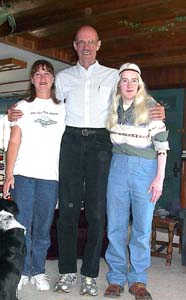 by R. Leo Sprinkle, Ph.D.
On Saturday, Aug. 6, I arose at 3:30 am and by 4:15 am I was driving away from Laramie, Wyo. After 680 miles I arrived back home at 11:30 pm, before midnight (so that my hard-working CRV Honda) did not turn into a pumpkin).
My almost 75-year-old body was filled with fatigue. My almost 18- or 19-year-old mind was filled with images of terrain, roads and vehicles. But my eternal soul was filled with love and gratitude.
The purpose of my journey? To visit some marvelous souls in Paonia and Cedaredge, Colo.
The first stop was to talk with Sanni Ceto and to see her magical home (with guinea pigs, cats, ET dolls, paintings, crystals and candles). The photographs of her friends and paintings of Jesus are reminders of her earthly and heavenly connections.
Sanni is so complex and precise in her intellectual knowledge, but she is simple and honest in her interpersonal interactions. She views herself as both ET and human in this lifetime, with memories of her recent lifetime as Commander Sanni Ceto. The commander with crew went down in their Zeti craft to the plains of Roswell, N.M., in July 1947.
Sanni showed her paintings of that craft and crew, as well as other spacecraft and ET representatives. Her descriptions of various civilizations, including planetary and cultural conditions, are detailed and extensive. Yet her sensitive personality has been traumatized, not only by childhood abuse in a foster home, not only by military personnel who exploited her as a child for her memories as Commander Sanni Ceto, but also, more recently, by the cruel comments from ignorant persons who fear and reject her information.
After the tour of her home and art work, Sanni gave me a message from my Pleiadian family, including information about my work in this lifetime, and comments about the current shift in human consciousness. Personally, I am pleased that Sanni is here on Planet Earth, in service to others around her. Whether by design of her mentors, or her own High Self choice, she is a compassionate and caring soul who is sharing her knowledge with those around her.
As she writes in her book, Stranded On Earth (2004, Earth Star Publications), "... we are connected as one with the family of man and of the essence of the stars and universal consciousness..." (p. 123). She is a lovely and loving messenger for us all.
Sanni and I then drove to the high mesa home of Ethan and Ann Ulrich Miller. With a magnificent view of high mountain peaks, ranging foothills and deep valley below, their house is both comfortable and comforting (and the yard and barn have mules, turkeys and chickens).
We were welcomed by Ranger, a big black dog with knowing eyes and wild wagging tail. Ethan, as genial host, provided information about the area, coal mines, climate and people. Ann, as gracious hostess, provided a delicious meal of potato soup, grapes and cheese, chicken salad and fruit pie.
Ranger seemed bored with the discussions of cosmic cultures, ET/human interactions and the shift in cosmic consciousness, so he took a nap. But during the photo session he provided a song and a dance with his squeaky toy.
Then it was time to continue the journey by driving to Cedaredge for a visit with another good friend, Lucille McNames (Sari). Although her body is more than 95 years old and only weighs 83 pounds, Lucille's mind is lively and her spirit is magnificent. Author of books about ET/human interactions and channeled messages from the spirit world, Lucille is trying to publish a novel about New Age awareness.
Witty about the human condition, but critical of deceit and dishonesty, she is both funny and fierce — and as sexy as when she was a Hollywood starlet. Her life changed many years ago when she traveled (out-of-body) into a spacecraft and communicated with the ET crew. She became a channel, not only for her mentors, but also for the spirits of human scientists who sent information through her to living scientists (see the book by George Meek, After We Die, What Then?).
Despite her frail body and difficulty in seeing and hearing, Lucille continues to serve as a messenger to humankind. Our two decades of friendship (and several lifetimes of connection?) are precious to me. I wish her well in her worldly work, and eventually — in her flight to the next task.
Tres Amigas Mias — my three friends, strong but gentle women — give us hope for humanity and Planet Earth: Sanni, with her direct knowledge of ET cultures; Lucille, with her channeled knowledge of the spirit world; and Ann, as editor of The Star Beacon and other Earth Star publications. They have awakened and inspired many star seed and star children in their special missions for transformation of consciousness and the merger of Heaven and Earth.
They provide cosmic knowledge and caring service for all of us Light workers. I am honored to be a friend.

Dr. Leo Sprinkle is a retired professor emeritus in psychology from the University of Wyoming and presently continues private practice in Laramie, Wyo. He is widely known in the field of ufology and the author of books, including Soul Samples: Personal Exploration in Reincarnation and UFO Experience, published by Granite Publishing (ISBN 189318305X).

Check out WHAT'S NEW

Subscribe to The Star Beacon


---
Copyright © 2005 Earth Star Publications
For permission to reprint articles or use graphics, e-mail earthstar@tripod.net.