GREETINGS, TERRANS!
CHECK OUT
WHAT'S NEW!

NEW!
READ TODAY'S BLOG


Order your copy of
ZETI CHILD, Lost Upon a One Star World

Welcome to Earth Star on the Web. Here you will find a wealth of articles on diverse topics including UFOs and extraterrestrials, the paranormal, healing, earth changes, spirituality, the latest sightings, channeling, astrology, book reviews, art, poetry, plus conference news and reports, and a whole lot more.
WHERE WOULD YOU
LIKE TO GO?


The Star Beacon: Earth Star's monthly paranormal newsletter. Subscription info can be found by clicking here.




BOOKS, T-SHIRTS, TAPES -- NEW!
Earth Star's Store features metaphysical, self-help, children's literature and adult fiction, plus original T-shirts and conference lecture tapes. Visit now by clicking here.





PSYCHIC READERS
The NEW Psychic Readers Directory lists Intuitive Counselors from all over. Check out who's doing what, and how to contact them, by clicking here.




THE BEST OF
THE BEACON
Selected articles which have appeared over the years in The Star Beacon
Click here.




CONFERENCES
Earth Star's annual Love and Light Conference. Also check out other conferences by clicking here.





FRIENDSHIP CLUB
Earth Star's Galaxy Wide Friendship Club is the place to find like-minded pen pals. Visit now by clicking here.





ART GALLERY
Earth Star's NEW Art Gallery features paintings by Ryan Ulrich plus an assortment of art (including extraterrestrial). Visit now by clicking here.





ARIZONA PAGE
Visit exotic and beautiful Why, Arizona. You can go there by clicking here.




MULES
Animal lovers will get a "kick" out of our Mule Page, featuring the Stucker Mesa Mules. Click here.


PUBLISHING
Earth Star Publications offers book packaging services for self-publishing authors, as well as a lot more. Please see our List of Services.
ADVERTISE HERE!
Advertise your wares or services here by placing an ad in The Star Beacon. To view CLASSIFIED ADS click here. For more information on advertising, e-mail us at UFOeditor@yahoo.com. For information regarding the Psychic Readers and Healers Directory, please e-mail earthstar@tripod.net.
Alpha Bits
from the January 2007 Star Beacon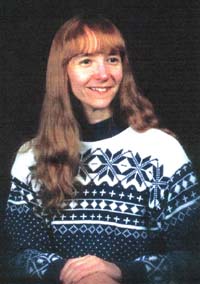 Angels Among Us
by Tumeria
Angels are everywhere these days. Their popularity has literally soared over the past few years. They are the subject of many myths and legends and are spoken of numerous times in the Bible. Many books have been written about angels by authors such as Doreen Virtue and Sylvia Browne. Popular television shows such as Touched By An Angel and Highway To Heaven, have lifted people's spirits and have given them hope for a better world. Artists throughout history have produced many masterpieces with winged angels as the subject matter. You can walk into many stores, at any time of year, and find angel candle holders, figurines, music boxes and other nick knacks.
Who or what are angels? Traditionally depicted as God's "army" to help mankind, they serve as messengers, protectors and healers. Even the devil himself, known as Lucifer, was said to be a fallen angel. I was always told that angels did not incarnate on the earth plane. They remained in the spirit realm to assist us unseen. They could, however, take physical form when necessary to deliver a message, such as the angel Gabriel, or help us in other ways. I was taught as a very young child that I had a guardian angel who would always watch over me and keep me safe. In my understanding, angels were different than spirit guides. Spirit guides, like us, have had many lifetimes in the physical dimension and thus understand what it is like to live here on Earth.
Recently I met two women claiming to be real life angels! One of them was even an archangel, which is considered fairly high up in the angel ranks. In all situations I try to keep an open mind, ask questions and try to increase my understandings. One would assume that being in the presence of a real, living angel would be an awe-inspiring experience. Even though I am very sensitive to energies, I felt nothing unusual about them. They seemed like very ordinary women to me. In fact, the lower ranked angel was very judgmental and self involved with her own earthly problems. This is not what I pictured an angel to be. Then I remembered a quote from
Conversations With God
by Neale Donald Walsch. "I have sent you nothing but angels." Perhaps we could all be considered "angels" or at least have all served in that capacity at one time or another during our lives. Every time we help another person and reach out in love, we are acting as "angels" on Earth.
I came to the realization that it really didn't matter if these two women were real angels or not. What mattered was the love and compassion within my own heart and soul. The important thing was the contribution that I could make in helping this planet heal and evolve. I truly believe that each and every one of us can be an "angel" on Earth.
Until next time, Namasté
Tumeria, a native of Alpha Centauri, currently lives in New Hampshire. Her earthly mission is to empower mankind and to help awaken humanity to its divinity. Tumeria is available for Akashic Record Readings, property clearing, spiritual advising and Reiki healings. You may contact her at: tumeria33@yahoo.com or c/o The Star Beacon.

Visit The Alpha Centauri Connection Web site at http://Alpha-c-connection.tripod.com, and also Tumeria's discussion group at http://groups.yahoo. com/group/AC_connection/.
Check out WHAT'S NEW

Subscribe to The Star Beacon


---
Copyright © 2007 Earth Star Publications
For permission to reprint articles or use graphics, e-mail earthstar@tripod.net.