from the September 2005 Star Beacon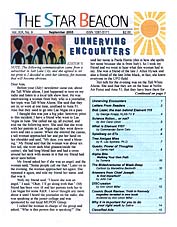 EDITOR'S NOTE: The following communication came from a subscriber in Salt Lake City, and she agreed to let me print it. I decided to omit her identity, for reasons that will become obvious.

Dear Ann,
Before your (July) newsletter came out, about the Tall White aliens, I just happened to turn on my radio and listen to a local talk show host. He was interviewing a woman from Italy who is a journalist; her topic was Tall White Aliens. She said that they are in, or were at one time, confined to Area 51. Also that they used to go into Las Vegas on a pass.
I thought this was just a big joke; however, prior to this incident, I have a friend who went to Las Vegas in June. She called me up, all excited, and told me the following story. She said that she went with her parents to Las Vegas and they went downtown and into a casino. When she entered the casino, a tall woman approached her and put her hand on her shoulder and said, "My dear, you need a blessing." My friend said that the woman was about six feet tall, she wore dark blue glasses(inside the casino), she had long blond hair and had a cross around her neck with stones in it that my friend had never seen before.
My friend asked her if she was an angel, and the woman said, "Some people call me that." Later on in the evening, the woman approached her again. She repeated it again, and told my friend her name. and that was it.
Well, my friend said, "I know she was an angel." I said, "Okay, I'll go along with that." (My friend has been very ill and her parents took her to Las Vegas for some R&R. I never thought any more about it until I heard the journalist on the radio; she was speaking at the junior college and was sponsored by our local MUFON Group.
I called the woman in charge of the group and asked, "Who is this person that is speaking?" She said her name is Paola Harris (this is how she spells her name because she is from Italy). So I took my friend and we went to hear what this woman had to say. She was a friend of the late J. Allen Hynek and also a friend of the late John Mack; in fact, she knew everyone in the UFO field.
Her talk for the evening was on the Tall White Aliens. She said that they are on the base at Nellis Air Force and Area 51, that they have been there for a very long time. They have children and the children are not allowed to leave either place; however, the adults can go into town but have to wear a disguise.
"My God," I said to my friend, "this is who you had an encounter with." I could not believe this whole thing was happening.
She told us so much information, my head was swimming. When it was over, another friend came over and started to hug me and said, "Let's all go eat dinner." I said, "Well, I have to get home," but then I changed my mind and told them I had to go and grab this man and talk to him for a minute. He had raised his hand to ask a question, but the speaker did not call on him. I did not know this person and I only saw him from the back, so my friends said to go ahead.
I went over to the man and tapped him on the shoulder. He turned around and I almost died; he was wearing a shirt that said CIA, and on the shoulders of his shirt he had epaulets which indicated that he was a major.
Crap, I almost filled my pants. I said that I was interested in his question and I knew the answer to it, and I started to get really nervous. We talked for a minute, and another friend came over who is a retired major in the Air Force, and I went to introduce the two and they said that they knew each other. So I said, "I will leave you two to talk," and I walked away.
My other friends joined up with me and said, "Let's go eat." At this particular time the CIA man came over by us and my darn friend said, "Would you like to come and eat with us?" He said yes... Oh my God, I lost it then.
We went to look for a place to eat and got lost. All of us. We were in a car caravan. So we pulled into a 7-Eleven store then and the clerk told us to backtrack down the road and we would run into the restaurant.
I took the lead. The CIA followed right behind me. Well, I was in the wrong lane and the lane I was in would have taken us onto the freeway. My friend put her head out the window and asked the guy in the right lane if we could move over; they let us in. There was no time for the CIA guy to move over; however, we pulled into the restaurant and the CIA agent was already in the parking lot. Oh God, I got out and said, "How did you do that?" He just smiled and I said, "No, I want to know how you did that." He did not answer and we went in to eat.
I wanted him to show me his credentials. He took his cards out that identified himself. He works for the Department of Defense and his cards were "legit." I just kept at him all night long. "Why were you at this meeting? Are you taking everything down about us?" The funny thing was, not once did he ask us our names. Never, not once did he ask us. He already knew.
He said he came to the meetings to see if the speakers were telling the truth. I said, "Well, are they telling the truth?" and he said, "Yes, but there is a lot more." He told us things that are going to happen in the future and things that will happen to our government, etc. I cannot disclose everything, but I asked him about the Hubble scope and what was the true reason behind the shutdown.
He told us what they saw out in space. My friends at the table freaked out. Why he was telling us all of this stuff still remains a mystery. He told us about the space shuttle; he said that it was going to have some problems, and it did. He told us to watch Israel, that it would be brother against brother. Of course, we had no idea what he was talking about. And now it is all over the news.
What he told us they saw from the Hubble was "a massive flotilla" (Ed.'s note: an oxymoron). I said, "How could it be massive and a flotilla? Don't you mean it is a massive armada?" And he said, "You are right, my friend." At that point my friends said, "What are you two talking about?" Well, he explained and then I explained.
My friends asked him, "When will they arrive?" He said, "In the year 2008 or 2010." I said, "With that many coming in our direction, why the hell don't they come sooner?" That is when all of my friends got upset. They all said, "What should we do?" and I said, "Why do anything? What the hell does it matter?"
Another thing, after we had dinner with that man, all of my friends started to prepare for emergency things to come, even me. They had a few meetings to talk about getting ready for who knows what. They wanted me to come to their meetings and I said no... but I, too, went out and bought food and water supplies.
There was so much info that he was telling us, my head was swimming. Finally, I could not take it any longer, I had to leave.
Then here comes your newsletter about the Tall White Aliens... I was going to write and tell you this story, but then I thought, "This guy will probably come after me," so I put it on the back shelf. That is, until this evening, when I checked my e-mail, and there you were.I really am jumpy because of what happened to me last year.
I have to tell you that last July (a year ago), I went for my walk, like I do every day. I went around the corner; nothing was wrong with me, not one thing. All of a sudden I heard this noise in my ear; it sounded like a station on the TV that was just blasting away. I had enough reasoning to tell myself, "What is going on?" The next thing I knew, I fell backwards and blacked out. I cracked my head on the pavement. An older man just happened to come around the corner and saw me lying there in a large pool of blood. He jumped out and took me home and I went to the E. R. I had split my head open and had a concussion. They thought I had a heart attack, a stroke. All kinds of things. It took me one year to recoup, and I'm still not there yet. I told the doctors that they zapped me... I still believe this.
I'm telling you this story because I'm walking again, but with a friend, and just recently while we were walking, we passed a young man who approached us and we told him, "Good morning." He told us, "Good morning, ladies." I told my friend, "He looks like a cop or secret service," and she said, "Oh hell... he's just walking like us." I said, "B.S." Well, again we just forgot about it and never gave it another thought. But the next day, after I went to that damn MUFON meeting, we went for our walk the next day, and we ran into him again, only she was going back home and I was all alone, and I said, "Good morning," and he said, "Good morning, ______, how are you?" Wholly crap, I lost it. I said, "My God, it's hot, don't you think?" I did not know what to say.
I went home and called my friend and told her, "I told you he was a government agent. He knew my name." We have not seen him since. I do not know this person, I have never seen him before in my life.
I guess it is all right to print the story. Heck, the woman who was speaking at the MUFON meeting did not seem to be too concerned; however, after what happened to me last year, I am a little bit nervous. What the heck, they have already tried to kill me... It has taken me one whole year to get back to normal. The insurance company spent almost $10,000 and could find nothing wrong.
The interesting thing about this is, two days after my accident, a woman had the same thing happen to her, only she was driving her car. Of course she crashed and went to the hospital. I also went to the hospital. Then we had the pilot of Delta Airlines get hit with a laser light while trying to land. Also one of my neighbors was found on the ground while she was out for her walk; she did not even know that she had fallen down. Someone driving by found her.
I truly believe that our government was experimenting on us. I wonder how many other people this has happened to. It has taken me one year to be able to drive a car, so on that night when we went to the meeting, I was very nervous about driving, but I did, and it was interesting, to say the least.
There was another reason why I went to that meeting, but I cannot tell you right now. Also, my friend, who had the encounter, told me that it was as if the tall woman knew in advance that she was coming. She said that the woman was waiting at the entrance for her to come into the casino and the minute she walked into the place she was right there.

Check out WHAT'S NEW

Subscribe to The Star Beacon


---
Copyright © 2005 Earth Star Publications
For permission to reprint articles or use graphics, e-mail earthstar@tripod.net.