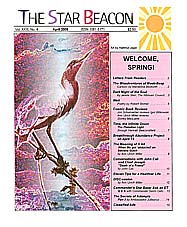 Announcing...
Ann Ulrich Miller's
Spiritual Autobiography
THROUGHOUT ALL TIME
A Cosmic Love Story

Reserve your copy today!
Click Here!
Recent Release...
ZETI CHILD
LOST UPON A ONE STAR WORLD
by Commander Sanni Emyetti Ceto

Order your copy today!
Click Here!
NIGHT OF THE WHITE RAVEN
by Ethan Miller

Order your copy today!
Click Here!
Dark Night of the Soul
by Jelaila Starr

Our world is crumbling away in order to make way for the new world to be built.

Time, the Infinite Onion
The Pleiadian Light through Hannah Beaconsfield

Time is not changing—you are.

Cosmic Book Reviews
Jon Schumacher reviews Igor Witkowski's Axis of the World, while Ann Ulrich Miller reviews Shirley MacLaine's Sage-ing Whilte Age-ing.

Conversations With Chief Joseph and John Cali


Death of a Friend
by John Cali
Last week an old and dear friend of John's died, and he celebrated. edited by Ann Ulrich Miller
Sasquatch sighting at Moricetown, BC; UFO makes Blue Mounds (Wis.) council agenda; UFO chaser asks court to stop extradition.

The Meaning of It All: When Mu got 'abducted' on Stevens Gulch

by Ann Ulrich Miller


An excerpt from the author's forthcoming book, Throughout All Time.

Free Abundance Breakthrough Project on April 15
by Jo Dunning
An invitation to join a free, beneficial project.

The Secrets of Adompla
by Ambassador Julieanux
Final segment of a manual for star seeds.

Commander's Star Base: Ask an ET

b

y Commander Sanni Ceto
Q & A on space and extraterrestrials.

Eleven hints for a healthier lifestyle

The Misadeventures of Meeb-Beep

Cartoon by Marcellina Beckwith

The April 2009 issue

also contains classified ads, upcoming events, and other intriguing tidbits of information you won't want to miss.