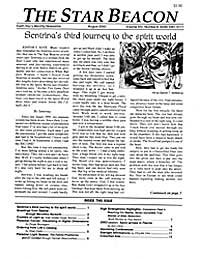 SENTRINA'S THIRD JOURNEY TO THE SPIRIT WORLD
Many readers may remember the Sentrina series of articles that ran in the Beacon years ago about Sentrina's experiences with Native American spirituality. One day a letter came describing this incredible trip to the Spirit World last October. Sentrina says, "Archie Fire Lame Deer once told me, to become a holy man/holy woman (medicine woman/man), Shaman, you must travel to the Spirit World three times and returns. Seems like I finally did it."

GREETINGS FROM BASHAR
Marcellina Beckwith comes through with her first channeling from her brother, Bashar, who talks about Time, Greed and Wealth.

CRYSTALS OF LIGHT
by Arda Golden Eagle Woman. This month Arda's guide talks about CONTROL.

THE PLEIADIAN CORNER, by Droga Beuregard
Visualizing in Higher Dimensions.

ORDERING FROM LIFE'S CATALOG, by Shari Clark
Some advice on how to get what you want out of life by the daughter of Arda Golden Eagle Woman.

The August 2000 issue also contains DISC-USSION by Ann Ulrich, with an update on SANNI'S MOVE TO PAONIA, COLO., and the upcoming Love and Light Conference;
THE FATIMA PROPHECIES AND ET CONTACT, by Hannah Beaconsfield; HIGH STRANGENESS HIGHLIGHTS, by Paul Bartch, discussing Constance Clear's book, Reaching for Reality; Starlight Affirmations from Chrystle Clae; plus upcoming conferences, and classified ads and other intriguing tidbits of information you won't want to miss.