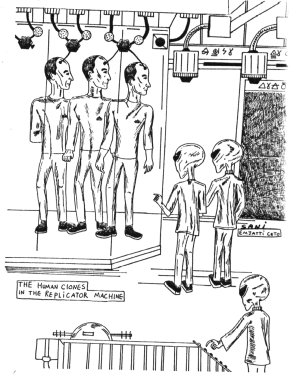 Original Art by Sanni Ceto


What's new?
THE STAR BEACON
OCTOBER 1998
Working With Non-Human Subjects
THE SHAMAN'S PATH -- SOUL RETRIEVAL, Part III
by Irina H. Corten, Ph.D.
Shamans retrieve souls for humans, animals, plants, and even inanimate objects, not to mention things like land or institutions. Irina tells how she helped her dogs overcome their problems for a better life in this fascinating column in her continuing series on cross-cultural shamanism.
---
RIGHT IN OUR FACES
Opinion by Arda Golden Eagle Woman
Reaction to last month's DISC-ussion article on Leonard Peltier, the Native American accused and imprisoned for a crime he says he did not commit, and the injustice and persecution of minorities by our government.
---
SPREADING LIGHT IN A SEA OF DARKNESS
by Mike Perrine
Having spent the last 10 years in Japan, the writer awaits word from the Immigration Office as to whether he can stay and continue teaching. Meanwhile, his eyes have opened to a greater awareness of the Divine Light and the people that surround him.
---
FEAR IS OUR ENEMY, CHAOS IS OUR FRIEND
by Aluna Joy Yaxk'in
The choice is ours... with chaos and rising fear manifesting in the hearts of humanity as we approach the millennium, it is time to take responsibility for ourselves. The writer tells us what we can do. She also lists body symptoms we might be experiencing and what they mean at this critical time.
---
GETTING STARTED WITH MACROBIOTICS
by Fred Pulver
Good intuition comes from good nutrition. Macrobiotic writer and teacher Fred Pulver shows a simplistic and gentle way to introduce macrobiotics into our lives.
---
ALMINE BARTON TEACHES PROCESS OF ASCENSION
by Paul Bartch
A transcription of Almine Barton's workshop given at the 1997 Global Sciences Congress in Denver, Colo. Her goal is to assist us into self-empowerment.
---
A PRAYER OF TRANSITION
by Bob Huth
Bob gives a prayer that can be said morning and evening, stressing the idea that there are no victims, only the Divine-Self plan, and that we can connect with Self-Within to assist us in light and love through our day.
---
ATTITUDE DETERMINES ALTITUDE
An unknown author wrote this wonderful, uplifting piece to help you get through your day.
---
Also in this month's Beacon
Letters *** Tales of a Wanderer (by Lori Cordini, The Watana) *** Starlight Affirmations (by astrologer Chrystle Clae) *** Cosmic Thoughts (by Julian Joyce) *** Crystals of Light (by Arda Golden Eagle Woman) *** Upcoming Conferences *** Classifieds Ad
---
Read a Sample Article from this issue
Check out the Upcoming Conferences
Read Star Beacon Ads
See what was in the September Star Beacon
Interested in a Far-out Pen Pal?