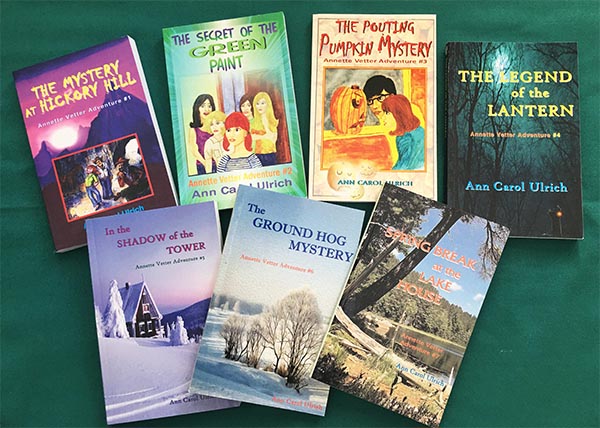 Time Travel Back to the '60s
with Annette Vetter and her friends at Ravensville High
Get the
Annette Vetter Adventures
GIFT SET
and SAVE!
Young adult fiction for readers of ALL ages
by Ann Carol Ulrich
Individually each book is $9.95 and would cost $79.60 (PLUS shipping) for all eight books.
But if you order the WHOLE SET for $49.95, you save $29.65 and pay NO shipping. You'll receive ...
THE MYSTERY AT HICKORY HILL (August)
THE SECRET OF THE GREEN PAINT (September)
THE POUTING PUMPKIN MYSTERY (October)
THE LEGEND OF THE LANTERN (November)
IN THE SHADOW OF THE TOWER (December)
THE GROUND HOG MYSTERY (February)
SPRING BREAK AT THE LAKE HOUSE (April)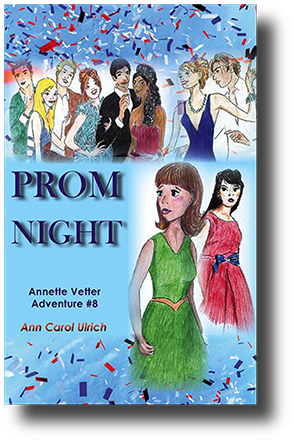 and PROM NIGHT (May)
Take advantage of this great offer. Supplies are limited. And remember ... shipping is FREE!
Order
THE
ANNETTE VETTER GIFT SET
You may also order the set by sending check or money order for $49.95 to:
EARTH STAR PUBLICATIONS
P.O. Box 267, Eckert, CO 81418
Colorado residents please add $2.45 sales tax
This page updated August 16, 2020