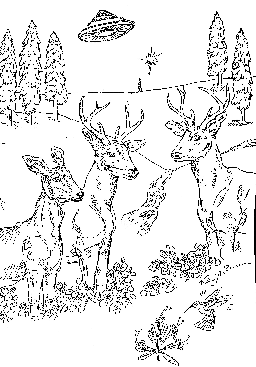 Drawing by Valerie Benson

Contents of the April issue of
THE STAR BEACON
Giant ET craft emerges from sea next to oil rig
from Ben Field, UFO Updates, Toronto
Jeremy Clark Packer's personal report of the massive UFO witnessed by him and his co-workers on an oil rig out of Corpus Christi, Texas, last December.



Childhood's End Revisited -- A UFO Memoir
by James Parsons
The author's experiences with famous UFO contactee George Van Tassel at a conference at Giant Rock, Calif., in the 1970s.

UFO DISC-cussion
by Ann Ulrich
Have NASA researchers discovered physical evidence of the Photon Belt? Info on Cary Dickey's new organization, Friends of Interplanetary Visitors.

English Weather: Earth Changes in Europe
by Torner
El Nino's effects are not limited to North America by any means. A detailed report on climatic changes from England.

UFOs seen over Cedaredge, Colo.
by Davina Ryszka
The March 2, 1998 sighting of seven UFOs with multi-colored lights in Cedaredge, Colorado.

The Shaman's Path
Shamanism and Extraterrestrial Contact
by Irina H. Corten, Ph.D.
In Part Two: A Family Reunion, the author describes her journey to visit her extraterrestrial twin brother, Kor.

UFOs again reveal who they are
through Sari
Lucille McNames (Sari) channels information from her mentors, who tell who they are and why they are here.

The Human Requirement in the Shift of the Ages
by John Poling
A review of Gregg Braden's work dealing with the Shift of the Ages, as told in his book, Awaking to Zero Point/

PLUS... Letters from Readers
Cosmic Thoughts by Julian Joyce, Tales of a Wanderer by Lori Cordini, The Watana... and MORE!


---

READ A SAMPLE CHAPTER from the April issue

Subscribe to The Star Beacon

Take a look at STAR BEACON ADS

RETURN TO INDEX