Sample article from July 2000 Star Beacon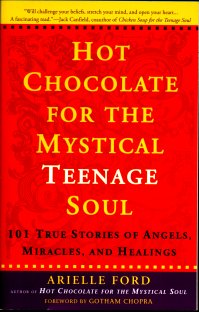 Exciting new book for mystical teens
Hot Chocolate for the Mystical Teenage Soul: 101 True Stories of Angels, Miracles, and Healings
by Arielle Ford
Plume, New York, ISBN 0-452-28070-2, 311 pages, paper, $12.95
Review by Ann Ulrich
Sit down in your coziest chair and enjoy another cup of hot chocolate from Arielle Ford's series of metaphysical books. Young people will especially find this book a treasure with its many offerings of short tales about dreams, past lives, angels, healings, out-of-body experiences and much more. From psychic pets to party-crashing ghosts, otherworldly visitations to vision quests, Hot Chocolate for the Mystical Teenage Soul will inspire and empower the reader with the strong message that we are never alone.
Seven sections separate all the stories into categories, starting with "Spooky Stuff," "Angelic Rescue, Prayer, and Divine Assistance," followed by "Extraordinary Healing," "Dreams, Past Lives, and Out-of- Body Experiences," "Spiritual Awakening," "Visions, Premonitions, and Special Abilities," and "Death and Visitations." It is in the "Visions, Premonitions, and Special Abilities" section that you will find this reviewer's own story, "The Diary," about my experience as a 15-year-old and the strange phenomenon that occurred when my grandmother passed on.
This book is ideal for a gift for that special teenager in your life. You can order off the Internet at http:// www.mysticalteen.com, which will feature a different story from the book every week. The Web site also lets visitors submit their own mystical teen story for a future volume of Hot Chocolate.
Hot Chocolate for the Mystical Teenager Soul is now in bookstores. If you'd like to order a copy, Earth Star will be carrying a limited number of copies for resale. Send $12.95 plus $3.00 shipping to The Star Beacon, P.O. Box 117, Paonia, CO 81428.