Welcome to Earth Star Publications,
home of The Star Beacon metaphysical
newsletter SUBSCRIBE HERE!
View our On Line Book Catalog!
SAVE $ $ $ $ on books for the holidays -- Click Here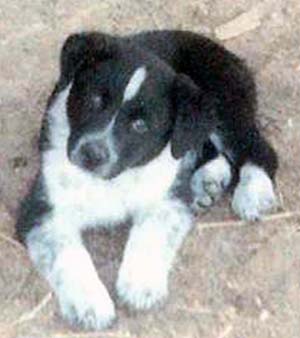 NEW RELEASE!
A DOG NAMED RANGER
by Ann Ulrich Miller
Sometimes the clown... sometimes the comforter... the true story of a very special canine and the lives he touched.
---
STAR BEACON NEW FORMAT
Now 24 pages Published six times a year
THE STAR BEACON is a metaphysical newsletter that comes out every other month and has been in publication since 1987. You can subscribe to the print edition or full-color PDF edition. Request a free sample!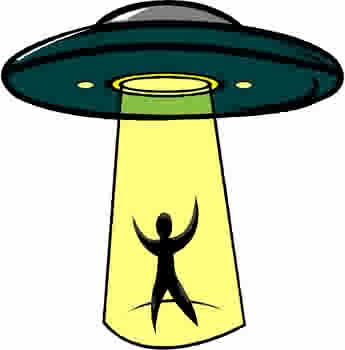 Welcome to Earth Star on the Web. Here you will find a wealth of articles on diverse topics including UFOs and extraterrestrials, the paranormal, healing, earth changes, spirituality, the latest sightings, channeling, astrology, book reviews, art, poetry, plus conference news and reports, and a whole lot more. .
Regularly featured columns include Conversations with Spirit and John Cali, DISC-ussion (the latest UFO sightings), The Meaning of It All by Ann Ulrich Miller, The Gentle Way by Tom T. Moore, Teotwawki Living by Carol Elek, Radio Waves by Ray Larsen, Commander's Star Base: Ask an ET by Commander Sanni Ceto, Cosmic Book Reviews, The Golden Age by Linda Maupin, and more. Guest columns by Hannah Beaconsfield, James Parsons, T. Stokes, Jelaila Starr, Fred Pulver, and many others.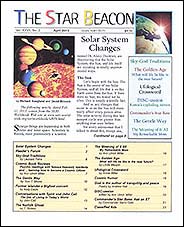 You can sample some of the articles in the April Star Beacon for free by clicking here. Not all articles are linked. To read the entire issue, we invite you to purchase the PDF for just $2.00.
PDF of current issue ($2.00)
You may also order a print copy of the current issue for $4.50, to be mailed to your location. To inquire, e-mail starbeacon@gmail.com.

Coming Soon! Reading Room
A place to pre-view sample chapters
of some of our book merchandise
STAR BEACON SUBJECT INDEX lists all articles in print since April 1987.
View Links to Related Web Sites
This page updated April 23, 2013
This page has been visited by

Light Beings

Greetings, Terrans! See the latest articles. Check out the current issue...

CLICK HERE to receive the FREE bi-monthly e-newsletter

Earth Star Books
Browse our Book Catalog to view all our books and publications.
We also sell T-shirts and Cosmic business cards!
SIGN UP for Star Beacon updates!


Click to join starbeacon
Please consider making a donation to keep The Star Beacon in print. No matter how small or large your blessing, you are so appreciated and loved! Thank you.ake a Donation

Publishing Professional
Earth Star offers editing and production services for self-publishing authors, plus a lot more. You may inquire by contacting us at starbeacon@gmail.com
QUIKKY BOOKS
Our new line of publishing
Find out more..... email
starbeacon@gmail.com

See all we offer in the way of publishing services. Check it out...
Psychic Readers Page
Our free directory lists intuitives ready to assist you.. View Psychics Page...