Earth Star's BOOK and GIFT SHOP
ROMANTIC SUSPENSE THRILLER
Just Released!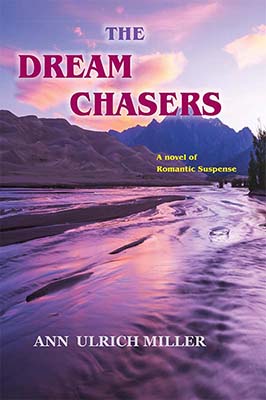 THE DREAM CHASERS

by Ann Ulrich.Miller
Now available as an ebook
at Amazon.com
Haunted by her dead sister who died two years ago under questionable circumstances, B.J. Martin faces outrageous challenges after starting a new business in southern Colorado. Too many bizarre and frightening incidents cause her to suspect that someone wants her valley-wide shopper newspaper to fail.
Risking everything she owns for her start-up publication, B.J. handles each new stumbling block with courage and conviction, unrelenting as she faces a burglary break-in, stalkers, spies, accusations of bigotry, vehicle disasters ... and tackling the cold case murder of her sister involved in a drug cartel.
Still suffering from a devastating divorce 17 years ago, she is leery of men. Yet when Grant Tucker, publisher of the rival Mountain Sentinel daily newspaper, takes more than a casual interest in her, B.J. finds she can no longer distinguish between betrayal and the possibility that she could still have it all.
---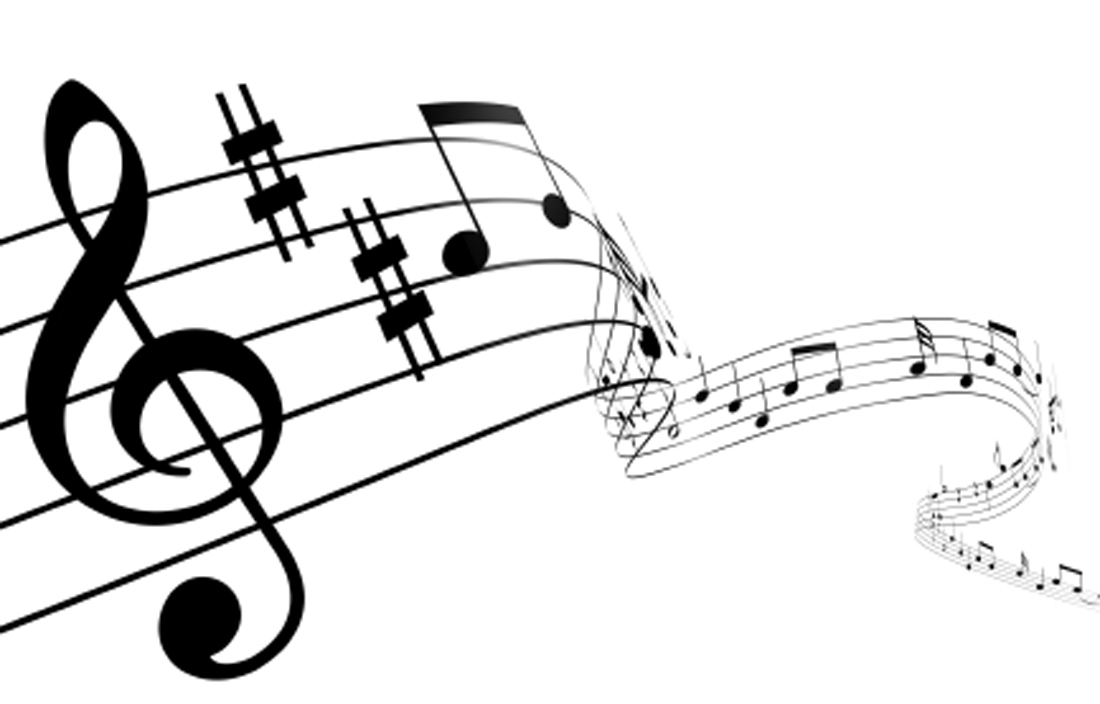 SONATA SUMMER

by Ann Ulrich.Miller
Last summer in Aspen... Rhea fell in love with Parker Sherwin while on scholarship at the Aspen Music Festival. But her dreams were shattered one week before their wedding, when a forest fire claimed Parker's life.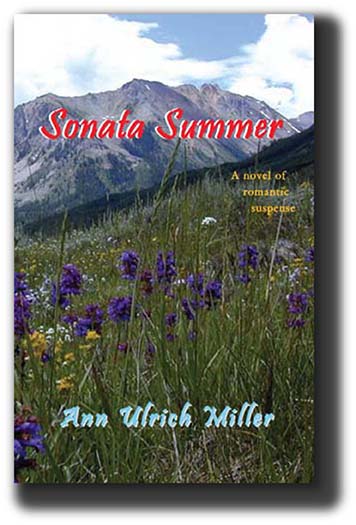 Unable to leave the one place she'd found happiness, Rhea remains in Aspen and struggles through the winter as a "local."
Enrolled for her second summer at the Aspen Music School, Rhea meets Trey Michaels, an outfitter, but she insists on remaining faithful to Parker, whose spirit jogs at her side during her daily runs along the Rio Grande Trail.
She doesn't dare tell anyone that she shares conversations with her unseen lover.
---
Now available in ebook format from Amazon Kindle -- Just $2.99
---
---
ROMANTIC SUSPENSE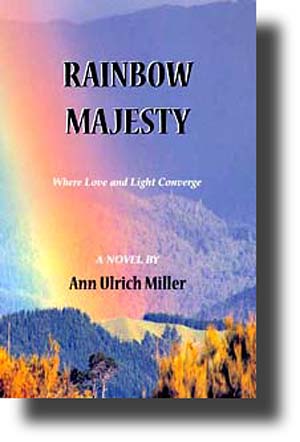 RAINBOW MAJESTY
Where Love and Light Converge
by Ann Ulrich.Miller
Now available as an ebook
at Amazon.com
Struck down by her finance's death in Iraq, and now the loss of her long-suffering mother, a young woman searches for the true meaning of life... Hoping to seek answers to her father's death 22 years prior, Juniper Sutton leaves Kansas for the Rocky Mountains. Converted from a hunting resort, the Rainbow Majestic Lodge now caters to light workers and Juniper agrees to manage the lodge's new gift shop for her Aunt Rosalee. Two men employed by her aunt capture her heart while she is thrust into a new way of thinking and encounters extraordinary people and ideas. But Gena Sutton Howard, Juniper's first cousin, sets herself up from the beginning to challenge Juniper every step of the way. However, Gena's psychic ability uncovers something she'd rather not know about the young woman from Kansas, and the lodge's dark secrets begin to spill out -- even to the point of murder.
---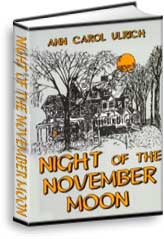 NIGHT OF THE NOVEMBER MOON
by Ann Carol Ulrich
Lost love returns,
but obsession lurks
in a haunted manor
Also available as an ebook
at Amazon.com for just $2.99
A lucid dream and a synchronous assignment lead the young, recently widowed Winnie Grant to Pelton Manor, home of her lost love, Rob Pelton. Reunited by a chance encounter, the two rekindle the flames of their adolescent past. But the haunted manor hides a chilling secret of death and betrayal.
ISBN 0-944851-17-7 November 1999
CONTEMPORARY ROMANCE/MYSTERY Retail $11.95

Read a sample chapter from Night of the November Moon
Order
NIGHT OF THE
NOVEMBER MOON
You may also order the book by sending check or money order for $11.95 (postpaid) to:
EARTH STAR PUBLICATIONS - PO Box 267, Eckert CO 81418
Colorado residents please add 74 cents sales tax
---
View Links to Related Web Sites
This page updated December 5, 2018
What's New!
Greetings, Terrans! See the latest articles. Check out the current issue...

CLICK HERE to receive FREE monthly newsletter

Earth Star Books
Browse our Book Catalog to view all our books and publications.
Publishing Professional
Earth Star offers editing and production services for self-publishing authors, plus a lot more. You may inquire by contacting us at starbeacon@gmail.com
See all we offer in the way of publishing services. Check it out...
Psychic Readers Page
Our free directory lists intuitives ready to assist you... View Psychics Page...