Sample article from the January 2002 Star Beacon
Introducing CHIEF JOSEPH and John Cali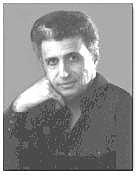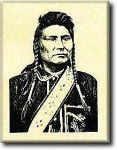 by John Cali
My name is John Cali.
Since 1992, I've been communicating with a non-physical entity called Joseph. In one of his many physical lifetimes, this spirit was incarnated as the legendary Chief Joseph of the Nez Perce tribe in what is now Oregon.
In 1996, I started publishing a newsletter called Sentinels of the Sky: Conversations With Chief Joseph & John Cali.
Over the years, many of our newsletter subscribers have called and written us about their personal challenges and issues. We've handled their questions as well as we could. Although we were (and still are) doing personal readings, that didn't suit everyone. So we decided to start a questions-and-answers column.
Anne Miller, editor and publisher of The Star Beacon, has graciously agreed to run our Q&A column in her publication.
Joseph says our sole purpose in life is to reconnect with our higher selves, to remember the glorious creators, the goddesses and gods, we all are. And, most of all, to have fun doing it!
When we're so filled with our own glory and divinity, when we literally fall "head-over-heels" in love with ourselves, we'll easily handle all life's challenges. Our personal and spiritual growth will soar.
According to Joseph, the key to achieving all this is simple: Seek only joy.
As a subscriber to The Star Beacon, you're free to send us any questions you want, on any subject. The questions can be as specific, personal, or broad as you want to make them. However, if they are specific and/or personal, please be sure they have a broad, general appeal.
The biggest issues most people have, at least judging from my experience in publishing our newsletter going on six years now, are:
Relationships (especially romantic ones)


Work/career (doing what you love for the pleasure instead of doing what you hate for the money)


Physical health and other issues with your bodies


Abundance (especially financial)


Integrating all the above with your spiritual path
Please e-mail your questions to me at john@greatwesternpublishing.org. Be sure to put the phrase "star beacon questions" in the subject line.

Joseph and I look forward to hearing from you!

Visit John Cali's Web site at www.greatwesternpublishing.org.

Get the free newsletter by e-mailing: chiefjoseph-on@mail-list.com

Personal readings with Chief Joseph: cjreadings@fastfacts.net

Directory of Products: cjcatalog@fastfacts.net

Great Western Publishing
Copyright © 2002 by John Cali
All rights reserved.