Sample article from
the 2001 Star Beacon
Report on the 3rd annual Love and Light Conference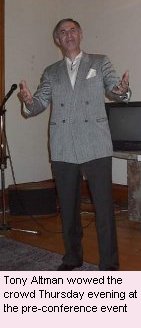 Paonia, Colorado, August 2-5, 2001
by Anne Miller
This was my third year of putting on the Love and Light Conference. Although we had another low turnout of actual participants, there was a lot of walk-in traffic on the vendor floor. It became clear to me yet again that this conference is one of quality and not about how many people we draw in, or how much money can be made.

In my opinion, it is regrettable that this conference could be as energized and high quality as it was and not have more people taking advantage of it. We thought moving the conference to Paonia would bring in more like-minded people. At least most of the attendees agreed that Paonia was a good location and they liked the energy. The Blue Sage was a good place to hold it, although the building itself had some drawbacks; the upstairs rooms were hot and uncomfortable, and running the portable swamp cooler was noisy and distracting. The steep stairway kept a few people away who would might have enjoyed the conference - some elderly and a woman I know who was recovering from knee surgery. On the other hand, having the conference events separate from the vendors downstairs was a plus for privacy. But it also seemed to divide participants and vendors might have participated more in talks and workshops had everything been on one floor.

Thursday evening we opened the conference with a free evening. We had two speakers, both of whom were guests of Ethanís and mine on Stucker Mesa. Valerie Benson from Burke, Va., had wanted to speak last year and couldnít make it, so this year she came, slated to speak on her UFO contact experiences. Unfortunately, she did not have a speech prepared. She brought along some videos and we watched a few minutes of Valerie on the "Strange Universe" show, footage she had never even seen.

Our surprise speaker, Tony Altman, stepped in next. Tony had called up a week before the conference and said he would be willing to come and participate. He resides in Pahrump, Nev., and had heard about the Love and Light Conference from his Webmaster, who was visiting relatives in Delta, Colo. Tony sounded so interesting, I told him to come; he could stay with us on the mesa, and Iíd work him in. An Englishman and an actor, Tony was able to save the evening with his charm and his wit. He did a past life group regression and then he talked a little about his experience out at Area 51 in Nevada. If weíd had more time, he would also have done an experiment with remote viewing.

Friday morning the conference officially began. The downstairs of the Blue Sage was filled with vendors and readers. I had to bring in more tables to accommodate everybody. My helpers, Dave Kamienski and Carol Brideson, were there to greet people who walked in and help the few who registered.

At 11:00 I gave my talk upstairs on "The Photon Belt, New Energy Affecting Earth." Being the first lecture, there werenít many people in attendance. I began by telling about my UFO experiences in early life. Chandara had come through Linda Maupin, a psychic from Los Gatos, Calif. who is well known to most Star Beacon readers, and I gave some background information on the Photon Belt and followed through with the excellent information channeled from Linda. Chandara told about what changes we can expect and how our bodies are affected by this new energy, as well as our emotions and mental states. The talk ended with a song and my guitar, encouraged by Spirit.

At 2:00 Scott Mandelker gave his talk on "UFOs and ET Contact: The Spiritual View." Scott is an author and a counselor who flew in from San Francisco to be with us at this conference. He talked about the spiritual approach to UFOs and ET contact, with emphasis on their agendas, their activity on Earth, and the current global shift. His two workshops were well received, in which he shared a lot of knowledge. I knew that Scott would not mind coming to a conference with a low turnout because he had mentioned in his book, Universal Vision, about attending several that had low attendance and yet were very worthwhile. Scott is truly destined to be a prominent spiritual teacher. He has done so much for one who has yet to see his 40th birthday.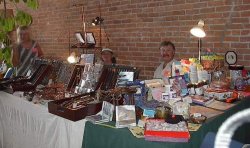 Friday afternoon there were workshops, and then at 7:00, Barbara Griffin Villemez gave her talk on "Love Is The Way." Barbara has been in the nursing profession and resides in Laramie, Wyo. There was a mix-up about the time, because at 7:30 Barbara thought her time was up. We ended up having a long hourís break before the scheduled guided group meditation at 8:30 with Arda Golden Eagle Woman and myself. But the audience entered into a discussion group, which turned out to be a good thing. The meditation to candlelight and music was a great way to end the dayís events.
Saturday morning there were more workshops. I attended Daniel Nicholsí dowsing workshop, and learned quite a bit in the two hours, about Hartmann lines, about testing products and food, about changing these items to make them beneficial, and about clearing negative entities off of an individual. I felt as though I were laden with negative energies, and sure enough, Daniel removed about 30 from me. Apparently these things attach themselves to us and cause all sorts of problems. I awoke that morning with a bad headache. After the clearing, I felt much lighter and my headache did not come back.
At 2:00, Michael Brill, the numerologist, presented his entertaining talk on "The Origin of God, the Universe, and Karma." His talks are always so informative and interesting. We had a chance to figure out our achievement numbers, based on birthdate and the letters in our name. He presented a diagram of the Tree of Life, which mathematically portrays the origin of all creation.
More workshops followed Michaelís presentation. Meanwhile, downstairs, vendors were enjoying the traffic coming in off the street as people browsed, shopped and discovered what a Love and Light Conference was. Robert Ray and Dyan Steinís display was the most elaborate exhibit at the conference, with a huge copper tetrahedron over a massage table, where Dyan gave Reiki treatments while Robert played the best new age music on CDs Iíve ever heard. He had hundreds of CDs for sale. Just sitting next to their display gave off wonderful energy which Iím sure poured out onto the streets of Paonia.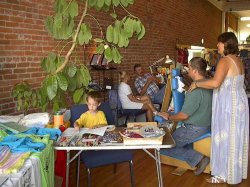 Cindy Marzonie and Daniel Nichols of Canon City, Colo., sold their jewelry made mostly of copper and gemstones or crystals. Cindy gave chair massages on a donation basis. Shirley Ingram of Delta sold Warm Spirit clothing, and Debra Finlayson of Delta, who has Native Touch Holistics, offered Reiki. Jeanine London and Jeff Bailey sold Microhydrin and other health products and items of interest. Ruby Burkhalter came from Carbondale to give astrological readings. Noalani Terry came from Montrose to do polarity therapy, and Robert Sullivan ("Chi") gave tarot readings. In addition, our speakers offered products and services as well: Tony Altman brought his Chi machine from Nevada for demonstrations and had several of his meditation CDs for sale. Maria Gurule did readings, using cards, and Allison Rae gave soul readings as well. Scott Mandelker had his table next to Earth Starís, where he offered his two books plus several videos and audio cassettes of his teachings. We had a wonderful array of products and services and music to enhance the feeling of a New Age fair.
Saturday evening at 7:00, Allison Rae spoke on "Star Alignments, Earth Changes and Planetary Healing." She talked about the shift of the ages and the energies available to us for personal and planetary healing, plus she gave some recent and urgent updates on earth changes. Her workshop, "Sojourn on the Star Path," was well attended. Allison lives in Manitou Springs, Colo.
Following Allisonís talk was Maria Gurule of Colorado Springs. Maria, who grew up in the San Luis Valley, is of Basque heritage and has visited many sacred sites in South America. Her talk was on "Attracting Your Twin Flame - Your Life Mate." And the next afternoon she presented a workshop on "Connecting with Your Twin Flame."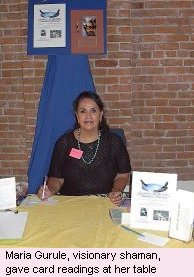 Sunday morning was our panel discussion at 10:00, led by Scott Mandelker. The question for the panel members was, "How do you get stuck in your spirituality, and how can you get out of it?" Each panel member had six minutes to elaborate on this, and then the audience interacted. Although the panel started out on a serious note, by the end of the two hours, we had a rowdy group of people expressing their opinions and having a wonderful time.
The conference began to wrap up then, with the last set of workshops ending at 3:30. Following the conference, a drumming circle was scheduled on the property of Jeanine London and Jeff Bailey in Paonia. However, another event occurred which canceled out the drumming circle. A spectacular thunder and lightning storm came late in the afternoon. We sat and watched the light show from our big picture window on Stucker Mesa. It was the most amazing lightning storm Iíve seen yet. It was better than fireworks, and a fitting end to the high-energy weekend.
After the storm an awesome salmon-colored sky lit up the west, accompanied by a colorful rainbow in the east. It was an unusual and glorious display of nature that the townspeople talked about for a long time afterwards. It took a whole week for me to sort through the information and experiences from this conference. The people were wonderful and the sharing and caring went beyond expectations. To say it was a financial disaster may be true, but financial gain was certainly not the intent or focus of the 3rd annual Love and Light Conference. What people got out of it - and what I gained on a spiritual level - far outweighed anything monetary or of superficial value. This conference was on another level, another dimension.
Iíd like to elaborate on a personal shift I experienced. When Grandmother Whiteswan canceled out on me a couple of weeks before the conference, I decided to take her place and do a talk on the Photon Belt. Over the course of the summer, Spirit had been coaxing me to practice my guitar and prepare some New Age songs for performance. Originally I had planned on having a music jam, with several performers, at the Thursday evening event. Somehow it didnít come into fruition, and yet Spirit kept "telling" me, "Prepare to perform." So I kept practicing, but wondering what was the use. The day before the conference, confirmation came - such a strong feeling within that I had to bring my guitar and I was to perform - period. So it was a major accomplishment for me personally, to be able to share at least one of my songs with a small audience. It conquered one fear that had kept me from sharing a gift with others.
A strange thing happened just after my talk. I suddenly got a canker sore on the side of my tongue. It was profound. I didnít think I could eat anything, so we went to Sunnyside Cafť and ordered smoothies. It was painful talking, but of course I had the whole weekend ahead of me and much talking to do. Eating was equally painful, so I resorted to eating brown rice. Brown rice was the only thing that felt comfortable in my mouth. Well, after several days of eating just brown rice, I began to experience something new. My mind began to clear out the clutter that has been there for years. For the first time I felt I could perceive things more clearly. It was so enlightening! It was easier to meditate, to get in contact with my higher self.
Of course, I realize the high vibes of the conference itself may have contributed to this shift in my state of mind. But I also believe eating purely brown rice was a factor, too. The experience with the canker sore challenged me to think seriously about my eating habits and gave me incentive to change my ways. Sometimes itís curious just how Spirit works.
The question on everyoneís mind is: Will there be a 4th annual Love and Light Conference? After hearing all of the feedback and enthusiasm from participants, how could I possibly say no? Even if the conference has helped but one person find their spirituality each year, it is well worth doing.
But next year, Allison Rae and I may team up to put on this event together. Iíve learned that it is just too much work for one person; plus her expertise is in this area. So, for those of you who have wanted to come to the conference and couldnít make it, I think youíll get another chance in 2002.