ALL THE BAD STUFF COMES IN THREES
The first book in the Pat Garrett/Leigh McCracken Detective Series
by Karen Gallob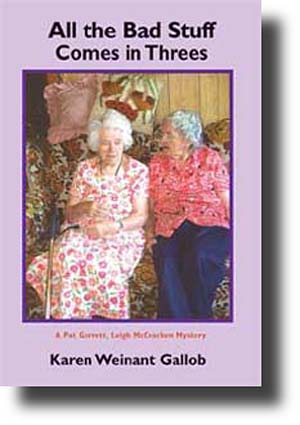 Could she really be expected to remember to tell her son that she had to work her way around an annoying dead body to find her club gift? After all, the fact that Alma remembered the gift at all should keep her friends from thinking she is getting old.
Not your average Miss Marple, Alma's short-term memory fails her more often than not. Even so, she's learned a thing or two in her 91 years. She knows that nothing is as important as one's reputation in the community. Furthermore, it's clear that the bad stuff always comes in threes.
As they probe this community of respectable but water-reliant individuals, can mellow Sheriff Pat Garrett and his firecracker deputy McCracken discover the killer of the low-life water thief found in Alma's shed?

---
ISBN 978-0944851-27-2 October 2006
Mystery and Detective
ADULT FICTION Retail $14.95

---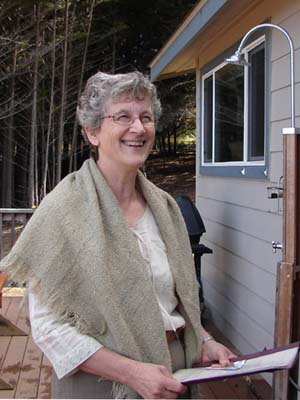 "Karen Gallob knows rural Crawford in western Colorado right down to her toenails, and the result is this rollicking read about ladies and their deliciously gossipy neighborhood clubs, competition over water, clueless newcomers and, of course, the little problem of murder."
-- Betsy Marston, editor of Writers on the Range, High Country News
"Karen Weinant Gallob is truly an extraordinary storyteller. While a good storyteller is able to describe a scene and develop characters that one can imagine as real, Gallob cultivates characters that are so well defined, so down to earth, so much like the people we all know in everyday life, that it becomes a challenge to remember that this is only a fictional tale."
-- Nathan R. Sponseller, Raven Rumours Press, LLC, North Fork Merchant Herald
Also check out Karen's other books in the series
HIDDEN TREASURE (OR) WHERE IS JESUS?
Order
ALL THE BAD STUFF
COMES IN THREES

Or to order this book by mail, send check for $17.95 postpaid to:
EARTH STAR PUBLICATIONS
PO Box 267
Eckert, CO 81418
Colorado residents please add 59 cents sales tax
Also available as an eBook from Amazon Kindle -- just $9.95
---

This page has been viewed
times
Page last updated
December 22, 2018
What's New!
Greetings, Terrans! See the latest articles. Check out the current issue...



Earth Star Books
Browse our Book Catalog to view all our books and publications.
Publishing Professional
Earth Star offers editing and production services for self-publishing authors, plus a lot more. You may inquire by contacting us at starbeacon@gmail.com
See all we offer in the way of publishing services. Check it out...
Psychic Readers Page
Our free directory lists intuitives ready to assist you... View Psychics Page...