eBooks
THE DREAM CHASERS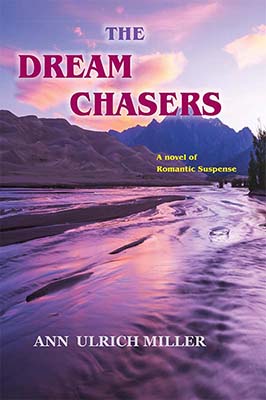 by Ann Ulrich Miller. Romantic Suspense with a paranormal theme. Released from Earth Star Publications November 26, 2018. Available from Amazon Kindle. PURCHASE FOR $5.99
FRACTURED MINDS AND LOST SOULS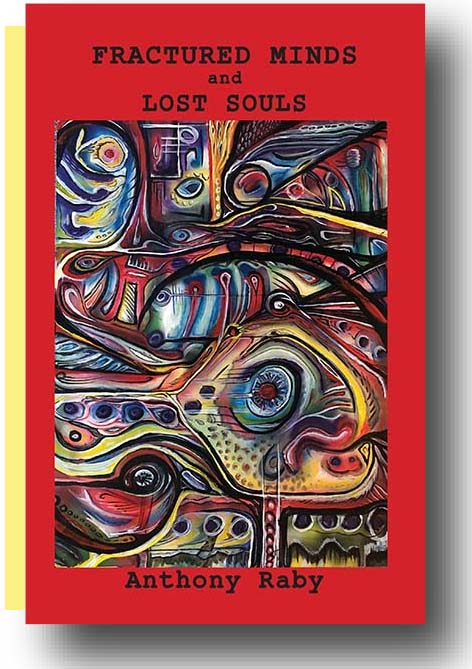 by Anthony Raby. NINE GRIPPING, MIND-BLOWING STORIES OF THE DARK AND GRIM. Released from Earth Star Publications January 31, 2018. Available from Amazon Kindle. PURCHASE FOR $5.99
STEPPING FORTH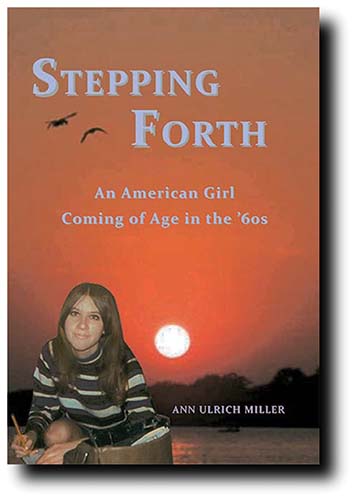 AN AMERICAN GIRL COMING OF AGE IN THE 60s... Ann Ulrich Miller's memoir Amid political turbulence, social reforms and the Vietnam war, adolescence was challenging enough for a middle-class Wisconsin girl named Ann In "Stepping Forth," Ann Schumacher shares her most personal and treasured experiences as she stepped forth from a self-conscious "teen with an attitude" into womanhood.. Includes photos and illustrations. By Ann Ulrich Miller. Available from Amazon Kindle. PURCHASE FOR $2.99
50 CASE STUDIES IN MODERN PALMISTRY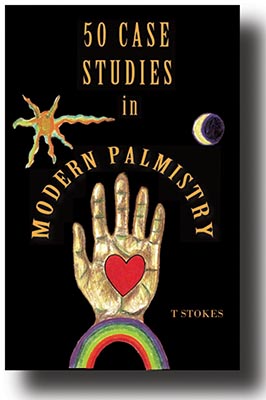 The UK's holistic palmist T Stokes has compiled 50 of his case histories, among which are readings of celebrities, including Princess Diana, Margaret Thatcher, Robin Williams, Dalai Lama, Peter O'Toole, Ravi Shankar, Michael Jackson and many more. Includes photos and illustrations. By T Stokes. Available from Amazon Kindle. PURCHASE FOR $9.95
A DOG NAMED RANGER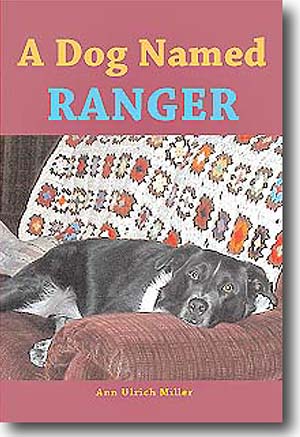 Sometimes the clown, sometimes the comforter... Here is the true story of a very special canine and the human lives he touched that would never again be the same. Includes 45 Color Photos. By Ann Ulrich Miller. Available from Amazon Kindle. PURCHASE FOR $2.99
SONATA SUMMER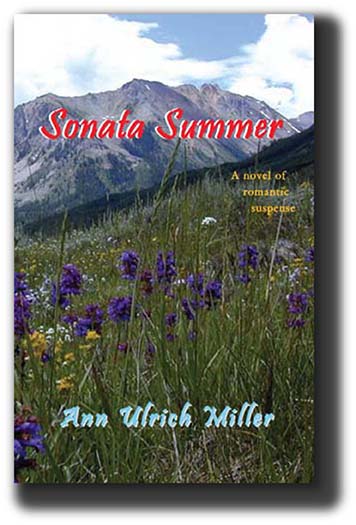 Romantic suspense by Ann Ulrich Miller (June 2012), now available in eBook format from Amazon Kindle. Last summer in Aspen... Rhea fell in love with Parker Sherwin while on scholarship at the Aspen Music Festival. But her dreams were shattered one week before their wedding, when a forest fire claimed Parker's life. Unable to leave the one place she'd found happiness, Rhea remains in Aspen and struggles through the winter as a "local." Enrolled for her second summer at the Aspen Music School, Rhea meets Trey Michaels, an outfitter, but she insists on remaining faithful to Parker, whose spirit jogs at her side during her daily runs along the Rio Grande Trail. She doesn't dare tell anyone that she shares conversations with her unseen lover. Available from Amazon.com. PURCHASE FOR $2.99
RAINBOW MAJESTY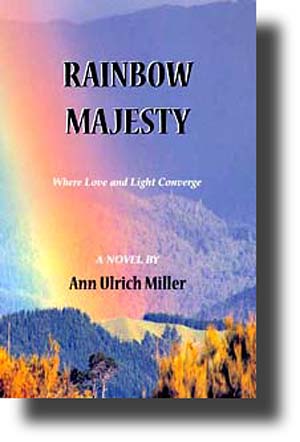 FINALIST in the Eric Hoffer Book Awards. RECOMMENDED by US Review of Books. Romantic suspense by Ann Ulrich Miller (June 2010), now available in eBook format from Amazon Kindle. Struck down by her fiance's death in Iraq, and now the loss of her long-suffering mother, a young woman searches for the meaning of life. Hoping to seek answers to her father's death 22 years prior, Juniper Sutton leaves Kansas for the Rocky Mountains. Converted from a hunting resort, the Rainbow Majestic Lodge now caters to light workers and Juniper agrees to manage the lodge's new gift shop for her Aunt Rosalee. Two men employed by her aunt capture her heart while she is thrust into a new way of thinking and encounters extraordinary people and ideas. Gena Sutton Howard, Juniper's first cousin, sets herself up from the beginning to challenge Juniper every step of the way. However, Gena's psychic ability uncovers something she'd rather not know about the young woman from Kansas, and the lodge's dark secrets begin to spill out -- even to the point of murder. PURCHASE FOR $4.99
THE ROOT CELLAR MYSTERY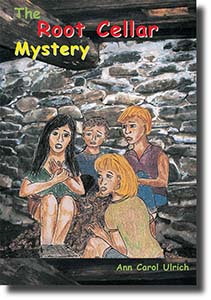 by Ann Carol Ulrich
Fourteen-year-old Chris Nesbit is not thrilled when her family moves from Milwaukee to the small town of Silver Springs, Iowa. But then she meets Wendy Young and her brother Skip. And then she joins the "P.E.D." Not only is there a mystery already in progress, with Mr. X and Mr. Y as "suspects," but the Nesbits' root cellar is unexplored and holds a decades-old secret. Available from Amazon Kindle. PURCHASE FOR $2.99
PERMUTATION, A TRUE UFO STORY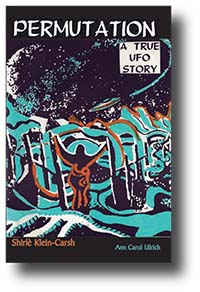 by Shirle Klein Carsh

For two years Shirle Klein was in contact with her alien friend. Before Frank left, he gave her physical proof - something few contactees can claim. This is the unusual and intriguing true story of Shirle Klein-Carsh, Canadian surrealist artist and ufologist, whose internationally recognized paintings have been shown throughout the world. Unlike many others who claim contact with extraterrestrials, Shirle deeply cares about hunanity, and her love for the Creator is so great that the aliens entrusted her with an important assignment to be fulfilled in the coming of the New Age.

Available from Amazon Kindle. PURCHASE FOR $9.95

JUST REVISED!

INTIMATE ABDUCTION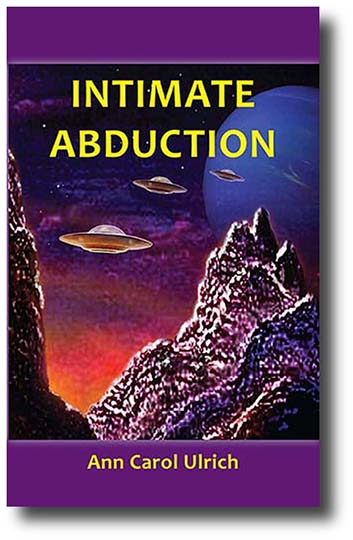 Johanna Dobbs, former concert pianist, only knows that the handsome dark-haired man sitting beside her at the ballet is attractive and alluring with his penetrating blue eyes and strange accent. What she doesn't know is that he is about to abduct her during the intermission, an event that -- though wiped from her memory -- will change her life forever. The first novel in The Space Trilogy by Ann Carol Ulrich. Available from Amazon Kindle
. PURCHASE FOR $3.99
RETURN TO TERRA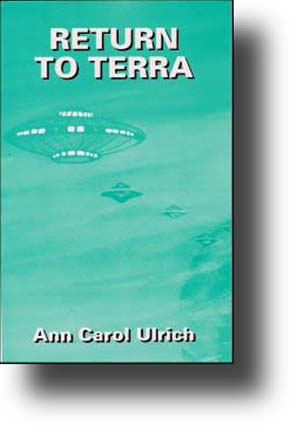 Johanna and Serassan return to Earth on a highly secretive mission to save mankind... but will they be able to stop the major catastrophe that has already begun? In this sequel to Intimate Abduction, Johanna's brother, Manley Dobbs, has quit his job and moved to a new town, where he has started a UFO Contact Center. Through his nonprofit shelter for contactees and abductees, he meets Dorothy Myers, fresh from a frightening experience she has had on Interstate 80, and where the exotic and intriguing Kapri walks in off the street and captures his heart. By Ann Carol Ulrich. Available from Amazon Kindle. PURCHASE FOR $2.99
THE LIGHT BEING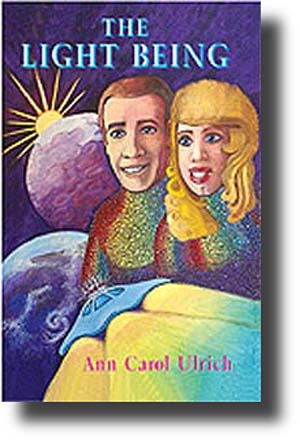 In the final segment of The Space Trilogy, a generation has passed since Johanna and Serassan returned to Earth. On Karos, after 18 years of preparations and toil, the Galactic Center for the Performing Arts is about to open. But Johanna's and Serassan's 17-year-old daughter, Crystal, is feeling the rebellious urges of adolescence and would rather go into space with the Estronian fleet. Back on Earth, Manley and Dorothy's 16-year-old son, Blake Dobbs, is not happy about his parents' sudden decision to move to the Four Corners. He meets the Light Being in what he considers to be a "lucid dream," but soon learns that "L.B." is for real when Earth enters the Photon Belt and the family gets stranded in the dark in the middle of Nebraska. Blake's mother, Dorothy, wakes up in a concentration camp while her husband, Manley, has managed to escape the helicopters and is stumbling around in a cornfield, lost in the seemingly endless night. The Dobbs children, meanwhile, are aboard a space shuttle, piloted by The Light Being, headed for the orbiting New Jerusalem, positioned nearby to assist Earth during its shift. His goal is to reunite with his Twin Soul... but first he must obtain a physical body. By Ann Carol Ulrich. Available from Amazon Kindle. PURCHASE FOR $2.99
THROUGHOUT ALL TIME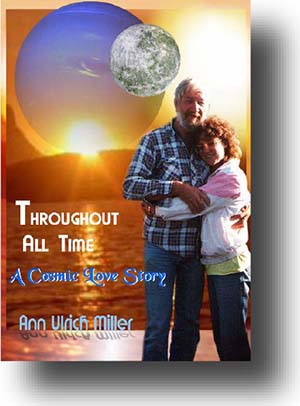 A Cosmic Love Story
What happens when you find the missing piece of yourself? Ann Ulrich Miller's spiritual autobiography about the man who traveled 2,000 miles to meet her) and changed the course of her life. She shares personal information about her experiences and paranormal events that influenced and shaped her destiny. Available from Amazon Kindle. PURCHASE FOR $2.99
INTO THE WILD BLUE AND BEYOND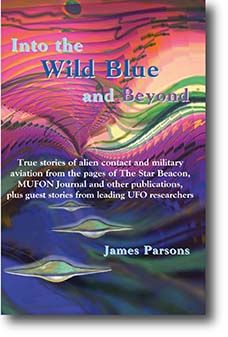 True stories of alien contact and military aviation

from the pages of The Star Beacon, MUFON Journal and other publications, plus guest stories from leading UFO researchers. James Parsons, an art collector and ufologist, has written and compiled an anthology of true stories of extraterrestrial contact. His coverage gives the reader a crash course in some of the most intriguing cases, such as the Roswell Incident, the Aztec UFO crash, Swiss contactee Billy Meier, George Van Tassel and more. Explore the unknown and make up your own mind about why they are here on Earth now. Available from Amazon Kindle. PURCHASE FOR $9.95

WE ARE AMONG YOU ALREADY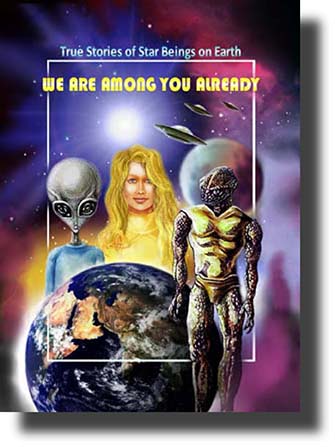 An anthology of Star Beings living on Earth

and within the population. An intimate view into the lives of those who have awakened to their Extraterrestrial identity. Compiled by Jujuolui Kuita for the Faquian Council. Available from Amazon Kindle. PURCHASE FOR $6.99

STRANDED ON EARTH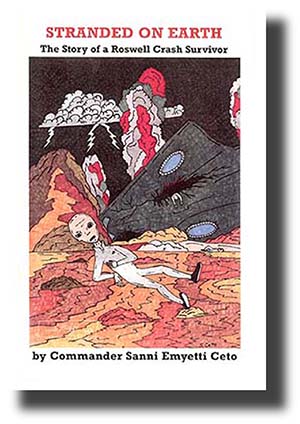 The Story of a Roswell Crash Survivor


By Commander Sanni Emyetti Ceto (2004). As the reincarnated survivor of the space ship that crashed near Roswell, New Mexico in July 1947, Sanni's life has been filled with challenges and abuse. But she is here now to declare that E.T.s are among us, whether we accept that fact or deny it. This is her story as could only be told by the one who was there. Available from Amazon.com. PURCHASE FOR $6.95

ZETI CHILD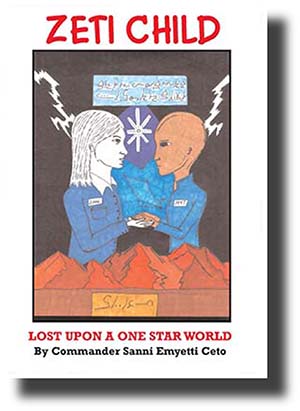 Lost Upon a One Star World


By Commander Sanni Emyetti Ceto (2006). In her second book, Commander Sanni Ceto elaborates on her Roswell memories and shares intriguing information about space people, anatomy and culture, and space technology, with detailed drawings of spacecraft and the beings who maneuver them. Available from Amazon.com. PURCHASE FOR $6.95

NIGHT OF THE WHITE RAVEN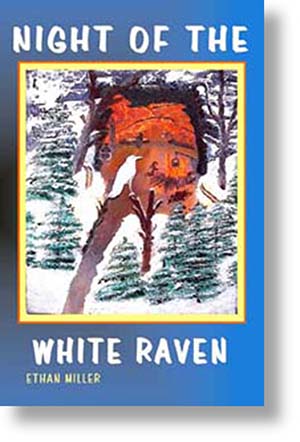 Danger, death and the unknown stalk two brave young mountain men, yet never far away is the spectral eerie presence of a mysterious White Bird. He left his home in Pennsylvania at the age of 15, accompanied by his old Indian friend, Mr. Joe. When he reached Starved Rock that fall of 1818, he'd already killed three men. Finding refuge in a blacksmith's stable, young Nathan saved every penny he earned to make his way West. At 17, he set out with his partner, a runaway slave, in their quest for beaver and a life of freedom in the untamed West. By Ethan Miller. Available from Amazon Kindle. PURCHASE FOR $3.99
ALL THE BAD STUFF COMES IN THREES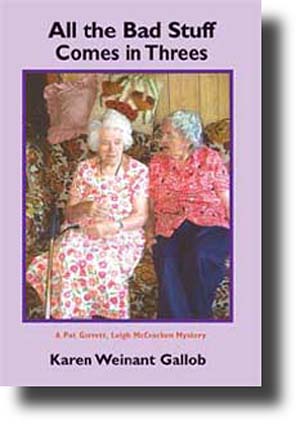 Could she really be expected to remember to tell her son that she had to work her way around an annoying dead body to find her club gift? After all, the fact that Alma remembered the gift at all should keep her friends from thinking she is getting old. Not your average Miss Marple, Alma's short-term memory fails her more often than not. Even so, she's learned a thing or two in her 91 years. She knows that nothing is as important as one's reputation in the community. Furthermore, it's clear that the bad stuff always comes in threes. As they probe this community of respectable but water-reliant individuals, can mellow Sheriff Pat Garrett and his firecracker deputy McCracken discover the killer of the low-life water thief found in Alma's shed? By Karen Weinant Gallob. Available from Amazon Kindle. PURCHASE FOR 6.99
BABY SKULLS AND FOWL ODORS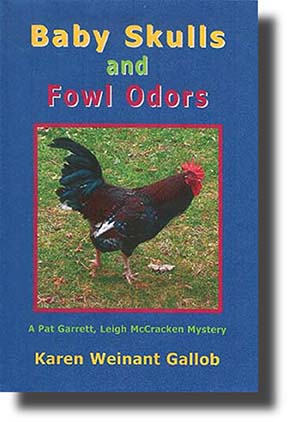 Sheriff Pat Garrett and Deputy Leigh McCracken are back... Here is the hilarious and heartwarming sequel to Karen's first cozy mystery (All the Bad Stuff). By Karen Weinant Gallob. Available from Amazon Kindle. PURCHASE FOR $3.99
NEW!
THE CLIMBING DOG AFFAIR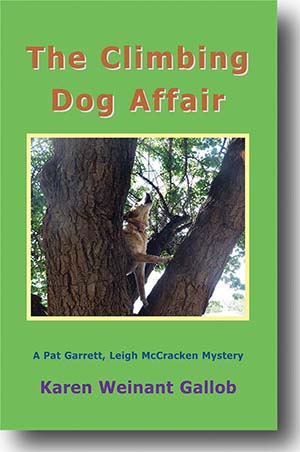 Curs, Curmudgeons and Cops Confront Crime in Croissant.

This year Croissant is the site of a hostile political campaign, and Sheriff Garrett fears a hit-and-run accident injuring a sheepdog is a harbinger of more trouble to come. By Karen Weinant Gallob. Available from Amazon Kindle. PURCHASE FOR $5.99

JUST REVISED!

NIGHT OF THE NOVEMBER MOON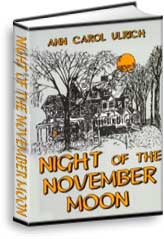 Romantic suspense by Ann Carol Ulrich


A lucid dream and a synchronous assignment lead the young, recently widowed Winnie Grant to Pelton Manor, home of her lost love, Rob Pelton. Reunited by a chance encounter, the two rekindle the flames of their adolescent past. But the haunted manor hides a chilling secret of death and betrayal. Available from Amazon Kindle. PURCHASE FOR $4.99

ANNETTE VETTER ADVENTURES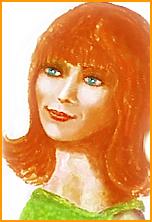 Annette says to teen-age girls in modern times ...
"We have telephones with cords, and they're just starting to make them with push buttons instead of rotary dials. We have no answering machines or cell phones. We don't have boom boxes, computers or VCRs.
"Okay, I did have a groovy little transistor radio I liked a lot. We play LP records and dance in Penny's basement, and we drink Pepsi-Cola out of real glass bottles that you get money for when you take them back to the store.
"Mom and I have a black-and-white TV, and one set is plenty. We get only three channels, but, ya know, I think we get a better selection of programs to watch than you and your satellite, and it's free. At midnight the stations go out and all you get on the screen is snow and static."
She invites you to Time Travel Back to the '60s ...
THE MYSTERY AT HICKORY HILL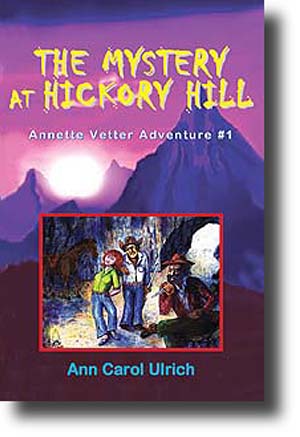 Annette Vetter Adventure #1 by Ann Carol Ulrich
Annette and Penny vacation at a Colorado ranch in the Cochetopa Hills, only to get involved with an eccentric old mountain man, a kidnapped professor and danger on horseback. Available from Amazon Kindle. PURCHASE FOR $2.99

THE SECRET OF THE GREEN PAINT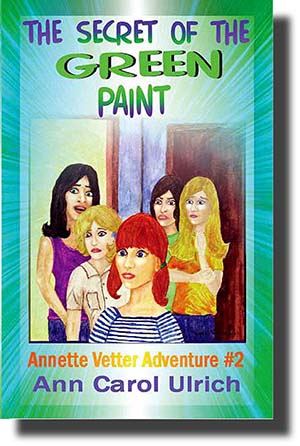 Annette Vetter Adventure #2 by Ann Carol Ulrich
As Annette begins her sophomore year at Ravensville High, she meets a new friend in art class with plenty of problems, plus she's got her eye on that new boy who lives on the farm up the road. Available from Amazon Kindle. PURCHASE FOR $2.99

THE POUTING PUMPKIN MYSTERY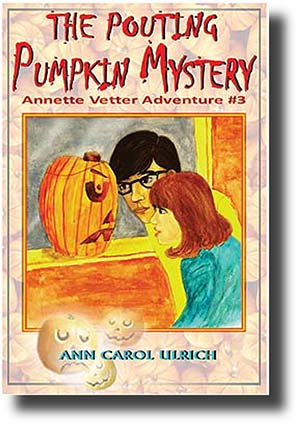 Annette Vetter Adventure #3 by Ann Carol Ulrich
It's Homecoming at Ravensville High and Annette is hoping Pete Randt will invite her to the big dance. A drug ring has invaded the community and wreaks havoc in this rural Wisconsin town. Available from Amazon Kindle. PURCHASE FOR $2.99

THE LEGEND OF THE LANTERN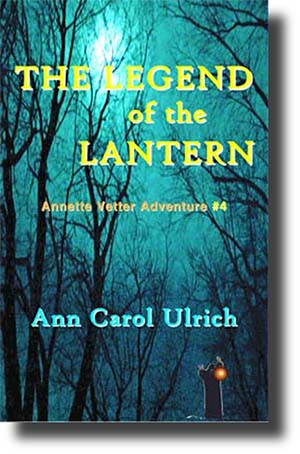 Annette Vetter Adventure #4 by Ann Carol Ulrich
Annette and Penny babysit on Thanksgiving weekend for the Randt kids, whose mom is having another baby. But the attic room they sleep in is haunted, and a freak winter storm causes lots of problems, along with the frightening "Man with the Lantern." Available from Amazon Kindle. PURCHASE FOR $2.99

IN THE SHADOW OF THE

TOWER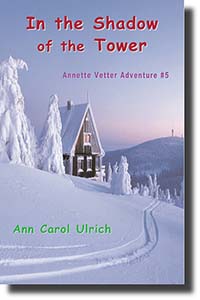 Annette Vetter Adventure #5

by

Ann Carol Ulrich

While Penny is busy with the Christmas pageant at school and Mrs. Vetter is in the doldrums over a broken relationship, Annette is feeling extra lonely. Their holiday get-away has been postponed because one of Annette's Holsteins is getting ready to calve. Annette and Penny finally get to check out the local landmark they've been dying to investigate -- the

old abandoned tower

-- and discover another mystery to solve, involving a missing girl.

Available from Amazon Kindle. PURCHASE FOR $2.99

T

HE GROUND HOG MYSTERY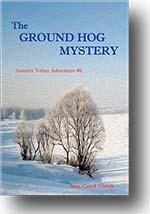 Annette Vetter Adventure #6
by
Ann Carol Ulrich
The Valentines Dance (where the girls ask the boys) is coming up and Annette knows that Pete is expecting her to ask him, yet she wants to ask Penny's brother Tim instead. Meanwhile, livestock rustlers are in the area and neighboring farmers are losing cattle, horses, and even chickens. Ruby's nightmares are causing the Vetter family some concern, but stranger yet, her dreams seem to have this weird connection to a "Missing in Action" American pilot in Vietnam.
Available from Amazon Kindle. PURCHASE FOR $3.99
SPRING BREAK AT THE LAKE HOUSE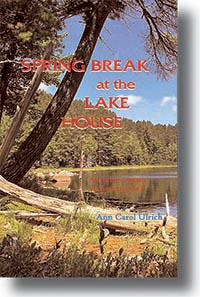 Annette Vetter Adventure #7 by Ann Carol Ulrich
While Annette, Penny and Ruby spend their spring break at the Parkers' lake house in Minocqua, Wis., unexpected events disrupt their hopes for a leisurely Easter vacation, starting with the questionable death of a fisherman, plus cousin Fern's secret boyfriend, and three unruly youths wreaking havoc in the area. Meanwhile, back from Vietnam and still recovering from his ordeal, Ruby's father drives across the country in search of a new life.
Available from Amazon Kindle. PURCHASE FOR $4.99
NEW!
PROM NIGHT
Annette Vetter Adventure #8
by Ann Carol Ulrich

A new boy in Annette's art class boldly asks her to prom. Confused because she's still waiting for Tim to ask her, Annette says she'll think about it. The next thing she knows, a rumor is all over the school about her going to prom with Tony and not Tim! Meanwhile, a homeless man has been seen camping on the Vetter property, and two men in suits appear to have the property under surveillance. Ruby's father, recently returned from Vietnam, is overly concerned when he hears about it..
Available from Amazon Kindle. PURCHASE FOR $4.99
THE CHRISTMAS LAMB
SHORT STORY -- A small boy goes on a mystical journey into Christmas past. Available from Amazon Kindle. PURCHASE FOR 99 CENTS
A ROCKY MOUNTAIN CHRISTMAS
SHORT STORY -- The heartwarming tale of a troubled young man's discovery of a deeper meaning of Christmas. Available from Amazon Kindle. PURCHASE FOR $1.99

MEDARLIN
by
Ella Sonnuves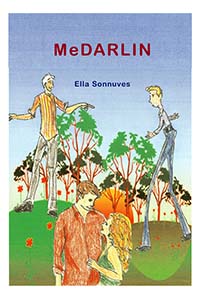 "MeDarlin" is a story of pure fantasy but with multiple simple truths about life and love. Maurel is a gifted girl whose parents die young, leaving her well to do, yet on her own at an early age. She is mysteriously led to a town off the beaten track that has many surprises in store, including the fact that all the men, women and children are of great height, which she doesn't mind because she has always held a fascination for tall people. Her small size is not a problem with the Land Trust community welcoming her in their midst, and she contributes to the town in many ways, including its name: MeDarlin, named after her. When the new Sheriff, Ellery, gets hired, it is love at first "touch" as well as sight, and their courtship and marriage inspire every member of this extraordinary, fantastical community. This is a delightful, captivating fiction story that promises to leave a deep impression on your soul. Available from Amazon Kindle. PURCHASE FOR $2.99
GO TO EARTH STAR'S HOME PAGE
This page updated October 4, 2022
What's New!
Greetings, Terrans! See the latest articles. Check out the current issue...

CLICK HERE to receive FREE bimonthly e-newsletter

Earth Star Books
Browse our Book Catalog to view all our books and publications.
Publishing Professional
Earth Star offers editing and production services for self-publishing authors, plus a lot more. You may inquire by contacting us at starbeacon@gmail.com
See all we offer in the way of publishing services. Check it out...