GREETINGS, TERRANS!
Welcome to Earth Star on the Web. Here you will find a wealth of articles on diverse topics including UFOs and extraterrestrials, the paranormal, healing, earth changes, spirituality, the latest sightings, channeling, astrology, book reviews, art, poetry, plus conference news and reports, and a whole lot more.
WHERE WOULD YOU
LIKE TO GO?


The Star Beacon: Earth Star's monthly paranormal newsletter. Subscription info can be found by clicking here.




BOOKS
Earth Star's Book Gallery features metaphysical, self-help, children's literature and adult fiction. Visit now by clicking here.





PSYCHIC READERS
The NEW Psychic Readers Directory lists Intuitive Counselors from all over. Check out who's doing what, and how to contact them, by clicking here.




THE BEST OF
THE BEACON
Selected articles which have appeared over the years in The Star Beacon
Click here.




CONFERENCES
Earth Star's annual Love and Light Conference. Also check out other conferences by clicking here.





FRIENDSHIP CLUB
Earth Star's Galaxy Wide Friendship Club is the place to find like-minded pen pals. Visit now by clicking here.





ART GALLERY
Earth Star's NEW Art Gallery features paintings by Ryan Ulrich plus an assortment of art (including extraterrestrial). Visit now by clicking here.





ARIZONA PAGE
Visit exotic and beautiful Why, Arizona. You can go there by clicking here.




MULES
Animal lovers will get a "kick" out of our Mule Page, featuring the Stucker Mesa Mules. Click here.


PUBLISHING
Earth Star Publications offers book packaging services for self-publishing authors, as well as a lot more. Please see our List of Services.
ADVERTISE HERE!
Advertise your wares or services here by placing an ad in The Star Beacon. To view CLASSIFIED ADS click here. For more information on advertising, e-mail us at UFOeditor@yahoo.com. For information regarding the Psychic Readers and Healers Directory, please e-mail earthstar@tripod.net.

by James Parsons
A visit to the International UFO Museum at Roswell, New Mexico, would lead one to believe that the alleged crash of a UFO near that city in July 1947 was a true extraterrestrial event. At least six alternating videos and numerous displays and audio tapes explore testimony from eyewitnesses and strong circumstantial evidence of an alien crash, recovery and its cover-up by higher military authorities.
READ MORE.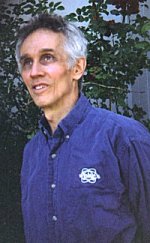 by Fred Pulver
The tragedy that occurred in New York City on Sept. 11, 2001 brought home in a horrible way that the world contains people who are extremely opposed to the United States and many of its policies. The failed attempt to bring down the World Trade Center several years ago was not enough to burst the bubble of American optimism and sense of security. It is sad that it took the sacrifice of so many lives, and destruction of so much property, to wake the USA and world to a real and devastating danger.
READ MORE.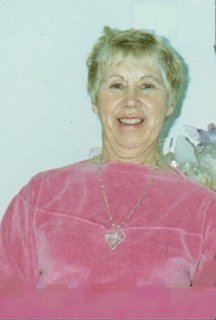 by Arda Golden Eagle Woman
A message from Archangel Michael:
My Beloved Ones --
The winds of change are bringing forth the worst and the best, thus allowing the Polarities to integrate as judgment and fear dissolves and turns to light. All is not as it appears at this time, for much, which has been hidden, is now being made known. Many have foretold that the "last days" are now upon you. This, in one sense, is true. However, it also is not as has been predicted as being "the end of the world."
READ MORE.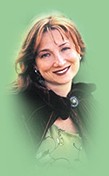 by Pepper Lewis
Mother Earth (Gaia) through Pepper Lewis:
My greetings, as always, are offered to you and form a direct path from my heart to yours. In answer to your many questions of late, I offer this communication which endeavors to bring forth clarity on several subjects of vital importance. Please welcome the support and assistance from the unseen realms, which now project themselves into your awareness. It will assist you in bringing to the surface your own thoughts and questions, thereby energizing your personal truth, which will find answers and empowerment in the following words.
To order issue, please subscribe.

from the November 2001 Star Beacon
Christopher O'Brien of the Mysterious Valley in San Luis Valley, southern Colorado, sent a report to UFO investigator Davina Ryszka, who shared the following information: "Seems we are having a mini-flap of sightings here in the SLV, which appears to have commenced with Tim Edwards' Sept. 10 sighting and videotaping of a triangular object cruising over Salida, Colo. (On) Saturday, Sept. 22, two visiting Texas hunters at the San Luis lakes observed a huge moon-sized, glowing ball hovering to the north overhead and Dollar Lakes at the north end of the state park. This is the supposed location of the sipapu (or "place of emergence") for the Dine and Pueblo Indians.
"The object appeared to extend two bright beams of light into the lakes. Two other witnesses at the Great Sand Dunes Oasis campground also reported seeing what was probably the same object. The following morning, at 11:30 a.m., another witness (while driving in the Baca development) reported two disc-shaped objects flying low over the Sangre de Cristos near Crestone Peak. As a conventional plane flying at a higher altitude neared their location, both objects appeared to 'vanish into thin air.'
"I am investigating a number of other reports from this past week which I will post after confirmation."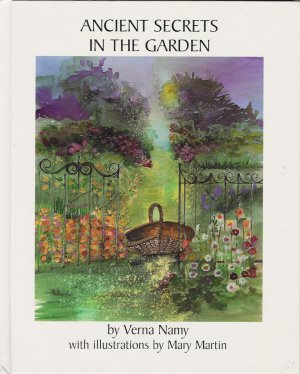 Review by Anne Miller,
Editor of The Star Beacon
from the October 2001 Star Beacon
Verna Namy has once again teamed up with artist Mary Martin to produce a children's book,
Ancient Secrets in the Garden
, the newest offering from Earth Star Publications. This time the book is in hardback, 8" x 10", 32 pages, and fully illustrated in color. The ancient secrets of herbs, flowers and teas are taught to young Jennifer in an enchanted garden by the sea. You will accompany Jennifer to the garden, where she encounters fairies from near and far.
READ MORE.

by Tomas Gregory
from the October 2001 Star Beacon
There is so much to be said about the terrorist events in America this past week and I am sure I will write much over the coming weeks. However, for now I want Americans to realize the INCREDIBLE outpouring of genuine support and love from the rest of the world that is NOT being reported IN America. You are hearing bits of it, like how Buckingham Palace flew the American flag and played the American anthem at changing of the guard, both for the first time ever.
Bill Clinton was in Australian when it happened and, ironically, the Prime Minister of Australia was in Washington, 600 feet from the Pentagon. Immediately the whole country was locked down in case there was an attack against HIM (Clinton)... all planes were grounded, etc.
Also in Australia, firemen across the country have volunteered to fly here to help. One, Mehar Maku, wrote a beautiful song for the American firemen to inspire and support them.
READ MORE.
from Transitional Times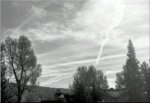 from the September 2001 Star Beacon
What is normal? When you look at the skies, what do you expect to see? Do you look at the skies at all? Maybe we had better all start looking a bit closer, not for a cosmic answer to our plight as a species, but for what is clearly in front of our faces.
We have been curious about the trails left in the wake of aircraft for some time now. We think the whole "conspiracy theory" spin put on the issue of aerosol operations keeps serious inquiry at bay.
READ MORE.
Still under construction, the Star Beacon Subject Index lists articles by subject and year. Now up: 1996, 1997 and 1998. Please check back later for more years, ranging from 1987 to 2001.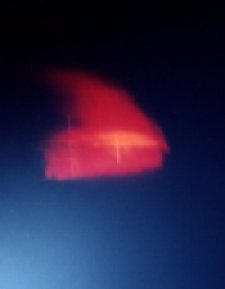 This photograph was taken in the mysterious
San Luis Valley
of southern Colorado by the editor's son in 1997. The object appeared on a roll of developed film from a 35mm camera.
The photographer has no memory of taking the shot.
PLEASE SIGN
EARTH STAR'S
GUEST BOOK!
This page has been visited by

Light Beings
This site last updated November 10, 2001