Psychic Readers
POLLY CADY KELSEY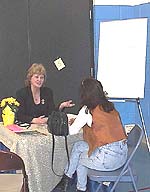 Destiny Readings
The cards of your destiny reading, a comprehensive report on your life for the coming year and how to deal with what is coming up for you. The reading includes a report of every 52 days and what will happen during that time. You will receive a tape on how to understand what this means for you, and how to change the challenges that you see coming up for you. By mail or telephone.

I am an international Handwriting Analyst, Motivational Speaker on Handwriting Analysis and how to enhance your life by changing it. I do Face and Body Language classes and reading people. I am a hands-on healer. I do axeotonial, biomagnetics, and sell body essentials for health, including oils, exercise machines and Black Salve, to just mention a few. I counsel people with the handwriting through graphotherapy, spiritual teachings and a positive support system. I have been in business to help people succeed since 1990, and have lectured around the U.S. and taught classes of self help. I have also received a number of awards for volunteer work and assisted in community work, which has been very rewarding to me.

Cost: $45 U.S. MasterCard or VISA welcome.

Contact information: Polly Cady Kelsey, cell phone: 970/596-5230.(e-mail: pollycady@aol.com)

---

KANAI CALLOW
Astrological Charts.
I need your month, day and year of birth, as well as your city and country of birth. Send name and address with your payment.
Cost: $20 U.S.

Contact information: Kanai Callow, PO Box 2566, Bellingham, WA 98227. Tel.: (360) 483-9324 (or 360/393-3416). e-mail: kanaic@comcast.net
---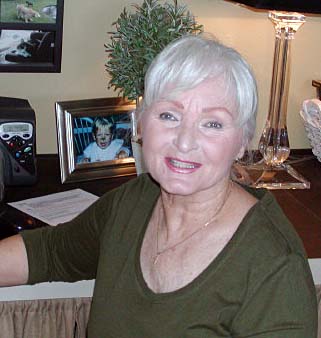 ROBIN CAMPBELL
I use cards and also am clairvoyant. I also do psychometry if you are willing to send me an object along with return postage paid. Contact me for an appointed day and time for telephone readings. I prefer payment as a money order or cashier's check
before
the reading date.
Cost: $40 U.S.

Contact information: Robin Campbell, e-mail: rcampbell@commspeed.net. Tel.: 928-632-5069.

---

KARI CHAPMAN
Namaste Healing Center of Wisconsin, Inc.,
a 501C3 Spiritual Education Organization
http://www.namaste-wi.com
Rev. Kari Chapman ~ Conscious Channel for Archangel Michael
"Many will be drawn to this place. Some will come to share and others to receive. Some will come strong in their truth and others unsure, wondering why they are here, questioning what it is all about. May we create a place for spiritual growth and understanding. Let there be something unique here to inspire each soul and so it is."

Cost: We have a suggested donation of $100 an hour, or $65 for 1/2.

Contact information: The Readings can be done over the phone (recorded), in person or e-mail. www.namaste-wi.com

Mission Statement: We are an INTERFAITH spiritual education organization, based in Lake Mills, Wisconsin, near the beautiful and very sacred and magical Rock Lake. I believe in the "ONENESS" of ALL life and that everyone has a purpose. Our philosophy is to treat ALL PEOPLE with compassion, integrity, and without judgment. To open my heart and center to all those who are ready and able to receive Love and Peace. We will turn no one away for lack of money or choice of their individual beliefs or religious convictions. Our goals and purpose for the Namaste Healing Center is really quite simple: To bring spiritual information and education to assist in the awakening of consciousness on earth. Our beliefs are based on Universal Truths found in ALL religions. We believe that the practice of Truth is very personal to each individual. Come to Namaste and discover the wonder of individual spirituality. The ultimate purpose for Namaste, and myself, is to project the belief that: All Religions Are Good. People of all faiths can find a common spiritual philosophy of life under one banner or umbrella of energy. It is not the aim of Namaste to teach one religion for all, but the exact opposite -- to embrace all, from many religions, faiths, and healing modalities, so that the followers of all faiths, all philosophies, may find spiritual strength in and at Namaste. ALL may come to Namaste no matter what their religion, keeping their own ideas, and their own beliefs. May you come to Namaste bringing your own religion with you, and find a Welcome and Open Heart. NAMASTE
---

DANA CHWAN
Handwriting Analysis
is fun, insightful and fascinating. Each person's handwriting reveals personality, character and past-life experiences. Childhood unresolved issues, self-esteem, prosperity blocks, stress, physical performance or health issues, and much other information shows up in one's handwriting. I offer both a mini reading (one page) and an in-depth (three-page) report. Each handwriting sample is personally analyzed and a copy of it and a typed report are returned to the client. Suggested corrective writing exercises are included. The in-depth report allows for a phone consultation for any follow-up questions or clarification you may wish to have on your report.
I never aspired to have a "career" and was interested in learning about so many different things that I never could settle down to do just one thing. "Jill of a trades" has been used to describe me quite often. Previous employment includes: high school English teacher, stewardess, bank branch manager and marketing officer, condominium sales manager, boutique owner, Tampa manager for a national telemarketing firm, spokesperson and lobbyist for state and national groups on Vietnam, veterans and the Prisoner of War/Missing in Action issue. (My husband, Michael, was a pilot who was missing in action in Vietnam for 19-1/2 years; his remains were returned in 1985.) I recently moved to Salida, Colo., after 40 years in the Tampa, Fla., area and two years in Santa Fe, N.M., to be near my daughter, Michele, an artist and horse trainer in Buena Vista, Colo. I am certified for handwriting analysis through the National Chirography Association.

Cost: Mini reading (one page) $15 U.S. Samples should be written on plain, unlined paper with a ballpoint pen (please do not use felt-tipped pens). A full, in-depth report is $48 and requires three pages of the handwriting sample.

Contact information: Mail handwriting sample and money order to: Dana Chwan, 1026 H St., Salida, CO 81201. Please allow 7-15 days for your report to be mailed back to you. Telephone: 719/539-4240. E-mail: danac@amigo.net

To clarify any questions before submitting your handwriting sample, call me at 719/539-4240, then mail it and the payment to me. References are available upon request! I am available for home parties, corporate and holiday, civic or social meetings. Call for availability and discount group or party pricing.
---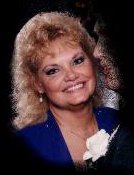 CHRYSTLE CLAE
Psychic readings by mail or by telephone. Set up an appointment day and time. For snail mail, send the most important questions and I'll add whatever else your Guides have to offer.
The information does not come from me, and I seldom remember too many details. All clients are encouraged to pray or invoke their higher power/self to allow the information to come through me.

TY. radio, Whole Life Expo speaker, author of Sacred Symbology and GIVE ME A SIGN (please?), listed in Who's Who in Service to the Earth, and a contributing author to Guided Imagery Vols. 1, 2 and 3.

Cost: $50 U.S. (for 20 minutes on telephone).

Contact information: Chrystle Clae, 7349 Ulmerton Road, Lot 196, Largo, FL 33771. Telephone: 727/535-5354.
---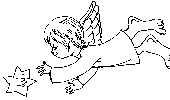 JEN CONNORS
Astrology and Numerological Profile, some channeled material overlay into this kind of reading. Comes in portfolio package folder with printed-out astrology wheel chart showing all planetary locations and house positions. Numbers include: Soul number, Destiny number, Personality number and Life Path purpose.
Have been studying and doing readings for 15 years, channeling for five years.

Cost: $40 U.S. (includes portfolio and shipping).

Contact information: Jen Connors, E-mail: jenstar@compusmart.ab.ca.
---
FOR MORE PSYCHIC READERS... NEXT PAGE
If you are an Intuitive and wish to be included in this directory (at no charge), e-mail lightworker@earthstarpublications.com

This page has been visited by
Beautiful Souls


This page updated February 18, 2013
What's New!
Greetings, Terrans! See the latest articles. Check out the current issue...

CLICK HERE to receive FREE monthly newsletter

Earth Star Books
Browse our Book Catalog to view all our books and publications.
We also sell T-shirts and Cosmic business cards!
SIGN UP for Star Beacon monthly updates!


Click to join starbeacon
Publishing Professional
Earth Star offers editing and production services for self-publishing authors, plus a lot more. You may inquire by contacting us at starbeacon@gmail.com
See all we offer in the way of publishing services. Check it out...
Psychic Readers Page
Our free directory lists intuitives ready to assist you.. View Psychics Page...