Cosmic Cooking, Healing
Potions and Other Magic
by Star Beacon Readers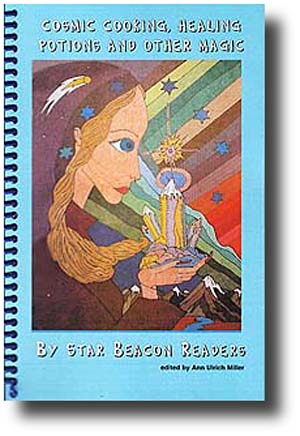 ISBN 0-944851-20-7
104 pages, spiral bound,
edited by Ann Ulrich Miller
Cover illustrations by Marcellina Beckwith
Recipes for delectable entres, side dishes, breads and desserts ... including extraterrestrial dishes. Plus... Home Remedies and Magic

Have you ever eaten Kli-ti-a, or Yunyiet, or Klavite from Zeta Reticuli?
How about a cocktail from the Pleiades?
Well, don't worry ... there are plenty of Terrestrial recipes in this unique collection by readers of The Star Beacon.
COSMIC COOKING, HEALING POTIONS AND OTHER MAGIC By Star Beacon Readers is packed with recipes ... even food from Outer Space... and why not? Of course, there are plenty of traditional, down-to-earth recipes as well.
Know how to remove a tick without a lot of fuss? What to do when you wake up with a sore throat? Want to settle a stomach or stop a headache?
How about some MAGIC? Do you know a spell for finding a lost object? How to get pesky people to leave you alone? How about a charm for prosperity?
You'll find hundreds of goodies in this unique book. Order a copy for yourself and ... while you're at it ... order additional copies for those on your holiday gift-giving list who are sure to be intrigued by the extraordinary.

Order COSMIC COOKING...
You can also order directly from Earth Star. Send $9.97 (check or money order) to:
EARTH STAR PUBLICATIONS
P.O. Box 267, Eckert CO 81418
Please allow 10 days for delivery.
Colorado residents please add 49 cents sales tax
Questions? Contact us at starbeacon@gmail.com
GO TO EARTH STAR'S HOME PAGE
This page updated February 14, 2018
What's New!
Greetings, Terrans! See the latest articles. Check out the current issue...

CLICK HERE to receive FREE bimonthly e-newsletter

Earth Star Books
Browse our Book Catalog to view all our books and publications.
Publishing Professional
Earth Star offers editing and production services for self-publishing authors, plus a lot more. You may inquire by contacting us at starbeacon@gmail.com
See all we offer in the way of publishing services. Check it out...
Psychic Readers Page
Our free directory lists intuitives ready to assist you... View Psychics Page...