PROM NIGHT
by Ann Carol Ulrich
Annette Vetter Adventure #8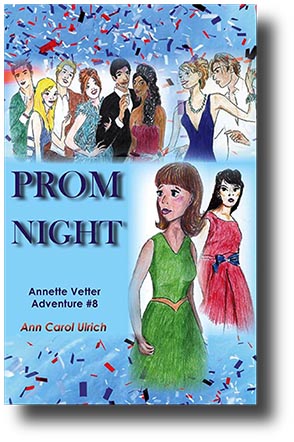 T

he man who grabbed her pulled Penny into the janitor's storage room. He stuffed a cloth into her mouth.
<![if !supportLineBreakNewLine]>Then a female voice said, "That stupid girl in the restroom overdosed. Penny saw her." Penny could hear rustling noises and was scared to death.
<![endif]> "You go clean up that mess," said Tony's voice. "As for Tim's sister, I'll fix her up." ... Gianna squealed. "Don't give her any of that! We need her for later. She's going to be the fun at our party, remember?"<![if !supportLineBreakNewLine]>
Tony chuckled. "Oh yeah ... along with Annette ..." Then they both chuckled. "And you better find a way to get rid of that farm boy. He's trouble ... I can feel it."
"Aw ... but he's so good-looking," teased Gianna.
"Forget about him! He's history. Stef will know what to do with him."<![endif]>

Life continues on the Vetter farm in rural Ravensville, Wis., where Annette's dream of having a family includes not only her mom, her half brother and newly adopted sister, but now Bob, the recently returned Air Force veteran from Vietnam.
Annette's concern over not yet being asked to the prom is topped by her worry about Tim going off to college in the fall.
And why are men in suits driving around in their neck of the woods in a blue sedan with government license plates?

PROM NIGHT is Ann Carol Ulrich's 8th Annette Vetter novel. The date is May 1969, and the setting is west-central Wisconsin (Jackson County) in the fictional rural town of Ravensville.

Order
PROM NIGHT
You may also order the book by sending check or money order for $12.95 (postpaid) to:
EARTH STAR PUBLICATIONS
PO Box 267, Eckert CO 81418
Colorado residents please add 42 cents sales tax
---
You may also order the book directly from AMAZON
Get the eBook!
Amazon Kindle -- NOW AVAILABLE
Prom Night
EARTH STAR PUBLICATIONS
ISBN 978-0-944851-60-9 August 2020
YOUNG ADULT MYSTERY Retail $9.95

---
A NOTE ABOUT THE AUTHOR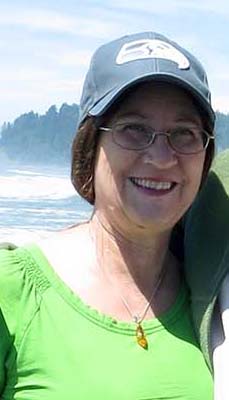 Ann Carol Ulrich (Ann Ulrich Miller) received her Bachelor of Arts degree in Creative Writing from Michigan State University. Originally from Monona, Wisconsin, her writing career began at age 15 with the sale of her first short story.
She is the author of the Annette Vetter Adventure series, plus an independent Young Adult novel, The Root Cellar Mystery.
She is the author of a Space Trilogy, which includes Intimate Abduction, Return To Terra, and The Light Being. She has also written romantic suspense fiction, including, Night of the November Moon, Sonata Summer, Rainbow Majesty and The Dream Chasers under the name Ann Ulrich Miller, along with her recent memoirs, Stepping Forth, An American Girl Coming of Age in the 60s and Throughout All Time. Her seven previous Annette Vetter mysteries, as well as this one, are set in the 1960s.
Currently she resides in Western Colorado and is at work on her next novel. Visit AnnUlrichMiller.com
---
Back to Earth Star's Home Page
View Links to Related Web Sites
This page updated August 15, 2020
What's New!
Greetings, Terrans! See the latest articles. Check out the current issue...

CLICK HERE to receive FREE monthly newsletter

Earth Star Books
Browse our Book Catalog to view all our books and publications.
Publishing Professional
Earth Star offers editing and production services for self-publishing authors, plus a lot more. You may inquire by contacting us at starbeacon@gmail.com
See all we offer in the way of publishing services. Check it out...
Psychic Readers Page
Our free directory lists intuitives ready to assist you.. View Psychics Page...