RAINBOW MAJESTY
Finalist (2015) in the Eric Hoffer Book Awards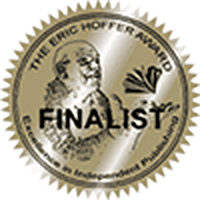 Romantic Suspense
for Light Workers
Recommended by US Review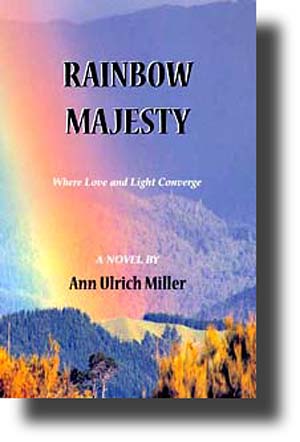 by Ann Ulrich Miller
Struck down first by her fiance's death in Iraq, and now the loss of her long-suffering mother, a young woman searches for the meaning of life.
ORDER BELOW!
Also available as an ebook
at Amazon.com
An invitation from an aunt she didn't know existed beckons Juniper Sutton to a secluded resort in the mountains of Colorado. Hoping to seek answers to her father's death 22 years prior -- and wanting to escape feeling cornered by a relationship she doesn't want -- Juniper leaves Kansas for the Rocky Mountains.
Upon arrival in Colorado Springs, Juniper is befriended by two of the men employed by her aunt at the lodge. Wes, with his good looks and sensitivity, draws her with his charm, while Drake -- more the mountain type -- leaves her confused, yet intrigued, by his brash manner.
Aunt Rosalee Sutton's down home charm touches Juniper's heart, even while she is thrust into a new way of thinking and encounters extraordinary people and ideas at the Rainbow Majestic Lodge, a healing and light center.
Having been converted from a successful hunting resort, the Rainbow Majestic now caters to light workers and is preparing for its holistic fair as Juniper agrees to manage the lodge's new gift shop. At the same time, she absorbs a huge dose of new philosophy through books and interaction with the various residents at the lodge.
From the somewhat promiscuous massage therapist, Clover Wolff, to the overzealous handwriting analyst, Taffi Kincaid, Juniper piles up new friendships that also include the Goth-leaning awakener, Starla Streber. Aunt Rosalee's stepdaughter, Gena Sutton Howard, is Juniper's first cousin, and sets herself up from the beginning to challenge Juniper every step of the way. However, Gena's psychic ability uncovers something she'd rather not know about the young woman from Kansas, and the lodge's dark secrets begin to spill out -- even to the point of murder.
---
EARTH STAR PUBLICATIONS
ISBN 978-0-944851-32-6 June 2010
ROMANTIC SUSPENSE Retail $15.00
Order Today!

RAINBOW MAJESTY
You may also order the book by sending check or money order for $18.50 (postpaid) to:
EARTH STAR PUBLICATIONS * PO Box 267 * Eckert, CO 81418
Colorado residents please add 74 cents sales tax

Also available as an eBook on KINDLE for $4.99
---
A NOTE ABOUT THE AUTHOR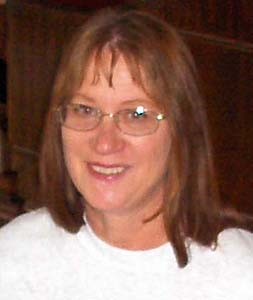 Ann Ulrich Miller received her Bachelor of Arts degree in Creative Writing from Michigan State University. Originally from Monona, Wisconsin, her writing career began at age 15 with the sale of her first short story.
The mother of three grown sons, she has lived half of her life in Colorado, where she won a full scholarship in 1982 to the Aspen Writers Conference. She has had articles published in newspapers and has had short stories published.
Her stories appear in two of Arielle Ford's anthologies, Hot Chocolate for the Mystical Lover and Hot Chocolate for the Mystical Teen-age Soul.
She is the author of a Space Trilogy, which includes Intimate Abduction, Return To Terra, and The Light Being. She also wrote a romance mystery, Night of the November Moon, and has published three mysteries in her young adult Annette Vetter adventure series set in the 1960s.
Her favorite genre is romantic suspense. She writes novels for both adults and young people, with most of her writing reflecting her search for a higher purpose in life. Since 1987 she has published a monthly metaphysical newsletter, The Star Beacon. Her spiritual autobiography, Throughout All Time, tells about her esoteric life with her husband and soul mate, and how she dealt with his passing.
She is back in Colorado and is at work on her next novel. Visit AnnUlrichMiller.com
---
RECOMMENDED by US REVIEW
"Maybe finding out about the past would help me find my future."
"Reminiscent of Diane Mott Davidson's culinary mystery series that highlights the mountainous beauty of Colorado, Ann Ulrich Miller taps into the same majestic backdrop for a fine novel that blends romance, intrigue, and a center for new age enlightenment. Herein she delivers a captivating story that sheds light on a 22-year-old mystery surrounding the death of Juniper Sutton's father, Nathanial.
"This fluid narrative takes readers to the Rainbow Majestic Lodge, a former hunting resort that has been concerted into a new age retreat by Juniper's Aunt Rosalee. In the wake of her fiance's death in Iraq, and the recent loss of her mother to Alzheimer's, Juniper is unexpectedly invited to manage the lodge's new gift shop. She accepts the offer as an opportunity for new beginnings, and a chance to uncover long hidden family secrets. In this free-thinking environment ensconced in healing, crystals, and light, Juniper entertains new levels of philosophy and thought and interacts with a multi-faceted group of individuals dedicated to the likes of massage therapy, graphology, reincarnation, and awakenings.
"Miller easily weaves romance among the resident workers and visitors to this mystical enclave. For Juniper, a troubling past life revelation proves to have a marked influence on her present day emotional fluctuations. To readers who might shy away from any kumbaya type overtones, we quickly learn that "all is not light and love at Rainbow Majestic." In sharp counterpoint Miller artfully dangles tension from threatening messages, religious opposition, and a calculated murder dropped into this holistic mix.
"As a finalist for The Eric Hoffer Award, Miller knows how to keep readers guessing. Her work showcases environmental beauty, tranquility, and dramatic discovery, to ultimately reveal a final climactic resolve that allows these enigmatic characters to move forward into a new light."
-- By Carol Davala, The US Review of Books (August 2016)
TESTIMONIALS
"A captivating, page-turning story of intrigue and romance. The beautiful setting of Majestic Mountain comes alive with Ann Ulrich Miller's graphic descriptions. Her characters allow the reader to visualize them and feel as though they know them well. The combination of mystery, love and the holistic world of metaphysics makes this a delightful and exciting book. I heartily recommend it."
-- Judith Horky, author of EarthShift and Soul Shift


"In Rainbow Majesty, Ann Ulrich Miller has masterfully woven richly drawn characters, suspense, love and self-discovery into a captivating story. Readers for whom this is an introduction to spirituality can understand its presence in their own lives through the characters' experiences, and already enlightened readers will applaud the clarity of universal truths throughout this greatly enjoyable book."
-- Suzanne Ward, author of Matthew, Tell Me About Heaven and other Matthew Books


"Ann Ulrich Miller weaves a fascinating tale of love and hate, light and darkness into a rich fabric of human life in all its roller-coaster aspects. She takes us on an alternately gentle and rough ride across the golden rolling prairies of Kansas into the green majestic grandeur of her beloved Colorado Rockies. I read the whole book in just two nights -- that's how riveted I was by this powerful story. This memorable tale will move you to tears, inspire you with hope, uplift you with joy. At the end, you will know, beyond question or doubt, light always triumphs over darkness, love over hate. It's a tale to be treasured and savored for many years."
-- John Cali, author and channel of Conversations with Spirit


"Ann Ulrich Miller's mastery of painting the most scenic, sensual pictures and characters with her words is unsurpassed in Rainbow Majesty. Set against the beautiful, untouched wonders of Colorado, this romantic/suspense novel is a treat for the mind and spirit, a real keeper! The enthusiastic (if not eccentric) and dramatic supporting characters complement the strong, deep, sometimes mesmerizing -- yet always believable -- focus "new friends" readers often feel they come to know in the best written novels of the time. These focal characters each face beguiling, life-changing circumstances, all of which weave a mystical web that surprisingly connects people who have never met before. Sprinkle in just about every topic of metaphysics -- with both skeptics and participants alike -- and you will think you've solved the mystery -- until you turn the next page ... and then the next! Rainbow Majesty is refreshingly nonjudgmental as you wander the romantic journey with Juniper. She hesitantly experiences meditation, past lives, healing methods and the ever undeniable powers of love and forgiveness."
-- Chrystle Clae, reviewer of romance novels

Read a sample chapter from RAINBOW MAJESTY
Back to Earth Star's Home Page
View Links to Related Web Sites
This page updated February 13, 2018
What's New!
Greetings, Terrans! See the latest articles. Check out the current issue...

CLICK HERE to receive FREE monthly newsletter

Earth Star Books
Browse our Book Catalog to view all our books and publications.
Publishing Professional
Earth Star offers editing and production services for self-publishing authors, plus a lot more. You may inquire by contacting us at starbeacon@gmail.com
See all we offer in the way of publishing services. Check it out...
Psychic Readers Page
Our free directory lists intuitives ready to assist you.. View Psychics Page...