STEPPING FORTH
An American Girl Coming of Age in the '60s
by ANN ULRICH MILLER
© 2015 (all rights reserved)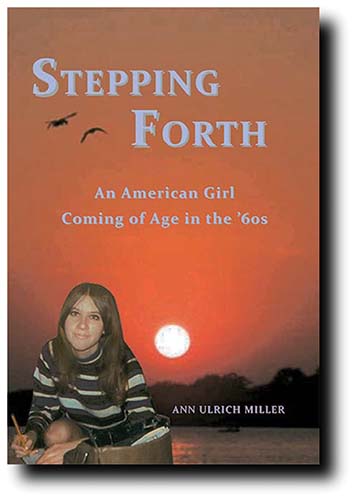 What was it like to be a teen-age girl growing up in the '60s?
STEPPING FORTH is Ann Ulrich Miller's memoir of those agonizing,
self-conscious,
embarrassing
years of adolescence, when . . .
Her brother gets deployed to Vietnam ... A beloved grandmother dies ... First crushes begin to surface ... Bad hair days in high school ... The curse of self-consciousness ... Music and nature are her comfort zones ... Long vacations with the family as a teen "with an attitude" ... Hormones begin to erupt ... A teacher shows interest in her gifts ... Her love for animals inspires her to strive for a career in veterinary medicine ... Her fascination with the Paranormal and some intriguing events that shape her future career as a novelist and the publisher of The Star Beacon and Wisp
Ann (Schumacher) Miller divulges her most intimate writings as she emerges into womanhood in small-town Monona, Wisconsin, with unforgettable tales of growing up in a family of six kids, her close childhood friendships, fleeting as well as "serious" loves, influential dreams, art and musical talent, an addiction to Nature and living things, with outspoken personal snippets on the political events of that time.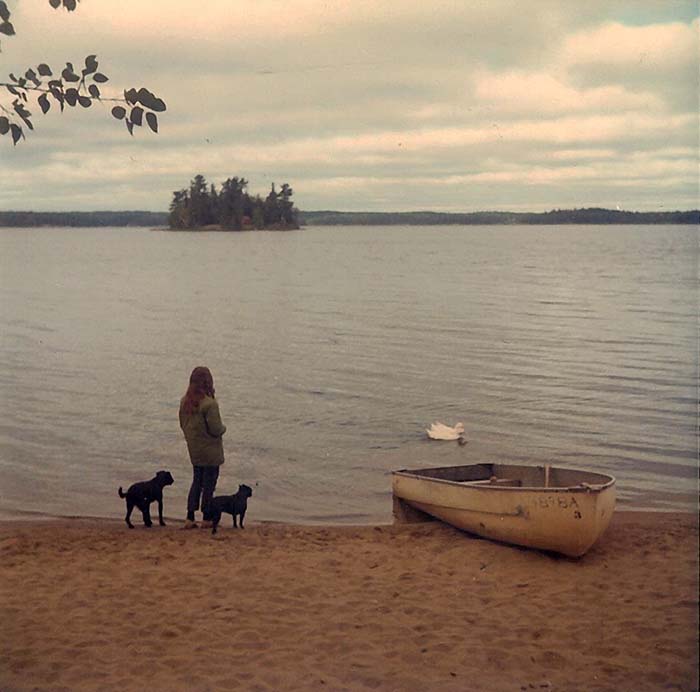 "The joy you derive
from writing is multifold. The artistic expression flows from your soul, and letting words form the stories gives the same upliftment to you that playing each measure of music on the piano does.
"Your siblings, children and grandchildren will appreciate the chronicles of your younger years and what was going on in the world at that time.
"It is enjoyable reading for anyone.
And
-- I think it's an escape for you into a private, peaceful space ... your sanctuary in times when life isn't very pleasant. We all need a special place like that!"
--
Suzanne Ward

Author of
Matthew Tell Me About Heaven

and
Amusing to Profound: My Conversations With Animals
---
"Enjoyed your book so much. It took me on (a) Memory Lane space trip as I lived through some of those wild days in the '60s. I think you had a little more everyday stable life in one place and town. As a missionary and preacher's kid, I was lucky to live in one place and school for one year.
"Like you, though, I had a loving family ... I liked the way you loved animals and how you saw your real gifts. The earth needs more people like you." -- J. Smith
---
---
STEPPING FORTH
An American Girl Coming of Age in the '60s
April 2015
6" x 9" softcover, 402 pages
ISBN 978-0-944851-39-5 $15.00
Order

You may order the book by sending check or money order for $20.00 (postpaid) to:
EARTH STAR PUBLICATIONS
PO Box 267, Eckert CO 81418
Colorado residents please add 80 sales tax
Available at The eBook is on sale NOW at Amazon Kindle
For just $2.99

Read MEMOIR EXCERPTS at AnnUlrichMiller.com
BACK TO WHAT'S NEW
GO TO EARTH STAR'S HOME PAGE
This page updated October 6, 2022
What's New!
Greetings, Terrans! See the latest articles. Check out the current issue...

CLICK HERE to receive FREE bimonthly e-newsletter

Ann Ulrich Miller is a FINALIST in the 2015 Eric Hoffer Book Awards for her romantic suspense novel RAINBOW MAJESTY
Earth Star Books
Browse our Book Catalog to view all our books and publications.
Publishing Professional
Earth Star offers editing and production services for self-publishing authors, plus a lot more. You may inquire by contacting us at starbeacon@gmail.com
See all we offer in the way of publishing services. Check it out...