from the October 2002 Star Beacon
By Chief Joseph
and John Cali
JOHN:
Here's a question from one of our readers, our dear friend, Dick Dernberger. Dick welcomes anyone who'd like to get in touch with him. See his contact information at the end of the question.
QUESTION:
Should one human try to influence another human's behavior? Ever? If so, how much? Under what circumstances?
We can think of extremes, such as tyrants like Adolf Hitler. I am under the assumption (maybe "wrong") that it was appropriate to stop someone like that.
But, for example, how much should we try to influence our teenage children? Our politicians? The people we work with? If any amount of influencing is appropriate, where does one draw the line?
I regularly try to influence my food by sending it love, raising its vibration and thanking the plants and animals who died for me. Is this kind of thing different than influencing other humans?
It would be fun to hear Chief Joseph talk about this subject.
CHIEF JOSEPH:
ANSWER: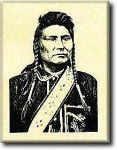 Dear ones, you cannot help but influence one another. You all came to this delightfully diverse environment of Mother Earth to play and co-create with one another. You influence each other by your mere presence on the planet. It's unavoidable.
Even if you go through an entire lifetime never speaking to or thinking about a particular person — even if you never meet her or him — you've still influenced that one.
Every thought you think, every word you utter, every action you take creates a vibration, a frequency, if you will. And that vibration radiates out and out and out, just like the ripples in a pond when you cast a stone into it.
That rippling vibration ultimately touches every living being on your earth, plant and animal alike. It touches even what you might consider "inanimate" things — rocks, mountains, rivers, and so on. You touch literally all creatures, all that is, with every one of your thoughts, words, deeds.
So it behooves you, if you would create "peace on earth," as you say, to watch what you're thinking, saying, and doing. Not in any paranoid or negative way — simply be aware of yourself. Pay attention to what you're paying attention to.
If what you're thinking, saying, doing feels good to you — really good, deep down — then you are positively influencing the world and all that is. And if your thoughts, words, actions do not feel good, you're contributing to the struggle and trauma your planet is experiencing big-time today.
Our "bottom-line" point is this: You're always influencing others. It's automatic. You cannot not influence others. As long as you are a living, breathing, thinking, speaking, acting human being, you ARE influencing all others. Period.
Where you get yourselves into difficulty, however, is not with your influencing. It's with your wanting to control others. That wanting, in the proverbial nutshell, is the single most disruptive, destructive force on your planet today. It is the root cause of every human disagreement, ranging anywhere from a minor marital squabble to a global war. Your history books are filled to overflowing with evidence of that.
But that's another subject for another day. Enough for this day.
Go in peace and joy, dear ones.
*******************
As a subscriber to The Star Beacon, you're free to send us any questions you want, on any subject.
The questions can be as specific, personal, or broad as you want to make them. However, if they are specific and/or personal, please be sure they have a broad, general appeal. If you have questions not fitting that description, they're probably best handled in a private reading.
Please e-mail your questions to me at john@greatwesternpublishing.org. Be sure to put the phrase "star beacon questions" in the subject line. Joseph and I look forward to hearing from you!
E-mail: john@greatwesternpublishing.org; Website: http://www.greatwesternpublishing.org; Free newsletter: chiefjoseph-on@mail-list.com; Private readings with Chief Joseph: readings@greatwesternpublishing.org. Directory of Products & Services: catalog@greatwesternpublishing.org.
Copyright © 2002 by John Cali
All rights reserved