By Davina Ryszka

MUFON ASD/SSD/FI
There have been some recent UFO sightings in western Colorado. A man from Cedaredge is so mystified by his sighting that he is hoping to find others who might have seen it as well.
While hunting on Stevens Gulch
The UFO witness, Roy Nelson, stated that he was camped just off a small road (701-3A), located a scant half mile off Stevens Gulch Road, which is a gravel road out of Paonia that winds back and forth up some very large hills and into the mountains north of town. This sighting was mentioned briefly in the November 2005 Star Beacon (
DISC
-ussion).
It was the morning of either Oct. 18 or 19, 2005. Nelson arose early to prepare to go elk hunting. There was just a very slight glow to the east, where the sun was coming up, and it was as yet still dark out. He was busy getting his gear ready and packing up his ATV, when he began to notice lights moving upward into the sky, about 15 to 20 miles distant (his estimate). The time was about 6:15 a.m. MDT, and the direction of the lights, from his position, were to the south, just to the east of the town of Paonia.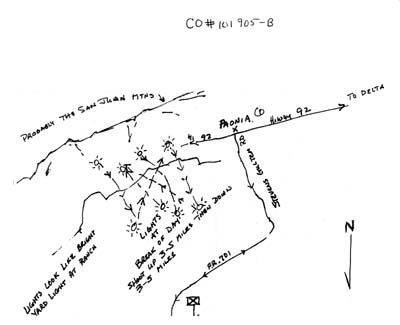 At this location he could see the mountains all around, with a good view of Fruitland Mesa, the San Juan mountains to the south, and the Ragged Mountains to the east. The lights appeared to be coming from possibly ground level down in the valley,l not far from the town of Paonia.
He described the lights as being steady blueish-white in color, and as bright as seeing ranch yard lights from the distance of about half to one mile. He mentioned that they were quite bright. He described them as jumping up into the sky real fast, and that they were real quick.
He said that the unusual thing about the lights was that they would get to a certain altitude and travel back downward the very same path they had traveled upward. He estimated the distance away as as about 15 to 20 miles (maybe less), and that they appeared to travel upward approximately one and a half miles into the sky.
At his altitude, which was approximately 8,650 feet, the lightsí highest point, before returning downward on their flight path, was not quite even with his eye level, keeping in mind that the lights were originating down in the valley.
There was no sound, and the color was always a blueish-white. He estimated the number of lights he witnessed to be about 10. They came up individually from the same general location. Some came straight up, while others were in a straight path, angling off to the right and others off to the left. But there were very straight flight paths, and no arching.
It seemed to him that they traveled a whole mile (or more) in just one second. None of the lights came up at the same time, they came up individually. He estimated that he watched this for about five to 10 minutes, and the lights were still coming up when he got on his ATV to go hunting.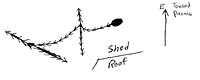 Cory, Colorado UFO sighting
FIRST SIGHTING
: A young couple observed a very bright red and white light that was seen to the east of their house, toward the town of Paonia, on Oct. 12, 2005. It was moving erratically, mostly up and down, and side to side. These movements were very fast and immediate. At times, it would stay in spots, as if it was pausing, then move up and down again.
It was seen first from the inside of their home, through the kitchen window. To them, it was definitely not like a star, and it concerned them. It would get very bright, and then go very dim at times.
They were unable to tell whether it was moving away rapidly and then coming back, or if it was fading in and out. The sky was clear.
They called the police in Delta and were referred to me (Davina Ryszka, MUFON UFO field investigator), to report their sighting. When I called them, the wife told me she was in shock to be seeing what they were seeing.
The UFO moved away and/or faded out, where they could just barely see to the east of them, in the direction of Paonia.
SECOND SIGHTING
: This one occurred one week later, on Oct. 19, 2005, in Cory. This time, the couple was seeing red and white (and other colors) lights over the Grand Mesa, about in the middle of the mountain from their vantage point.
They called me, and I immediately went outside to see if I could also see them. I stayed on the phone with them as they described what they were seeing, but I could not see anything from my position in Delta. Together, while on the phone, we witnessed a straight-down falling star.
Then, what I thought to be a little strange, was seeing two more falling stars that came straight down in the next 10 or 15 seconds. The first one was to the north, the next one to the west, and the last one to the southwest. All straight down and of the same intensity, which was not real bright, but I still could see them pretty good.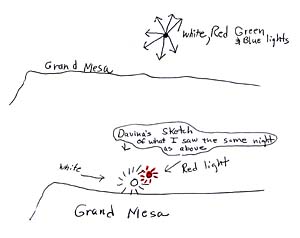 Most usually, meteors come in at angles. However, it just seemed odd to me to have seen three in a row, and all within seconds of each other. As I looked back at the Grand Mesa, I was surprised to see a bright white light (steady) above the center of the Grand Mesa (from my position), and there was a red light (also steady) just above and to the right of the bright white light. They were just suddenly there, and just as suddenly they faded out very rapidly.
I thought, when I first saw the lights, it was maybe aircraft coming, as I got the impression that they were moving. I saw no other I.D. lights. There was about a two-thirds moon in the eastern sky, and the sky was somewhat light. So, I searched the sky to see if I could see aircraft with their lights off, and although I stayed outside for another half an hour, I saw absolutely nothing after that.

UFO sightings by three families in Cortez
Since October, a number of witnesses from the Cortez area have been seeing UFOs almost every night. They live in a small town south of Cortez, called Towaoc, Colo. They have seen oval, orange-colored objects in the sky. One dropped other, smaller, white lights down on the mountain.
They have seen low-flying white lights and yellow lights. Never any sound with the lights or normal I.D. lights, like aircraft have.
They have been hearing a buzzing sound, on and off at different times. One time it caused all their dogs to start barking at the wall inside their home.
Another family decided to follow a UFO toward the mountain. When they got close, the headlights on their car faded out, and the radio became very staticky. This frightened them, and they turned their car around and went back to town.
One family has become so concerned, they are appealing to MUFON for ideas on how to stop it. I told them we document and investigate sightings, but donít know how to stop it.
I am waiting to get investigator forms back from the Towaoc families. I am hoping to get a team together to go down there, and am waiting for the weather to get better at this time.
MUFON field investigator Davins Ryszka lives in Delta, Colorado, and may be contacted at 970/ 874-8679 e-mail: nightsky25@juno.com.