GREETINGS, TERRANS!
CHECK OUT
WHAT'S NEW!

Out in May!
Throughout All Time
Read Ann's
SPACE TRILOGY
Order
At DISCOUNT!

Welcome to Earth Star on the Web. Here you will find a wealth of articles on diverse topics including UFOs and extraterrestrials, the paranormal, healing, earth changes, spirituality, the latest sightings, channeling, astrology, book reviews, art, poetry, plus conference news and reports, and a whole lot more.
WHERE WOULD YOU
LIKE TO GO?


The Star Beacon: Earth Star's monthly paranormal newsletter. Subscription info can be found by clicking here.




BOOKS, T-SHIRTS, TAPES -- NEW!
Earth Star's Store features metaphysical, self-help, children's literature and adult fiction, plus original T-shirts and conference lecture tapes. Visit now by clicking here.





PSYCHIC READERS
The NEW Psychic Readers Directory lists Intuitive Counselors from all over. Check out who's doing what, and how to contact them, by clicking here.




THE BEST OF
THE BEACON
Selected articles which have appeared over the years in The Star Beacon
Click here.




CONFERENCES
Check out conferences by clicking here.





FRIENDSHIP CLUB
Earth Star's Galaxy Wide Friendship Club is the place to find like-minded pen pals. Visit now by clicking here.





ART GALLERY
Earth Star's NEW Art Gallery features paintings by Ryan Ulrich plus an assortment of art (including extraterrestrial). Visit now by clicking here.





ARIZONA PAGE
Visit exotic and beautiful Why, Arizona. You can go there by clicking here.




MULES
Animal lovers will get a "kick" out of our Mule Page, featuring the Stucker Mesa Mules. Click here.


PUBLISHING
Earth Star Publications offers book packaging services for self-publishing authors, as well as a lot more. Please see our List of Services.
ADVERTISE HERE!
Advertise your wares or services here by placing an ad in The Star Beacon. To view CLASSIFIED ADS click here. For more information on advertising, e-mail us at UFOeditor@yahoo.com. For information regarding the Psychic Readers and Healers Directory, please email starbeacon@gmail.com.
DISC-ussion

from the April 2009 Star Beacon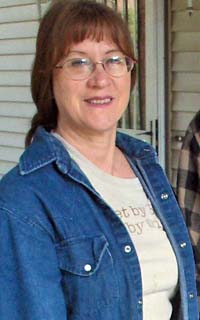 edited by Ann Ulrich Miller

Sasquatch sighting at Moricetown, BC
On March 8, Brian Vike, director of HBCC UFO Research, sent out this "breaking news":
"I just got off the telephone as a person called me to file a report of something unusual that took place in Moricetown, British Columbia (today), March 8, 2009. From what I was told there was some kind of loud sounds coming from the back end of a person's property, this happening in the dark hours.
"The person told another family member who was there the next day about what took place and they went out back to check to see what may have caused this commotion. The person arrived at the fence line and did see where a moose was present as tracks from it were visible. But what shocked them was seeing large footprints from something. They appeared to be human in shape and hair was found in the area as well. Also human like scat is in the area. Pictures of the footprints in the snow were taken."
Brian Vike was headed to the area to gather some things together. He added:
"On another note, I reported a Sasquatch sighting, or three sightings, in Moricetown, British Columbia I believe on Jan. 1, 2008. I ended up having no luck whatsoever talking to these folks who claimed to have seen these creatures. Well, I will be finally speaking to one of the folks who had a run-in with a Sasquatch in Moricetown while they were dropping a letter into a mailbox. This meeting is set up. I will get everything posted when I get back and have time to write everything up."
Brian Vike's Web site is http://www.hbccufo.org
(Source: Aileen Garroute)

UFO makes Blue Mounds council agenda

An interesting item came up on the agenda of the Blue Mounds, Wis., village board in January. According to Mark W. Hadig of the Mount Horeb Mail, there was a report of a UFO by Dennis Jenks of the Blue Mounds Police Department (published on Jan. 22, 2009, page 3a).
Jenks reported that someone called the police department to investigate a UFO that was traveling along with the person having the sighting. According to Jenks, the caller said the UFO was at the height of two telephone poles.
Officer Matthew Kakuske was in the area when the call was given out, but was not able to locate the source of the sighting, and no further sightings were reported.
(Source: R. Heiden)

UFO chaser asks court to stop extradition

An AP article about computer hacker Gary McKinnon was picked up by the Antigo (Wis.) Daily Journal, Jan. 20, 2009, mistitled "Hijacker wants to avoid trip to U.S." The complete article from the New Zealand Herald (Auckland) Web site was from Jan. 12-13, 2009:
(Caption: Gary McKinnon hacked into 97 US military and NASA computers, but doesn't want to face an American court. Photo/AP)
LONDON — Lawyers for a British man accused of hacking into US military computers asked Britain's High Court to block his extradition to the United States. They say Gary McKinnon has been diagnosed with Asperger's Syndrome, a form of autism, and is at risk of psychosis or suicide if he is sent to the U.S.
Lawyer Edward Fitzgerald said McKinnon was "a seriously disordered person" whose health would suffer if he were sent so far away from his family. He said the danger would increase if McKinnon were held in harsh conditions in a maximum security prison.
McKinnon's lawyers are asking the court to let him appeal the government's decision to extradite him. At the end of the day-long hearing, two High Court judges said they hoped to give their ruling on Friday.
US prosecutors say McKinnon, 42, broke into 97 computers belonging to NASA, the US Department of Defence and several branches of the US military shortly after the Sept. 11, 2001 terrorist attacks.
McKinnon says he was looking for evidence of UFOs and only succeeded in his hack because of lax security. British and European courts have rejected repeated legal attempts to prevent his extradition.
McKinnon's alleged hacks shut down the US Army district responsible for protecting Washington, D.C. and cleared logs from computers at Naval Weapons Station Earle in northern New Jersey, which tracks the location and battle-readiness of US Navy ships. [Antigo has a paragraph break here.]
The hacker was caught in 2002 when investigators traced software used in the attacks to his girlfriend's email account. If he is extradited to the United States, he will face trial on eight charges of computer fraud. Each count could bring a sentence of 10 years in prison and a $250,000 fine, but US prosecutors have said he would likely receive a much lighter sentence.
Last week, McKinnon's lawyer said he was willing to plead guilty to a criminal charge in Britain and face trial in his home country instead of the United States. British prosecutors say they are considering the request. (— AP)
(Source: Richard Heiden)
Ann Ulrich Miller is publisher of The Star Beacon.
Check out WHAT'S NEW
Subscribe to The Star Beacon
---
Copyright © 2009 Earth Star Publications
For permission to reprint articles or use graphics, e-mail lightworker@earthstarpublications.com.