Scott's UFO sighting
On the night of Thursday, May 18, 2006, my 20-year-old son,
Scott Ulrich
, was taking a smoking break from his night class at DeVry University in Westminster, Colo. He was standing outside the building around 10:00 pm and watched an airplane that had apparently just taken off from Jefferson County Airport. The plane was traveling to the west.
Then he saw an orange dot (a light) move rapidly into view, in a jiggly fashion, traveling from south to north. The orange dot looped around the airplane. Scott watched it for about 20 seconds, and then lost sight of it when he tried to get other people to see it. The night sky was clear with a moon in the other direction.
He mentioned that a few days later, a weird thing happened to him. He had set his alarm clock the night before, but when he awoke the next morning, the clock had been unplugged from the wall.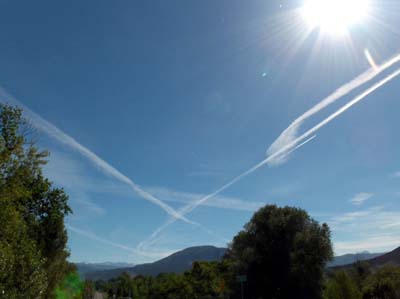 Photo: Chemtrails over Paonia, Colorado the morning of May 25, 2006 (note the falling debris). Photo by Ann Ulrich Miller
Chemtrails are back
After what seemed like a brief respite, Iíve noticed our local skies inundated with chemtrails once again. Here is one of the more interesting photos I took while on my way to work the morning of Thursday, May 25.
Who is doing this, and why? My biggest question is why isnít the general public aware of these patterns and asking questions? Are peopleís faces so buried in everyday life and those electronic boxes that sometimes appear attached to their heads that they donít notice? Or donít they care?
I know of too many people ó seniors, especially ó who are suffering from respiratory ailments, the cause of which cannot be determined. But if you bring up EDB (ethyldibromide, a harmful and banned pesticide that has been found to be in the residue of these chemtrails) or the word ďchemtrailsĒ to a medical professional, they look at you like youíre a kook. Have professionals been informed to clam up by higher authorities? Arenít they intelligent enough to notice there is a pattern here?
What can be done? I work for an environmental newspaper, and they wonít even go near this subject, even though air pollution is one of the subjects they cover and should care about.
Well, I have an idea. Itís time that we show the authorities we are serious about getting answers. Letís form an activist group and call it the Chemtrail Coalition of Concerned Citizens (CCCC). Thereís power in numbers, right? We can start small and encourage others to join us.
What can you do? Well, Iím starting to keep a log of the daily activity in our skies, compared to the health of my husband, who appears to suffer more on chemtrail days. Maybe by presenting written evidence, I can get his doctor to pay attention. There are plenty of things we can do, to bring awareness to people. Being part of a coalition will enable us to go beyond the ďkookĒ stage and show that we are actually doing something instead of just talking about it.
If you are interested in joining this coalition, please contact me and letís get started with this. Your participation can be as little or as much as you want. Just being a member helps, because the more individuals who join will make us more respected. And if you have any ideas, such as writing letters to congressmen, the FAA, whatever... tell me and letís go from there.
Iíll be happy to start this thing, but maybe further down the road weíll get to the point where someone else, who has more time and energy, can take over the leadership. If there is a lot of interest, we can make a difference.