GREETINGS, TERRANS!
CHECK OUT
WHAT'S NEW!

NEW!
READ TODAY'S BLOG


Order your copy of
THE LIGHT BEING

Welcome to Earth Star on the Web. Here you will find a wealth of articles on diverse topics including UFOs and extraterrestrials, the paranormal, healing, earth changes, spirituality, the latest sightings, channeling, astrology, book reviews, art, poetry, plus conference news and reports, and a whole lot more.
WHERE WOULD YOU
LIKE TO GO?


The Star Beacon: Earth Star's monthly paranormal newsletter. Subscription info can be found by clicking here.




BOOKS, T-SHIRTS, TAPES -- NEW!
Earth Star's Store features metaphysical, self-help, children's literature and adult fiction, plus original T-shirts and conference lecture tapes. Visit now by clicking here.





PSYCHIC READERS
The NEW Psychic Readers Directory lists Intuitive Counselors from all over. Check out who's doing what, and how to contact them, by clicking here.




THE BEST OF
THE BEACON
Selected articles which have appeared over the years in The Star Beacon
Click here.




CONFERENCES
Earth Star's annual Love and Light Conference. Also check out other conferences by clicking here.





FRIENDSHIP CLUB
Earth Star's Galaxy Wide Friendship Club is the place to find like-minded pen pals. Visit now by clicking here.





ART GALLERY
Earth Star's NEW Art Gallery features paintings by Ryan Ulrich plus an assortment of art (including extraterrestrial). Visit now by clicking here.





ARIZONA PAGE
Visit exotic and beautiful Why, Arizona. You can go there by clicking here.




MULES
Animal lovers will get a "kick" out of our Mule Page, featuring the Stucker Mesa Mules. Click here.


PUBLISHING
Earth Star Publications offers book packaging services for self-publishing authors, as well as a lot more. Please see our List of Services.
ADVERTISE HERE!
Advertise your wares or services here by placing an ad in The Star Beacon. To view CLASSIFIED ADS click here. For more information on advertising, e-mail us at UFOeditor@yahoo.com. For information regarding the Psychic Readers and Healers Directory, please e-mail earthstar@tripod.net.
DISC-ussion
from the July 2005 Star Beacon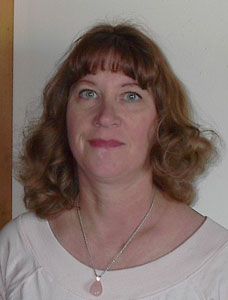 edited by Ann Ulrich Miller
Cronkite denies UFO event
After a dozen or so attempts to reach Walter Cronkite about the alleged UFO event reported on by Bill Knell and written up by Richard Heiden in the April 2004
Star Beacon
, Rich finally got a response:
Dear Mr. Heiden:
The Enquirer
article to which you refer was entirely fictitious. No such interview ever took place.
I did not then and do not now give any credence whatever to the existence of UFOs.
I cannot in any instance recall such a story as is claimed I told to Bill Knell regarding a missile test on a remote island. I am sure that if I had witnessed such an incident, I would have at some point reported it — most certainly in my book
A Reporter's Life.
Sincerely, Walter Cronkite
Close encounter with UFO supports government conspiracy theory
This UFO report concerns an incident that happened 53 years ago. The author wishes to remain anonymous:
I was 7 years old in 1952 and living in New York City. I was up late, so my father asked me to run out and get the 'night owl' edition of the Daily News newspaper. It was very safe in 1952. The headline said "Truman says Shoot Em Down" and showed a picture of either the White House or the Capitol building in Washington, D.C., and the sky was full of glowing disks. I ran home and my parents were very upset that we may be at war with aliens. They rushed out early to get the morning paper to find out what happened and there was not one word about the event to be found. My mother saved that paper.
Seven years later we had moved from the city into a lonely and sparsely populated area in the country. There was a big field behind our house. One night I snapped awake in the middle of the night and got up to look out the window. There was a solid silver domed disk sitting in the field. No sound, no lights and no movement. I didn't think twice. I ran barefoot down the stairs and out the back door. By the time I came out of the door I saw a "hole" in one side (of the disk) that wasn't there before. It had no door, no hinges, no sign of how the hole opened.
I had to look. I walked very slowly and quietly up to the door. Odd that I did not feel the panic or fear I would normally feel. I looked inside, expecting "equipment" and levers and knobs. I was stunned to find that what appeared to be solid metal was like a smoked window from inside. There was nothing inside. It was totally transparent. The only thing in there was a baseboard about 10" high around the floor that was filled with what looked like transparent straws. Hundreds of straws. Most going up and down but some going sideways and some intertwined.
I blinked. I only blinked and I was on my back in bed and the sun was out. I thought I had dreamt it. I threw off the covers and there was grass between my toes, like I had ripped it out with them. I looked out the window and saw a burned circle in the spot where the disk had been. I told my mother and we walked out together. She found what appeared to be bundles of straight, stiff tinsel in the grass. My mother picked it up and put it in the attic with the saved newspaper from 1952.
That's when we started noticing a black car with no licence plates parked just down the street. There were two men in black suits in the car and they wore black hats. (the fashion of the time) They just sat.
After the first week they began to follow me. I would walk several miles to town on a deserted road and they hung back and followed very slowly. If I went to the movies in town, they would be parked down a side street and follow me back home, parking more than a block from our house. After several weeks of being afraid of them, I tried running at the car, but they put it in reverse and I could never get close.
That's when my father decided to go see friends in Pennsylavania and we left for the weekend. When we came back, my father and I noticed everything had been moved, but only slightly. My mother never noticed anything, but we did. Everything was slightly Everything was slightly askew from where it had been sitting.
It was a week later, my mother went to the attic and realized the paper was gone and so was the bundled tinsel. We never saw it again. The burned circle in the field stayed dead for many years. Nothing would grow there.
The author of the above report explains why this event has remained a secret for so long. "The strangest fact to me is that after seeing the disk, I had no desire to tell anyone about it. It seemed as if it did not matter, it was not anything important. I didn't want to talk. Very odd in retrospect that something so big didn't matter at all then. It took 30 years for that feeling to wear off."
Possibly the first real contact between U.S. authorities and ETs occurred in 1947 after the Roswell crash. Harry S. Truman was kept regularly informed of the UFO situation after this, and it was following the 1952 UFO sightings that Truman issued his order of "Shoot 'em down!" He was later advised against this.
After Eisenhower was elected president, reports claim that while he was in California, he was flown to a nearby air base and met with ETs. Officially, reporters were told that he had gone to the dentist. This has been publicized recently by Michael E. Salla, Ph.D. in a well-documented report, "Eisenhower's Meeting With Extraterrestrials," printed in Beverly Dombrowski's June issue of The Light Messenger.
Source: www.profindpages.com/news/2005/01/28MN717.htm
Check out WHAT'S NEW

Subscribe to The Star Beacon


---
Copyright © 2005 Earth Star Publications
For permission to reprint articles or use graphics, e-mail earthstar@tripod.net.