Cosmic Cooking and Remedies
Last-minute contributions have been pouring in for
The Star Beacon
readersí own book
Cosmic Cooking, Healing Potions and Other Magic.
As soon as we have a galley ready for the printers, Iíll let you know the date of its release and wholesale cost. Thank you, everyone who shared something for this fun booklet!
Stranded On Earth
Progressing along is Sanni Cetoís book about her memories of being a survivor of the 1947 Roswell crash, as well as the challenges she has faced in this lifetime. We hope to have the book in print before the end of the year.
A visitor from West Virginia, Dr. Paul Jones, and his faithful dog, Kassie, stopped in our area the end of August to meet Sanni and to get to know those of us with whom he has corresponded over the years. He was on his way back from a trip that took him to California to meet lightworker friends there. We shared a nice meal with Paul, who then took Sanni sightseeing to Mt. Evans and other places.
Happy belated birthday to Lady Isis (Sept. 9), Honey Lee French (Sept. 21) and Arda Golden Eagle Woman (Sept. 30). Live long and prosper!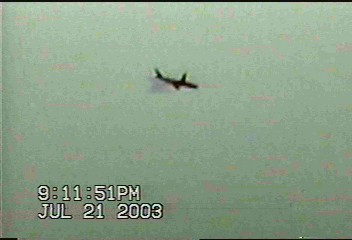 Emmaís video
On July 21, 2003, Emma OíBrian was filming a jet when she picked up an unidentified object that flew toward the jet and hit it. The following correspondence deals with her frustration in trying to get the authorities to listen to her. On the next page the stills were made into bitmaps in order to more clearly view the object in relation to the jet. It is interesting to note that the time of the event was 9:11.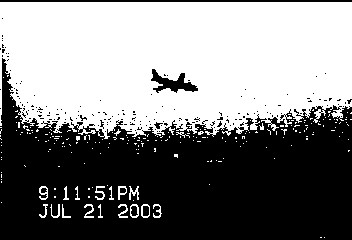 July 31, 2003

Dear Ann,
I and my brother have been working hard on getting these pictures, so that I can show something for what I have said happened on the 21st. But the UFO Reporting Center here in Seattle Wash., just arenít satisfied. They are no better than the cops, or the Coast Guard...
Soon as I witnessed this object hit this jet, I went at trying to alert someone of its happening. The Coast Guard said to call the Sheriffís Office. The Sheriffís Office ignored the possibility that it was a missile. The UFO Reporting Center said there could have been a bug or a bird in front of my lens.
But I have also shown this movie to several people here in town, and the "smudge" flies so fast that it has only two explanations. #1. a rocket. #2. a flying saucer.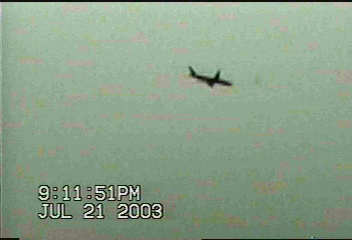 We have seven pictures that can come over the Internet, but the video is the key. My next move is to use this Internet itself to contact the Home Land Security people. How are they going to know if someone tried to down a plane if our own people are not listening to the warnings?
Iíll write a better letter once I have done this.
Emma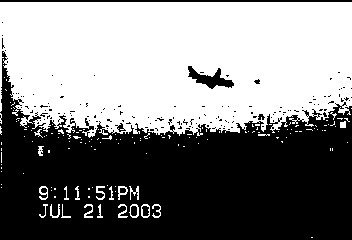 Aug. 1, 2003
Dear Ann,
Because of the time it took to videotape a sighting - less than a second and a half - I am unable to send to you a copy of this happening unless you have the equipment to receive it? If you have the equipment, I can send you a short clip that can be slowed down to a picture of how this occurred.
Also because of the way that I am being treated by the officials, I would like you to put these images into print. Someone has to see this! The population of people who have seen the tape are divided. It is a once-in-a-lifetime event. So, to make it easily understood by those who read your paper, Iím writing the report again:
On July 21, 2003, at 9:11:50 pm, in the sunset, I videotaped an object hitting a jet! It was so fast that my subconscious saw it first, then the brain realized something had happened. If not for that little voice in my head saying, "Look!" nothing would have been said about this to anyone.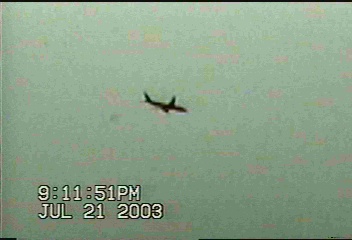 Aug. 2, 2003
Dear Ann,
I am really sorry if I sound frustrated... but how are we to protect ourselves if there is no one we can go to? I am sending this next attachment as the middle of the three total that I have sent. No matter how we play this tape back, it still looks the same. Someone tried to take down a jet. And ironically the time was 9:11 pm, and just before the presidentís wife was to be here in town. How am I to have love and light, when something so outrageous occurs in the skies above me?
Emma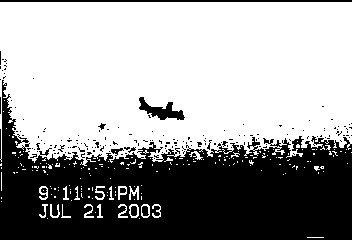 Aug. 3, 2003
Dear Ann,
The first time I saw this in slow motion on my TV is when I noticed the coincidence. At that same moment in time, I heard myself say something like "up-and-over." Then itís a cuss word, and "Did you see that!" I did not know if I got the image because I held up the camera but my head was looking at it in real time.
The people are divided as to if itís a UFO or a rocket. I just think it had to have landed close by in the forest between here and Port Angeles, and no one is looking to see what it was.
So please and thank you. As of this moment you are the only one to make anyone aware of this happening outside of our group of people.
Aug. 7, 2003
Dear Ann,
I am sending something better for you to see. I am doing this because I realize that those other three pictures are really hard to see. And it has to be a rocket, and not a true UFO, but the authorities are keeping it hush hush. Take a look at these three pictures. Plus, I know that you most likely cannot enlarge the attachments. Still I am hoping itís better to look at what I saw happen in the sky.
Love and light,
Emma OíBrian
Port Angeles, Washington