On the weekend of Aug. 14-15, Ethan and I took Sanni Ceto to the UFO Watchtower event in the San Luis Valley, in southern Colorado. It was a camping experience because the UFO Watchtower is actually a private campground owned by
Judy Messoline
of Hooper, Colo., and her partner
Stan
, both of whom are warm, friendly and enlightened people. This was actually the third year for this event, which was fairly well attended.
We arrived and set up camp Friday evening, and right away Sanni made friends with people. The whole weekend she just seemed to draw people to her like a magnet. Judy had asked Sanni to be one of the speakers because a scheduled guest couldn't come. We also brought a table and set up books, Beacons, T-shirts and Sanni's ET dolls to sell at the conference on Saturday. We met many interesting people and listened to some of the talks that were given throughout the two days, including Pueblo ufologist Bill Winkler, who leads a support group of abductees. Saturday night there was an "Alien Stomp" (dance and a disc jockey) followed by a light show. (Some lightning in the northeast gave off a splendid light show of its own.)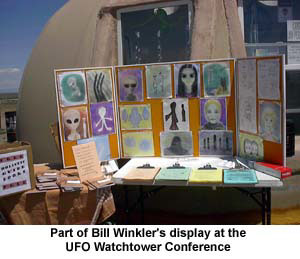 Sunday morning Sanni got up in front of the audience and the cameras and gave her talk about her Roswell memories and her current life, which is recorded in her new book, Stranded On Earth, The Story of a Roswell Crash Survivor. This was her very first public speaking experience, and she did a remarkable job. Afterwards, there were a few questions from the audience, which she answered without hesitation, and then people came up to her while all of her books disappeared on our table. We actually ran out of books and had to mail a few to some buyers.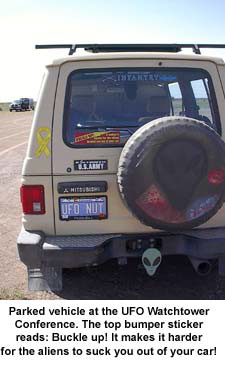 Sanni hopes to give talks elsewhere, and is looking forward to making some trips and promoting her book. She has done an excellent job so far and keeps finding more people who want the information she has to share. She has plans for a second book, which will be more about her world, space and its inhabitants. She continues to be on radio and is willing to talk with and give readings to those who contact her. Sanni's e-mail address is: sanniceto@yahoo.com, or you may write to her in care of The Star Beacon, PO Box 117, Paonia CO 81428 and I will forward the letters.

Two UFOs Seen During ISS Spacewalk
An EVA (spacewalk) was carried out from ISS (International Space Station) in the wee hours of Aug. 3, 2004 for the purpose of changing out experiments, and modifying the docking facilities on the aft end of the Zvezda Service Module. This was the third EVA for the Expedition 9 crew. The spacewalk lasted some 4 ˝ hours, but only 12 minutes and 24 seconds of this were of the space crew at work.
During this short downlink, two UFOs were seen, one traveling at a 45-degree angle in relation to the ISS, and another almost two minutes later moving horizontally to the station. Just a few moments later, the live feed was cut off, and never restored. Two still frames depicting the UFOs can be seen. For a more exhaustive report on this EVA, go to this Web site: www.projectprove.com/eva-9c.htm. More on the mission can be found at
www.spaceref.com/news/viewsr.html?pid=13565
(from Filer's Files #35, www.GeorgeFiler.com)

New Mexico governor rekindles Roswell
Ten years after the U.S. Air Force closed its books on the claim that a UFO crashed in Roswell, N.M., in 1947, a top Democratic Party figure wants to reopen the investigation into the cosmic legend. Despite denials by federal officials, many UFO buffs cherish the notion that in early summer of 1947, a flying saucer crashed in rural Roswell, scattering alien bodies and saucer debris across the terrain. Now
Gov. Bill Richardson
of New Mexico, who chaired the recent Democratic convention in Boston, says in his foreword to a new book that "the mystery surrounding this crash has never been adequately explained — not by independent investigators, and not by the U.S. government. ... There are as many theories as there are official explanations. Clearly, it would help everyone if the U.S. government disclosed everything it knows," says Richardson, who served as Energy secretary under President Bill Clinton."The American people can handle the truth — no matter how bizarre or mundane. ... With full disclosure and our best scientific investigation, we should be able to find out what happened on that fateful day in July 1947." The passage appears in a paperback titled
The Roswell Dig Diaries
, published in collaboration with TV's SciFi Channel by Pocket Books, a division of Simon & Schuster. The "dig" of the title refers to an archaeological dig at the supposed crash site.
(from Filer's Files #35, www.GeorgeFiler.com)

Star Beacon office closed
We will be on vacation until Oct. 11 as Ethan and I take the dog and head east in our travel trailer. E-mail communication may be sporadic (if at all), but I will catch up with correspondence eventually!