GREETINGS, TERRANS!
CHECK OUT
WHAT'S NEW!

Read Ann's
SPACE TRILOGY
Order
At DISCOUNT!

Welcome to Earth Star on the Web. Here you will find a wealth of articles on diverse topics including UFOs and extraterrestrials, the paranormal, healing, earth changes, spirituality, the latest sightings, channeling, astrology, book reviews, art, poetry, plus conference news and reports, and a whole lot more.
WHERE WOULD YOU
LIKE TO GO?


The Star Beacon: Earth Star's monthly paranormal newsletter. Subscription info can be found by clicking here.




BOOKS, T-SHIRTS, TAPES -- NEW!
Earth Star's Store features metaphysical, self-help, children's literature and adult fiction, plus original T-shirts and conference lecture tapes. Visit now by clicking here.





PSYCHIC READERS
The NEW Psychic Readers Directory lists Intuitive Counselors from all over. Check out who's doing what, and how to contact them, by clicking here.




THE BEST OF
THE BEACON
Selected articles which have appeared over the years in The Star Beacon
Click here.




CONFERENCES
Check out conferences by clicking here.





FRIENDSHIP CLUB
Earth Star's Galaxy Wide Friendship Club is the place to find like-minded pen pals. Visit now by clicking here.





ART GALLERY
Earth Star's NEW Art Gallery features paintings by Ryan Ulrich plus an assortment of art (including extraterrestrial). Visit now by clicking here.





ARIZONA PAGE
Visit exotic and beautiful Why, Arizona. You can go there by clicking here.




MULES
Animal lovers will get a "kick" out of our Mule Page, featuring the Stucker Mesa Mules. Click here.


PUBLISHING
Earth Star Publications offers book packaging services for self-publishing authors, as well as a lot more. Please see our List of Services.
ADVERTISE HERE!
Advertise your wares or services here by placing an ad in The Star Beacon. To view CLASSIFIED ADS click here. For more information on advertising, e-mail us at UFOeditor@yahoo.com. For information regarding the Psychic Readers and Healers Directory, please email starbeacon@gmail.com.
DISC-ussion

from the October 2008 Star Beacon
by Ann Ulrich Miller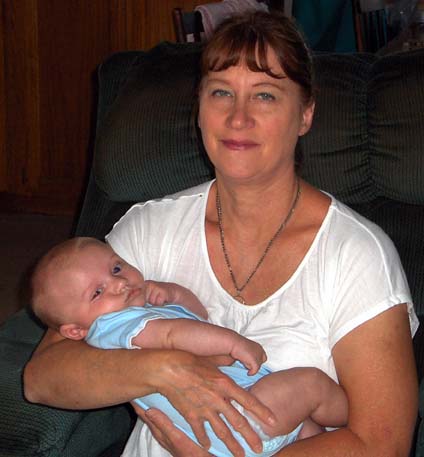 A Day in Pagosa Springs
The first week in September I escaped for a quick trip into the mountains while my stepson spent quality time with his father. (Fortunately, Ethan held on until I returned from my much needed and wonderful trip to Colorado.)
I finally got a chance to meet baby Vorian, my sweet grandson who is now three months old. On Wednesday of that week, I drove Ryan, Trish and the baby up into the mountains of the Conejos Canyon, where we had a leisurely lunch in Platoro at the Skyline Ranch.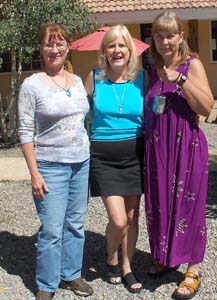 Then, on Thursday, I picked up Norma Jean Foust in South Fork, and drove over Wolf Creek Pass into Pagosa Springs, where I had planned to meet Niara Isley, UFO abductee and disclosure advocate, for lunch. She invited Victoria Liljenquist to join us. Victoria interrupted her busy schedule, which included working on a screen script for an upcoming movie, to chat with us and tell about her important light work (see review on page 18). We had a great time. Niara was getting ready to go to California for a seminar on building affordable earth dome houses.
On Friday I drove to Fort Garland on my way to Colorado Springs, and met Celest and David, two lightworker friends, for lunch. We had lots to talk about and they gifted me with a special new "friend."
I saw one UFO in the San Luis Valley, around La Veta Pass on Tuesday.
On Friday night I stayed with my friend Honey Lee French and she shared some of her past life memories with me. Alas, the trip was too short!
Ann Ulrich Miller is publisher of The Star Beacon.
Check out WHAT'S NEW
Subscribe to The Star Beacon
---
Copyright © 2008 Earth Star Publications
For permission to reprint articles or use graphics, e-mail lightworker@earthstarpublications.com.