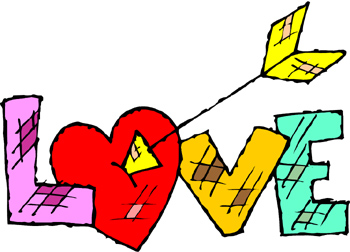 from the February 2006 Star Beacon

How much in love are you?
Valentine's Day is special, because it focuses on love, and brings people together in the middle of a season that is often bleak and mundane. Valentines, with their brightly colored hearts, bring a smile and light up a person's face. It is a wonderful tradition, a reminder that Love is what makes the Universe glow.
Parental Love — From when we are very young, we know parental love, the special bond between ourselves and our mother, our father, or whoever it is that is Number One in our lives from the very beginning. This bond is a special one, and we feel it again when we become a parent and have a child to nurture, to raise, and to teach love to.
Sibling Love — Some of us may fight among our siblings when we are young, yet at the core there is that special bond again, a love feeling for one's sister or brother in a family, that sometimes is not recognized or appreciated until we've matured.
Teacher Love — As we grow and learn, we are influenced by those whose role as teacher or mentor bring us to a higher understanding of life. This kind of love is more of an admiration, or respect for those who have given so much of themselves to help us on our path.
Animal Love — Most of us, when growing up, have the pleasure of bonding with a pet. A dog, a cat, a horse or rabbit — whatever the animal is, we discover unconditional love through a friend of another species. A being that loves us, even when we feel we don't deserve it, is a gift beyond measure.
Puppy Love — Adults often make fun of this kind of affection, or attraction, to someone of the opposite sex (or same sex, for that matter), especially when we are young, and yet feelings can be as real to us then as later on, when we mature. Puppy love, they say, is superficial and will wear off soon. But that doesn't mean it is any less valuable.
Romantic Love — The next step up is when we fall in love for the first time (although this can happen with Puppy Love, too). Who can ever forget their first big crush, or important significant other? Rarely does the first love of your life end up as the "one and only". Usually, it is the most unforgettable, at least until that Special One comes along.
Unrequited Love — This is a heart breaker. You love him or her totally... or so you believe. But why is it they don't reciprocate? This has to be one of the most difficult disappointments in life, accepting the fact that your beloved does not love you back. And there is nothing you can do to force anyone to feel that way about you, no matter how hard you try. In such a case, you need to do some deep soul searching. Clinging to someone in this way ony makes things worse. In such a case, you need to let them go... if you truly love them, and you let them go their way, it is the greatest act of love you can bestow on them, and upon yourself.
Love Thy Enemy — Jesus taught this concept. Most people find this quite difficult. It's really very simple. You don't need to like the person, or approve of their behavior or what they stand for. But you can still love them. All you need to do is recognize the Christ Spirit within them, and if you do, you are evolving into a most special being!
Soulmate Love — A lot of people are confused about soulmates. They seem to think they only have one soulmate, and that it is someone they are mated to on a higher level, forever. We each have many soulmates. These are the people in our lives we truly care for, and who have perhaps been with us time after time, over many lifetimes. One time an individual may be born as your child. Another time, he may come through as your lover. Perhaps he was your parents the time before that. Want to know who your soulmates are? Take a look around you.
The Special One — How fortunate you are if you should happen to attract the Special One in your lifetime. Not everyone has this privilege, or opportunity. If you do, you will know him or her when they appear in your life, and you will recognize, through their vibration, who they are. Most the time, the Special One will be in another plane of consciousness while you live your life out on Earth. But you can be assured he or she is with you, in spirit, and you only need to reach out in meditation to make contact. This is the kind of love that surpasses romantic love. Your heart will glow!
Love/Hate Relationships — Sometimes people appear in our lives for a specific reason, to fulfill a karmic debt, or provide a lesson we need to learn, to complete our spiritual growth on the earth plane. For example, people fall in love, then things go wrong and they get divorced. Conflict comes into play, but it is all for a reason. Once you realize this person was in your life to assist you, you can allow them their misgivings and bless them on their path. Loving them anyway is the best gift you can give not only them, but yourself.
— Ann Ulrich Miller