If you gaze into the star-filled sky this summer, you will see the red planet Mars growing larger and brighter each night. This process of intensification will continue until the final days of August, when Mars will appear up to six times larger and up to 24 times brighter than usual. In fact, Mars will come closer to Earth than it has been in almost 73,000 years.
In a very real sense, Mars is "in our faces" this summer. We are being challenged - individually and collectively - to find ways to express Martian energy creatively and constructively.
If we turn our backs and try to ignore the energy of Mars at work in the world, we may well find ourselves becoming hot, impatient, demanding, steaming, angry, even warlike. Or we may find ourselves face-to-face with other people exhibiting those qualities. Mars is nothing to trifle with. Mars means business. Mars will not be denied. Mars asks for your courage, your action, your skill.
In the terms of astronomy, Mars is nearest to Earth when it is both in perihelion (closest to the sun) and in opposition (opposite side of Earth from the Sun). This year the Mars perihelion occurs at virtually the same time as the opposition, a dual phenomenon that happens rhythmically about every 15 to 17 years.
As it happens, on Aug. 27, 2003, Mars will be only 34.65 million miles from Earth, its closest approach in almost 73,000 years.
Below is an illustration of the Mars perihelion/opposition this summer. As you can see, it will readily become apparent what is happening in the sky: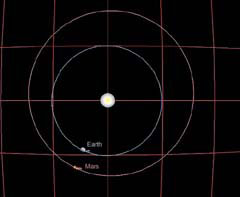 While astronomy offers images of what is happening physically in the sky, the much older tradition of astrology offers images of what may come to pass metaphysically. In the terms of the classical Western tradition, Mars is associated with desire, energy, fiery urges, and action.
The basic astrological principle was articulated millennia ago by the Greek teacher Hermes Trismegistus: "As Above, So Below." What that means, in a nutshell, is that if we observe something significant in the heavens, we will witness a correspondence below on Earth, and vice versa.
So, if we look above and see that Mars is "in our face" all summer - closer to the Earth than it has been in 73,000 years - then we may well wonder what correspondences will emerge below. If the Hermetic principle is valid, then we can expect to see a noticeable increase in energy of a Martian character over the next two months.
As with all power, the energy of Mars can be used or misused. At its worst, Mars serves the naked, hungry ego and may be expressed as impatience, irritation, pushiness, anger, rage, violence, martyrdom, and war. At its best, Mars is guided by the light of the soul and is competent to get what it needs following the highest ethical and spiritual principles. An elevated Mars is the hero, the champion, the protector of all that is delicate, weak, or in need of help. Mars helps to move things forward along the unfolding spiral of spiritual evolution.
In her book Making the Gods Work for You, Caroline W. Casey writes: "Mars reminds us that spiritual life is not some passive, safe, wimpy, trust-fund tour; it is a bold, active, heroic and completely engaged adventure. Arousal is necessary if we are to be able to take appropriate action."
As various traditional elders have suggested to me in conversations, action is a primary spiritual ideal of our era, this window of transition in which we all live and weave. But action toward what? And guided in what manner?
Toward the larger end of a just and sustainable planet graced by peace, and also by way of conclusion for this newsletter, I thrust upon you some rhetorical questions and challenges in the Martian tradition. Can you handle them?
What do you need? How do you go about getting it? What do you want, and how do you go about getting it? Are you following the highest ethical principles in how you get what you need and want?

What do we as a nation of human beings need? How do we go about getting it? What do we as a nation of human beings want, and how do we go about getting it? Are we following the highest ethical principles in how we get what we need and want?

What are you - as one human being - willing to fight for, preserve, and protect? What are you willing to make happen in the world?

What are we as a nation of human beings willing to fight for, preserve, and protect?

How can you use the extra-amplified energy of Mars wisely and creatively this summer? What are your skills, and what's the most effective way to focus them?

Are you getting enough exercise? What are you going to do about it? Today? Is that soon enough?
Environmental, social, and geopolitical threats to our survival and our basic human rights are mounting. The world needs heroic souls, now. You, in particular, are needed: your vitality, your skill, your courage, your positive, constructive activity. Arise. Join the quest now. Take action. Make something good happen this summer.
Nota Bene: On Aug. 16, as the Martian energies are building to a peak, a seasoned group of Santa Fe astrolo-gers will explore all of these Martian themes, and much more, in an all-day workshop. I am happy that I will be among them. For details on the intensive workshop called "War, Peace and the Mars Factor," e-mail me at chiron@chiron-communications.com.
Resources: Here are some links to basic astronomical information on what is going on with Mars in the sky this summer: