GREETINGS, TERRANS!
CHECK OUT
WHAT'S NEW!

SIGN UP FOR
EARTH STAR'S
ON-LINE FICTION
WRITING COURSE

Welcome to Earth Star on the Web. Here you will find a wealth of articles on diverse topics including UFOs and extraterrestrials, the paranormal, healing, earth changes, spirituality, the latest sightings, channeling, astrology, book reviews, art, poetry, plus conference news and reports, and a whole lot more.
WHERE WOULD YOU
LIKE TO GO?


The Star Beacon: Earth Star's monthly paranormal newsletter. Subscription info can be found by clicking here.




BOOKS, T-SHIRTS, TAPES -- NEW!
Earth Star's Store features metaphysical, self-help, children's literature and adult fiction, plus original T-shirts and conference lecture tapes. Visit now by clicking here.





PSYCHIC READERS
The NEW Psychic Readers Directory lists Intuitive Counselors from all over. Check out who's doing what, and how to contact them, by clicking here.




THE BEST OF
THE BEACON
Selected articles which have appeared over the years in The Star Beacon
Click here.




CONFERENCES
Check out conferences by clicking here.





FRIENDSHIP CLUB
Earth Star's Galaxy Wide Friendship Club is the place to find like-minded pen pals. Visit now by clicking here.





ART GALLERY
Earth Star's NEW Art Gallery features paintings by Ryan Ulrich plus an assortment of art (including extraterrestrial). Visit now by clicking here.





ARIZONA PAGE
Visit exotic and beautiful Why, Arizona. You can go there by clicking here.




MULES
Animal lovers will get a "kick" out of our Mule Page, featuring the Stucker Mesa Mules. Click here.


PUBLISHING
Earth Star Publications offers book packaging services for self-publishing authors, as well as a lot more. Please see our List of Services.
ADVERTISE HERE!
Advertise your wares or services here by placing an ad in The Star Beacon. To view CLASSIFIED ADS click here. For more information on advertising, e-mail us at UFOeditor@yahoo.com. For information regarding the Psychic Readers and Healers Directory, please email starbeacon@gmail.com.
The Meaning of It All

from the January 2009 Star Beacon
by Ann Ulrich Miller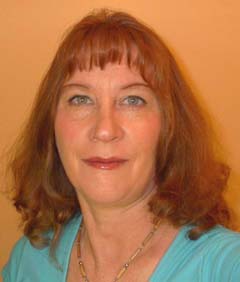 UFOs at the McGuire Ranch
This is another excerpt from my autobiography, Throughout All Time. This time it's from the Appendix of UFO Experiences. In July 1984 I attended my first UFO conference at the University of Wyoming. I went with my friend Jackie Blue and another friend, Jim Middleton. As a condition of letting me go, my husband at the time insisted I also take my two small sons to the conference. Ryan was 8 and Marty 4. This is taken from my original journal.

Saturday, July 21, 1984
We were out late last night at Pat McGuire's ranch located about 30 miles north of Laramie. We were there from 9 pm to 12:30 am, watching UFOs. It was raining and storming when we arrived. It was just the five of us plus Chris F., who has been out at the ranch before and has seen nocturnal lights.
Our experience last evening started out with a lot of activity which then diminished. We watched several (6-12, I'd guess) lights appear in the sky, varying from red to orange to white. They stayed a short while and then blinked out on us. A couple of them moved toward the sky until they were practically right over us, then would dim out.
For the most part the sky was cloudy and there was rain off and on, with increasing wind. Jim had strong feelings before we arrived, though I thought he was calmer than before. For one thing he didn't have stomach "pains" like he usually gets when "they" are around. Everyone was keyed up and excited. I wasn't one of them, but the other adults smelled a funny odor, a burning, almost sulfur-like odor, a couple of times.
We all grew very tired. It took a while before the boys finally settled down. Ryan went right to sleep once he lay down. Marty watched lights, conversed and "bounced" in the front seat a couple of hours before he finally agreed to lie down, then eventually dozed off. (ED's Note: My son Marty had a habit of rocking which we referred to as "bouncing." This habit lasted well into his adolescence.)
At a couple of points I grew so weary I could hardly stand it. I kept yawning hard, but I was determined to see more. We left at 11:30 and, once we reached the highway, I couldn't stay awake. My body ached with fatigue and I laid down between the two boys and fell asleep.
The next thing I knew I awoke, sat up, and Chris was asleep on the bench. She soon rose and we stayed awake the rest of the way back to Laramie.

Sunday, July 22, 1984
What an experience we shared. I am still overwhelmed by everything that happened. My body cries for sleep but I can't give in until I tell it.
Last night we went to the banquet but didn't stay. As soon as we finished eating we left, along with another group of people.
I'll interrupt to say that I was feeling very depressed earlier in the day. I hung around at the conference building but didn't talk with anyone except Jim and Jackie. I was really starting to doubt my reasons for being there. Back at the dorm room I felt like crying, but didn't give in to that.
We led the way out to the Morton Pass Farm (Pat McGuire's ranch). You take Highway 30 north to Highway 34, where you turn right and eventually left onto the property. A grass road veers off to the right after you've gone a while on this driveway.
Last night we were greeted by a beautiful rainbow that stretched in a complete arc behind us (a "promise"). The people who came with us were Bonnie and Julian Joyce, a middle-aged, very enlightened couple from Hotchkiss, Colo.; Dr. Bob, a disabled veteran who is quite psychic; Astor, a very special lady who is handicapped but who has experienced something extremely great and whose spirit is very strong (at least in my opinion). Then also there was George, another man with them.
Bonnie and Julian were the ones who influenced us the most. For one thing, Bonnie had a tremendous impact on Jim. He claims she helped him a lot. I found the Joyces to be warm and honest, exuding so much love and overpowering energy.
A storm dominated the evening just like Friday night. But it was really a lightning storm that was absolutely spectacular! As it built and the rain fell, we all grew excited — more excited and high than we'd ever felt. Jim, especially, was going nuts with all the energy around us. We all felt high, with a great, indescribable love that enveloped all of us. We felt free to express everything we were feeling, and it was fantastic.
Lights appeared just like before; they blinked in and out. This went on for an hour or two. Then the Joyces decided they had to leave. It was late and they had 400 miles to drive home, and other passengers to consider. Bonnie didn't want to go, but Julian was almost sharp toward her in his insistence that they leave. Then their headlights didn't work. One half hour passed while they worked on getting the headlights fixed. The problem was a broken switch, a rather bizarre and freaky thing to have happen, we thought.
I have to mention something that happened earlier. While we were sitting in the van during the storm, after both boys had gone to sleep, suddenly it sounded like heavy stones were being thrown at the back of the van. They started out slowly and then suddenly were striking the van all over in a clatter of noise. All that noise and the sleeping boys didn't even stir! I was starting to freak out.
Then I realized it must be hail. It pounded in torrents and lasted about five minutes. Jim kept saying in a joking manner, "All right, guys, we get it... that's enough, guys. You're here. We know." He always refers to the aliens he communicates with as "those guys."
The oddest thing is the hail was not hail but heavy drops of rain. Bonnie told us later she had stuck her hand out to catch the hail, but found it was only water.
So after they got the headlights working, we led the other vehicle out to the road. We had a difficult time keeping the van from sliding off the driveway in the soft, slippery mud. It hadn't been like that before and it had rained hard before. It was as if "they" were trying to prevent us from going. But Jim, Jackie and I had already decided we were staying longer once we got the others safely to the road.
We did not attempt to go back to where we had been. We watched the sky, which suddenly cleared up. I'll mention that after the storm, just like before, the sky immediately above the van cleared. It was only a patch, but funny how it cleared just over us both nights!
After a while we started getting uncomfortable from the wind and cold. We had seen only a couple of nocturnal lights and some meteorites. I saw a UFO swing under the handle of the Big Dipper and then lost track of it.
The feelings were strong, though, that something was going to happen, and Jim was convinced it would be a landing, and that we would meet some aliens with white or light-colored skin. This struck a chord in me because I've been envisioning these slender, light-colored aliens that have longer than usual arms.
We were just so enraptured by the energy of love that was there on that ranch, on that spiritual spot where "they" seemed to want us. Jim kept telling us we had to wait for more people. He said he felt there had to be some more people invited there that night, but we couldn't believe anyone else would come that late.
It was almost 1 am. A policeman stopped, only we didn't know he was a policeman at first. We got into the van quickly to leave when we realized a car was backing up to meet us. We didn't want to take a chance on it being a maniac. The policeman asked us if everything was all right, then mentioned he was looking for a blue pickup. We hadn't seen one.
Shortly after the policeman drove off, along came a blue pickup that slowed, then continued on.
A short while later, another car came (from the north, where Julian said "they" would come). We were paranoid again and ready to take off. But the car stopped by us and a man asked the way to Morton Pass Road (which was exactly where we were). It turned out to be four people from the UFO conference.
We knew then (with tremendous excitement) that these people were the ones who were supposed to be there with us, for whatever reason. I recognized the man named Dick (ED's note: Richard Gregory) as a sincere man who had spoken at the conference the first afternoon. He had some profound things to say, his main statement being that it was not important to see physical evidence of UFOs, that just because we were wanting to see a display, they couldn't take time to patronize every person looking for a UFO in the sky. But, he said, they will show when there is a significant event, when something is very important.
We held hands in a circle then and sort of meditated. There were seven of us and this number is significant because the number "7" means "beware of another life form," according to one person there.
Dick mentioned also how UFOs often come from around the Big Dipper. This I found to be highly significant because many of my own sightings have come from around this familiar constellation.
Then another man (Ray or Roy, I think) announced that he had something to say. He asked us if he could speak. Jackie said, "Yes, please." Then he took a minute to prepare himself. The next few minutes were a special "channeling" through this man — a message that greatly influenced Jackie, Jim and myself, and could very possibly have changed our lives.
Let me stick in one other important event I forgot that happened while we had formed the circle. Dick pointed up into the sky at a cross made of clouds. Then somebody mentioned that there was some kind of prophecy of a "select few" who would see the "second coming" or something like that in the night sky. Whoever said it added that they felt that prophecy had just been fulfilled, and we were deeply moved.
Suddenly the cross turned into a thunderbird or Phoenix, and the coyotes to the southwest began a series of eerie howls and yelps that would have sent chills up me if I hadn't been so full of that protective shield of God's love.
I can't tell about the channeled message, I'm so tired and can't remember it, but it seemed terribly significant and we needed very much to hear it, that much I know. He spoke for about ten minutes in a slow, precise voice, so we would absorb every word and every concept. He revealed to Jackie, Jim and myself our "mission" in an attempt to save Earth.
Then he said, "I don't have any more to say," and everyone was silent for a long while.
After that the four people left. The three of us remained. I was ready to leave then too. It was late, almost 2 am, and I was cold and tired and worried about getting the boys back to the dorm.
Suddenly, great surges of energy filled each of us. We shivered and felt strange. Then we noticed in the west that a huge cloud had appeared and was on the ground in front of us. We all felt it — an overpowering sense of awe. The thing in front of us, we knew, was not a cloud. It was awesome!
It filled us with such love, such overwhelming awe. Over our heads we watched a white stretch of cloud reach out and stop just over us. After a short while it moved on (toward the north). This happened at 2 am. We all felt strongly that this was the mother ship. Earlier, Astor had told Bonnie that a mother ship was around.
At 2:15 am we left. "They" told us (through Jim and through our feelings) that it was time for us to go now. "Go and fulfill your mission," it seemed to say.
I remained in awe. I still am. I slept without dreaming too much last night, but only had four hours sleep. I need rest, but I had to get most of this down on paper so I wouldn't miss too much.

Afterword: The next day my journal elaborated a little on the "message": It had to do with the importance of fulfilling our "mission," trying to save Earth, not for us but for future generations. We were of a "select few" chosen to fulfill this mission. The "lump of clay" we live on is not important because we are from "out there," and his hand pointed up at the stars as he spoke. We were part of that... part of something much higher and much greater.
In subsequent years I would discover, under regressive hypnosis and through an awakening given by Arda Golden Eagle Woman (a master of awakenings), that I had contact with one of my extraterrestrial guides, that I had made a decision that night — a decision I had agreed on before incarnating — and in five years that plan would begin to unfold, in order for me to fulfill my mission.
The decision involved a sacrifice on my part. It would become necessary for me to be separated for a while from my children. However, I would be reunited with my Special One. All of this was blocked from my conscious mind until years later.
The full story is told in my upcoming book, Throughout All Time, A Cosmic Love Story, to be published by Earth Star this year.


Ann Ulrich Miller is publisher of The Star Beacon. In September she lost her husband and soulmate. Look for the whole story in her upcoming book, Throughout All Time, A Cosmic Love Story, to be published in 2009.
Check out WHAT'S NEW
Subscribe to The Star Beacon
---
Copyright © 2009 Earth Star Publications
For permission to reprint articles or use graphics, e-mail lightworker@earthstarpublications.com.