GREETINGS, TERRANS!
CHECK OUT
WHAT'S NEW!

NEW!
READ TODAY'S BLOG


Order your copy of
THE LIGHT BEING

Welcome to Earth Star on the Web. Here you will find a wealth of articles on diverse topics including UFOs and extraterrestrials, the paranormal, healing, earth changes, spirituality, the latest sightings, channeling, astrology, book reviews, art, poetry, plus conference news and reports, and a whole lot more.
WHERE WOULD YOU
LIKE TO GO?


The Star Beacon: Earth Star's monthly paranormal newsletter. Subscription info can be found by clicking here.




BOOKS, T-SHIRTS, TAPES -- NEW!
Earth Star's Store features metaphysical, self-help, children's literature and adult fiction, plus original T-shirts and conference lecture tapes. Visit now by clicking here.





PSYCHIC READERS
The NEW Psychic Readers Directory lists Intuitive Counselors from all over. Check out who's doing what, and how to contact them, by clicking here.




THE BEST OF
THE BEACON
Selected articles which have appeared over the years in The Star Beacon
Click here.




CONFERENCES
Earth Star's annual Love and Light Conference. Also check out other conferences by clicking here.





FRIENDSHIP CLUB
Earth Star's Galaxy Wide Friendship Club is the place to find like-minded pen pals. Visit now by clicking here.





ART GALLERY
Earth Star's NEW Art Gallery features paintings by Ryan Ulrich plus an assortment of art (including extraterrestrial). Visit now by clicking here.





ARIZONA PAGE
Visit exotic and beautiful Why, Arizona. You can go there by clicking here.




MULES
Animal lovers will get a "kick" out of our Mule Page, featuring the Stucker Mesa Mules. Click here.


PUBLISHING
Earth Star Publications offers book packaging services for self-publishing authors, as well as a lot more. Please see our List of Services.
ADVERTISE HERE!
Advertise your wares or services here by placing an ad in The Star Beacon. To view CLASSIFIED ADS click here. For more information on advertising, e-mail us at UFOeditor@yahoo.com. For information regarding the Psychic Readers and Healers Directory, please e-mail earthstar@tripod.net.
The Meaning of It All

from the June 2006 Star Beacon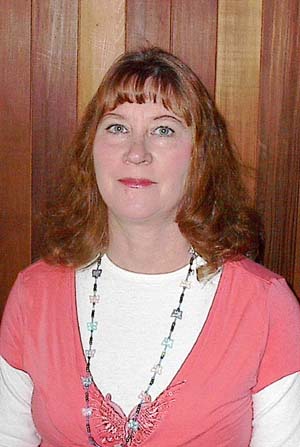 Triviality
One of my favorite board games has been Trivial Pursuit, in which you match wits with your opponents based on your knowledge of certain facts. I used to score best at the Arts & Literature and Science & Nature questions, but did poorly with Sports & Leisure and Entertainment. I haven't played the game in years, mostly because no one I know wants to play it with me. My sons complain that most the questions are aimed at Baby Boomers, which puts them at a disadvantage. My husband doesn't like the game, period.
What would really be fun would be to modify the game to Metaphysical Trivia. I could really get into that. Just think of the categories you would have. Instead of History, Entertainment and Geography, you might ask trivial questions in the UFO category, or the Channeling or Great Psychics category. Would you be able to answer a question such as "Name the Fire Signs in Astrology," or "What is the purpose of the fifth (throat) chakra?"
I was startled when I came across the quote at the beginning of Chapter 27 in Neale Donald Walsch's book, Home With God. The quote, by God, reads: "Most human beings are focused most of the time on things that do not really matter." I found that most intriguing.
And when you really think about it, it's true. We do spend the majority of our time on trivialities. So often we bypass the important, meaningful part of life by focusing on what we're going to wear, what we're going to eat, what people are going to think of us, and we nitpick about every little thing... and when it comes right down to it, none of it matters.
It's sort of like sifting through all the junk mail. You end up throwing out most of it because it doesn't serve you.
Speaking of junk mail, I work at a job where people call in to ask to be taken off the company's exchange list. We give them that option when they become subscribers of the newspaper. Some people get really irate because we had the gall to trade their name in the first place, and they blame us for all the environmental junk mail that comes to them.
"How dare you trade my name?" Talk about triviality... I wonder what really ticked them off that day that they had to call in and take it out on us!
Have you ever had days when every little thing seems to go wrong, or annoy you? If you stop and think about it, how important was it, anyway? What really matters in your life? Is getting angry about your mate putting the toilet roll on backwards worth raising your blood pressure? Is your bad mood ruining your day because the cat hacked up a hairball on your favorite chair? Are you peeved because that annoying solicitor made you get up and answer the telephone in the middle of supper?
My point is we worry too much about little things that don't matter. When you're having an "off" day, just sit outside on the porch awhile, chill out, and count your blessings. My favorite escape is a short walk in the woods with the dog. Soon I am surrounded by loving trees, a caressing breeze, fragrant grasses beneath my feet, a clear blue Colorado sky, and the kiss of sunshine on my skin. All those trivialities in life just melt away, and the importance of my being becomes clear.
Returning to Nature is wonderful therapy when life gets you down. Another might be a hot bubble bath, or putting on some soothing music you enjoy. Sometimes just getting away by yourself for a few minutes can do wonders.
Once you realize you are dwelling too much on the trivialities of life, you can focus on what matters... love, joy and peace. It's there. It's been there all along. You only need to recognize it and allow it back into your life. And when life's "junk mail" gets in your face, simply recognize it for what it is and file it all in the "circular file" of your imagination.
Remember, what we focus on is what comes into our lives. Try this exercise: The next time you feel fear, anger or frustration, immediately concentrate on something you'd like to happen in your life... focus on something you are wanting... and it will push away the negative thoughts and bring the desired situation or object closer to you. This is the Law of Attraction, and it works.

Ann Ulrich Miller is publisher of The Star Beacon.
Copyright © 2006 Ann Ulrich Miller
Check out WHAT'S NEW

Subscribe to The Star Beacon


---
Copyright © 2006 Earth Star Publications
For permission to reprint articles or use graphics, e-mail earthstar@tripod.net.