GREETINGS, TERRANS!
CHECK OUT
WHAT'S NEW!

Order your copy of
THROUGHOUT ALL TIME
A Cosmic Love Story

Welcome to Earth Star on the Web. Here you will find a wealth of articles on diverse topics including UFOs and extraterrestrials, the paranormal, healing, earth changes, spirituality, the latest sightings, channeling, astrology, book reviews, art, poetry, plus conference news and reports, and a whole lot more.
WHERE WOULD YOU
LIKE TO GO?


The Star Beacon: Earth Star's monthly paranormal newsletter. Subscription info can be found by clicking here.




BOOKS, T-SHIRTS, TAPES -- NEW!
Earth Star's Store features metaphysical, self-help, children's literature and adult fiction, plus original T-shirts and conference lecture tapes. Visit now by clicking here.





PSYCHIC READERS
The NEW Psychic Readers Directory lists Intuitive Counselors from all over. Check out who's doing what, and how to contact them, by clicking here.




THE BEST OF
THE BEACON
Selected articles which have appeared over the years in The Star Beacon
Click here.




CONFERENCES
Check out conferences by clicking here.





FRIENDSHIP CLUB
Earth Star's Galaxy Wide Friendship Club is the place to find like-minded pen pals. Visit now by clicking here.





ART GALLERY
Earth Star's NEW Art Gallery features paintings by Ryan Ulrich plus an assortment of art (including extraterrestrial). Visit now by clicking here.





ARIZONA PAGE
Visit exotic and beautiful Why, Arizona. You can go there by clicking here.




MULES
Animal lovers will get a "kick" out of our Mule Page, featuring the Stucker Mesa Mules. Click here.


PUBLISHING
Earth Star Publications offers book packaging services for self-publishing authors, as well as a lot more. Please see our List of Services.
ADVERTISE HERE!
Advertise your wares or services here by placing an ad in The Star Beacon. To view CLASSIFIED ADS click here. For more information on advertising, e-mail us at UFOeditor@yahoo.com. For information regarding the Psychic Readers and Healers Directory, please email starbeacon@gmail.com.
The Meaning of It All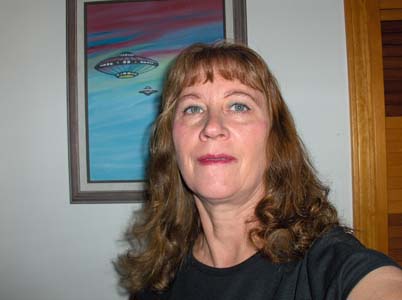 from the July 2009 Star Beacon
by Ann Ulrich Miller
Is the Four Corners a lightworker mecca?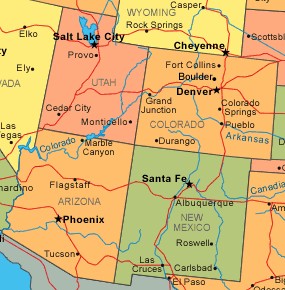 I have now been back in Colorado seven weeks. It has been a transitional period and may continue to be so for a while. I found that it takes time to settle into a new home and community, although, I must admit, I have been blessed with many new friends and the sanctity of a comfortable home. It is important for me to take the time I need for healing.
Ten months ago I felt the pull of Pagosa Springs, a small dot on the Colorado map, several miles due north of Dulce, New Mexico. I decided to check it out as a possible place for me to move. At that time — early September 2008 — my dear husband and soul mate was near death, and I had been granted a few days' reprieve to visit my new grandson in southern Colorado.
Ethan's oldest son graciously stepped in to take care of his father, so I could fly to Colorado and visit my son and his family. On one of those days I arranged to meet Niara Isley and Victoria Liljenquist for lunch in Pagosa Springs, a community I'd heard about and wanted to see for myself.
With my longtime friend Norma Jean Foust, who lived in nearby South Fork, I drove over Wolf Creek Pass and was astounded by the beauty and the high energy of the area as we came into the San Juan River Valley. It couldn't have been a lovelier day in early September, with typical sunshine and Colorado blue skies. The looming ponderosa pine and the mountainscape captivated us. I was enchanted by Pagosa Springs and decided, after just two hours, that I could easily live there.
Ethan made his transition just five days after I returned to Ohio. My absence had given Ethan and his son some important time in which to bring closure to their relationship. In the months following that very challenging event in our lives, I was faced with the decision of where to relocate. The Ohio property was up for sale and I wanted to get on with my life — to do whatever Spirit had in mind for me.
I wasn't sure at that point where I should move. Part of me was drawn back to Paonia and the beautiful North Fork Valley, where Ethan and I had met and lived for almost two decades. It was familiar to me and I still had many friends there. My old job was no longer available, however, and home prices there were high enough that I had to take that into consideration, along with the fact that the memories might cause emotional trauma.
Something kept drawing me toward the Four Corners. My friend Niara lived in Durango and wanted me to settle in her town, pointing out that the job market was more conducive for finding work. On the other hand, I wanted to be closer to my new grandson in Alamosa, and Pagosa Springs was only 90 miles away whereas Durango was 150. Pagosa Springs also had a lot of homes for sale, most of them newer houses, and I felt it was begging me to drop my spiritual anchor there.
Of course, those of you who have kept up with my progress in this column already know how everything manifested so that the property sold in Ohio right at the time I was visiting the Four Corners in March, and how I put an offer in on a house in Pagosa Springs the very next day — and it was accepted. Everything fell into place quickly and effortlessly — a sign to me that my path was laid out in front of me.
When I arrived in Colorado, I was in high spirits, happy to be back in my spiritual home state, and went about the tasks that needed to be done in order to set up my new life. I didn't expect it when emotions caught up with me and I found myself once again enshrouded by the cloud of depression that often lurks when you are grieving. Synchronistically, we had an unusual cycle of rainy days and gloom, uncharacteristic for this time of year in the Four Corners region.
It's been hard getting through it, and I'm not saying I've seen the end of it. But I have now put my trust in Spirit, knowing that I still need the time to heal and that there is no rush to get that job I felt I had to have immediately. I am learning how to be grateful for what is NOW, the fact that I have a roof over my head, food in the cupboards, good health, many friends, and an abundance other than money that is more meaningful and more nurturing to my entire being than I've ever had in the past.
Most lightworkers who come to reside in the Four Corners (this very sacred area where Colorado, Utah, Arizona and New Mexico come together) have an interesting story to tell about how they got here... and how, if they try to leave, they can't. Often people come here, sight unseen, and end up staying.
Is the Four Corners area a magnet for those of us who need to be here at this time? Is is really the "safe area" that has been talked about for decades, from the Hopi perspective? Is Pagosa Springs really a vortex area?
My feeling is "yes" to all of those things. I came for the healing, plus I have work to do here. I'm not talking about an office job either. I came here to be a "seed" as depicted in a vivid dream I had recently. In that dream I saw myself "channeling" words that moved across my line of vision, much like what you see at the bottom of the screen on CNN or Fox News. I was hearing those same words and writing them down. Then, a word in Russian kept flashing in front of me: (syehm-ya). I took Russian in college, but I didn't know this word. Later that day, when I got home from my trip, I got out my Russian-English dictionary and looked up the word (syehm-ya) (prouounced "syehm-ya"), and it meant "seed." I took that to mean that perhaps I am a seed, one who is sowing new ideas and bringing them into fruition. Perhaps in time I will also learn to channel.
I have a friend who believes lightworkers are flocking to the Four Corners area in this time frame, leading up to December 2012, because we could be the ancient Anasazi, returning to the sacred area.
There is definitely something here... there's no denying it

Ann Ulrich Miller is publisher of The Star Beacon. In September she lost her husband and soulmate. Read the whole story in her newly released book, Throughout All Time, A Cosmic Love Story. Click HERE for ordering information.
Check out WHAT'S NEW
Subscribe to The Star Beacon
---
Copyright © 2009 Earth Star Publications
For permission to reprint articles or use graphics, e-mail lightworker@earthstarpublications.com.