GREETINGS, TERRANS!
CHECK OUT
WHAT'S NEW!

SIGN UP FOR
EARTH STAR'S
ON-LINE FICTION
WRITING COURSE

Welcome to Earth Star on the Web. Here you will find a wealth of articles on diverse topics including UFOs and extraterrestrials, the paranormal, healing, earth changes, spirituality, the latest sightings, channeling, astrology, book reviews, art, poetry, plus conference news and reports, and a whole lot more.
WHERE WOULD YOU
LIKE TO GO?


The Star Beacon: Earth Star's monthly paranormal newsletter. Subscription info can be found by clicking here.




BOOKS, T-SHIRTS, TAPES -- NEW!
Earth Star's Store features metaphysical, self-help, children's literature and adult fiction, plus original T-shirts and conference lecture tapes. Visit now by clicking here.





PSYCHIC READERS
The NEW Psychic Readers Directory lists Intuitive Counselors from all over. Check out who's doing what, and how to contact them, by clicking here.




THE BEST OF
THE BEACON
Selected articles which have appeared over the years in The Star Beacon
Click here.




CONFERENCES
Check out conferences by clicking here.





FRIENDSHIP CLUB
Earth Star's Galaxy Wide Friendship Club is the place to find like-minded pen pals. Visit now by clicking here.





ART GALLERY
Earth Star's NEW Art Gallery features paintings by Ryan Ulrich plus an assortment of art (including extraterrestrial). Visit now by clicking here.





ARIZONA PAGE
Visit exotic and beautiful Why, Arizona. You can go there by clicking here.




MULES
Animal lovers will get a "kick" out of our Mule Page, featuring the Stucker Mesa Mules. Click here.


PUBLISHING
Earth Star Publications offers book packaging services for self-publishing authors, as well as a lot more. Please see our List of Services.
ADVERTISE HERE!
Advertise your wares or services here by placing an ad in The Star Beacon. To view CLASSIFIED ADS click here. For more information on advertising, e-mail us at UFOeditor@yahoo.com. For information regarding the Psychic Readers and Healers Directory, please email starbeacon@gmail.com.
The Meaning of It All

from the August 2008 Star Beacon

by Ann Ulrich Miller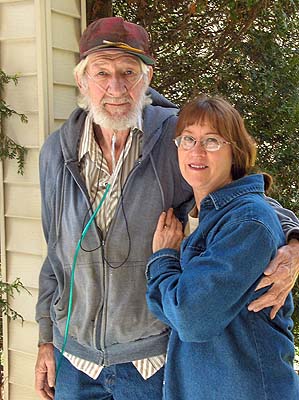 A SIGNIFICANT, DISTURBING DREAM
The following is an excerpt from another chapter in my autobiographical cosmic love story, Throughout All Time.


The winter of 1993 was one of the most difficult in my life. Ethan had gone to Arizona. The snow came hard that year, and the wind blew up the valley and caused problems for my mobile home. The pipes froze several mornings, and the wind blew the pilot light off in my furnace. I felt helpless without Ethan around, and called on my landlord, Mike Blue, when I was desperate.
My furnace quit working altogether one evening, and Paul Stevens, a good friend of Julian's, came to the rescue. I paid dearly for the new part and for his service, but I had to have heat in my home. When the power got cut off, which it did several times, I would grow fearful that my house would get cold and the pipes would freeze again. I lived in fear and vowed that next winter I would have a wood stove in my mobile home.
With all the snow we had that winter, my driveway became a problem as well. My car got stuck, despite the four-wheel drive, and I learned to park it off the road, at the top of the driveway, which meant I had to walk a ways to get to the house. It was okay, unless I had a lot of groceries to carry.
In late January I started working again on my sequel to Intimate Abduction, Return To Terra.
On January 21, 1993 I wrote down the following dream, which was slightly prophetic:
THE DREAM: "It started with Ethan and I looking at a grand old house to live in. We liked it very much, but for some reason Ethan left and I was alone in this big house with the man who owned it, who was older than Ethan and whom I disliked. I was made a slave because this man wanted me. He divorced his wife, gave her a fancy sports car as a going-away gift, and then forced me to stay with him. I remember him hitting me on the back of the head and knocking me unconscious.
"Then I didn't recall anything until ten years had passed. Then I was allowed to remember and saw a portrait of myself with my three boys, all much older, plus I was holding a baby! It was the offspring from this evil man. It upset me greatly. I was 51 and like an elderly woman.
"My friends brought me to a valentines party at a big hall, and someone came in with a delivery of red roses for me. They were from Ethan and the note said, 'See you in our next life. I must leave now.' I bawled like never before for my lost love. When I found out the roses were ordered from Albuquerque, I was determined to go there, to say goodbye before he left. I saw a map that showed that most the population of the United States now resided in the Southwestern part of the country. Only a few people still lived in Chicago, Washington, D.C., and New York. Most other places were not habitable. What a disturbing dream!"
Although it meant nothing to me at the time, the dream had aspects to it that would be significant in the years ahead. In spring of 1994, Ethan and I would approach our elderly friend, Julian Joyce, with a proposal to purchase his house and property on Stucker Mesa (the "grand old house" in my dream), and Ethan would still be in Arizona when Julian coerced me into signing the contract, just between himself and me — leaving Ethan out of it. In no way am I inferring that Julian was the "evil" man in my dream, but it's interesting that the man in my dream bought off his wife with a sports car, since Julian was known for his love of Corvettes and Jaguars, and he had actually divorced one of his wives because of another woman!
Another coincidence I noticed was the date of the dream: January 21. Seven years into the future, January 21 would be the day of Julian's transition.
Ethan surprised me when he suddenly showed up at my door in early February. It was such a welcome surprise, and we were able to spend Valentine's Day together. He purchased a tow bar for my Subaru, and we towed my car behind his truck when we both returned to Why on February 16.

EDITOR'S NOTE: At presstime, Ethan (my husband) was in Intensive Care at a hospital in Parkersburg, W. Va. I invite prayers for his healing, or a smooth transition, whatever is for his highest good.
Ann Ulrich Miller is publisher of The Star Beacon.
Check out WHAT'S NEW
Subscribe to The Star Beacon
---
Copyright © 2008 Earth Star Publications
For permission to reprint articles or use graphics, e-mail lightworker@earthstarpublications.com.