GREETINGS, TERRANS!
CHECK OUT
WHAT'S NEW!

Order your copy of
THROUGHOUT ALL TIME
A Cosmic Love Story

Welcome to Earth Star on the Web. Here you will find a wealth of articles on diverse topics including UFOs and extraterrestrials, the paranormal, healing, earth changes, spirituality, the latest sightings, channeling, astrology, book reviews, art, poetry, plus conference news and reports, and a whole lot more.
WHERE WOULD YOU
LIKE TO GO?


The Star Beacon: Earth Star's monthly paranormal newsletter. Subscription info can be found by clicking here.




BOOKS, T-SHIRTS, TAPES -- NEW!
Earth Star's Store features metaphysical, self-help, children's literature and adult fiction, plus original T-shirts and conference lecture tapes. Visit now by clicking here.





PSYCHIC READERS
The NEW Psychic Readers Directory lists Intuitive Counselors from all over. Check out who's doing what, and how to contact them, by clicking here.




THE BEST OF
THE BEACON
Selected articles which have appeared over the years in The Star Beacon
Click here.




CONFERENCES
Check out conferences by clicking here.





FRIENDSHIP CLUB
Earth Star's Galaxy Wide Friendship Club is the place to find like-minded pen pals. Visit now by clicking here.





ART GALLERY
Earth Star's NEW Art Gallery features paintings by Ryan Ulrich plus an assortment of art (including extraterrestrial). Visit now by clicking here.





ARIZONA PAGE
Visit exotic and beautiful Why, Arizona. You can go there by clicking here.




MULES
Animal lovers will get a "kick" out of our Mule Page, featuring the Stucker Mesa Mules. Click here.


PUBLISHING
Earth Star Publications offers book packaging services for self-publishing authors, as well as a lot more. Please see our List of Services.
ADVERTISE HERE!
Advertise your wares or services here by placing an ad in The Star Beacon. To view CLASSIFIED ADS click here. For more information on advertising, e-mail us at UFOeditor@yahoo.com. For information regarding the Psychic Readers and Healers Directory, please email starbeacon@gmail.com.
The Meaning of It All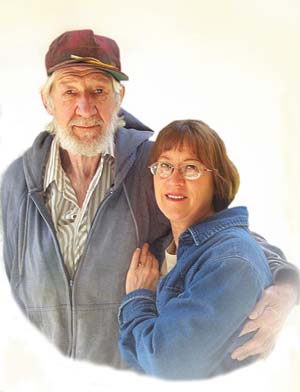 from the August 2009 Star Beacon
by Ann Ulrich Miller
A New Dream to Manifest
When I think of how far I've come in a year, I can see I have plenty to be thankful for. I'm back in Colorado, with wonderful new friends, and an exciting new dream I want to share with you.
A year ago, in August 2008, I was in the midst of a very challenging time in my life. My husband and twin soul, Ethan, had just come out of the hospital and was in the last weeks of his life on Earth. My role as caregiver had escalated to a stressful high point, with each day more of a battle to cope with the inevitable outcome that lay ahead.
I prayed for God to give me a better attitude toward all that was happening in my life. Grief is a strange thing. It actually began when I realized Ethan was no longer the same man I had married. And yet he was... I'm so thankful I was with him at the end.
Looking back at the situation a year later, I realize just how courageous a man Ethan was. He suffered and fought hard during his last weeks. It had to be miserable no longer being in complete control of his body. As the end grew near, I had to do everything for him. It was an exhausting time for us both. I wouldn't have put him in a nursing home for anything. It was certainly one of the most memorable experiences of my life, being with my Special One at the end of his lifetime.
What is even more special, however, is how I still feel him around me. I know he is guiding me and "pulling a few strings" to help out every now and then.
In a reading last February with Robin Campbell, an intuitive from Arizona, Ethan told me to "expand my business." I puzzled over this for months. I also began to question, after moving to Pagosa Springs last May, why I was so driven to move to this particular community instead of a city such as Durango, where it would be easier to land a job. Left without an income, I wondered how I was going to make ends meet. How could I possibly expand my business to make a living? What would I do?
More messages began to pop up from other intuitives. In a reading from Cynthia Slon in Portland, Ore., my guides disclosed that I would be getting into something more far-reaching and profound than anything I've done before, and that it would include being somewhat in the public spotlight. It was hard for me to accept what I was hearing. I just could not imagine myself being a teacher and a speaker and traveling around the world.
Then, at my June book-signing in Paonia, Colo., White Feather approached me and said I was going to meet someone significant in Pagosa Springs, which would lead to a profitable venture. Cynthia also told me the same thing.
A Star Beacon reader named Spirit Walker sent me a letter in early June in which she wrote: "Spirit Healer is my guide. I have a few words for you from him: 'A doorway is opening for you with great opportunity for profitable, creative work — you will be joined in this endeavor by a partner. You're to use the same methods you used to move. You feel it, envision it, and it will be yours. You have unlimited potential.' I asked him when, and who is the partner. His response, which was, as he's a spirit, 'soon,' is relative — but not to give up. As to the partner, he said, 'It does not matter, you'll know this person when you meet them (instant connection).' "
In my late June reading with Robin, she also addressed the idea that someone will be coming into my life as a business partner for some important spiritual purpose. Following that reading, the seed began to form which, I feel, is coming from Ethan and my spirit guides — the prompting to start a light center here in Pagosa Springs. Once the idea formed, I grew very excited.
I am now at work researching Earth Star Light and Learning Center, which most likely will be a nonprofit organization that brings people into the Four Corners from all over, to attend classes, seminars and retreats in our local lodges, using the many talented teachers, healers and facilitators that are already in place in this area. I also want to revive the Love and Light conferences.
You can check out the new Web page for this new light and learning center at http://earthstar.tripod.com/lightcenter.html.
I sense that the person with whom I am to partner will be showing up in my life soon. And I no longer question my purpose for being led to this beautiful mountain community.

Ann Ulrich Miller is publisher of The Star Beacon. In September she lost her husband and soulmate. Read the whole story in her newly released book, Throughout All Time, A Cosmic Love Story. Click HERE for ordering information.
NOTE: I've changed the name to Southwest Light and Learning Center, since it will undoubtedly be a nonprofit and we'll want it to be separate from Earth Star Publications.


Check out WHAT'S NEW

Subscribe to The Star Beacon




---
Copyright © 2009 Earth Star Publications
For permission to reprint articles or use graphics, e-mail lightworker@earthstarpublications.com.