from the October 2005 Star Beacon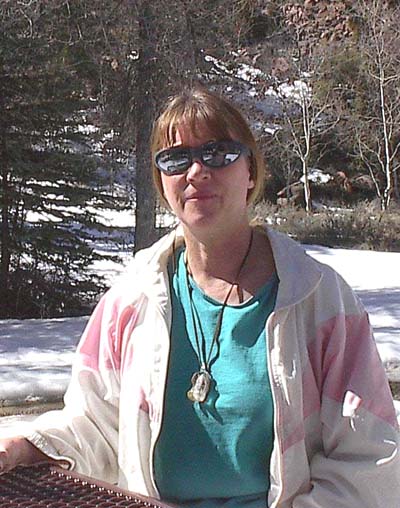 God Said No
by Ann Ulrich Miller
A month ago at this time, I was getting ready to announce my latest venture to you readers. You should have seen how excited I was about it. I had successfully manifested a dream job for myself — publisher of a local newspaper that went up for sale last spring.
It seemed as though everything was going perfectly, falling right into place for me to have this opportunity. I had found the perfect partner, and together we had talked the owners into selling their established and profitable business to us for a fair price. We had secured a bank loan and had the check in hand. Everything was poised and ready.
And then… God said no.
There is no way of describing how baffled I was when my dream shattered into a million pieces. No one can know the disappointment I felt. How could this have happened?
Everything had come together so smoothly. I was on my way to achieving the greatest role of my career. After 27 years of working different job titles in the newspaper profession, I was finally going to be a useful and recognized member of my community. This was the chance to employ my skills as an editor and writer, and to prove to the local world my talent outside of being a mere typesetter, proofreader, ad designer and circulation assistant.
It also meant earning a decent wage for once in my life, and possibly being able to pay off the debt of my failed business venture three years ago, when I tried to publish a weekly shopper in the San Luis Valley of Colorado. This was my opportunity to show that even though the one publication had failed, I could still succeed at a similar venture.
I haven't mentioned my love of publishing. Perhaps that, more than any other reason, was why I wanted to take on the Community Herald.
But… God said no.
What happened was, without a doubt in my mind, divine intervention. My partner was as passionate in the beginning as I was. She had 30 years of experience in the field herself, and had succeeded at starting her own news magazine, which she sold after three years. But she had just taken on a full-time job as marketing coordinator for the regional newspaper we both work for.
Despite the fact she wouldn't be able to put a lot of time into our joint venture, she saw it as a grand opportunity and put up two-thirds of the capital. The plan was for me to run the operation and employ her dad, a retired newspaper man whom she decided needed a job.
All was going well. My partner's dad was enthusiastic and willing to cover meetings and do much of the feature writing, as well as distributing the paper, which came out monthly. But as soon as he turned in his first article to me, trouble erupted. Dad did not like to be edited. If his writing couldn't go in without my changing one single word, he refused to work for me. Period.
At that point, my partner decided she wasn't going to go through the stress of being the go-between. Her new job at the regional paper was stressful enough. She pulled out of our partnership. Just like that… she was out, and I was on my own. And since I didn't have the means to raise the other two-thirds of capital needed, God said no.
We were that close… excruciatingly close… to owning the Herald. I have been through enough experiences in my life to know that when things don't work out, someone is trying to tell me something. I knew there was a reason why my partner bailed on me.
It has taken weeks for me to get over the disappointment and the depression that follows a shattered dream. I still cannot bring myself to look at the file of papers containing ad promotions, stationery, or mock-up sheets of the new flag we had designed. I still feel a pull at my heartstrings when I think of the people who cheered us on and were looking forward to the positive changes we hoped to bring about.
God said no. That's not a bad thing, really. I've had a lot of time to think things over since then. I've been able to take off the rose-colored glasses and view what it might have been like had things not gone sour. For instance, thank God we were stopped before we had paid all those thousands of dollars and gotten stuck with the loan. And thank goodness I had found out that I wouldn't be able to work with my partner's dad beforehand. A good editor does not let writers run the show, I don't care how experienced writers think they are.
I've been examining my own life. God gave me three sons who are all grown up now. They are fantastic people, all three. God also sent me my soulmate 16 years ago, and we observed our fourth wedding anniversary just last month. I live in a beautiful part of the country, on a peaceful mesa that we call the "Second Chance Ranch," and I'm able to enjoy my animals (chickens, turkeys, mules, a dog and two cats). I have a comfortable home that my husband remodeled for us, and we are not lacking in the comforts of everyday life. I have my job at the regional paper downtown which, although the pay is low, provides me with health insurance, retirement and other benefits. The hours are flexible enough that I find time to do my publishing, work on my writing, play my piano, and enjoy the quiet life with the mountains surrounding us.
Had I taken on this venture, as planned, I still wouldn't have given up my other job and its benefits. I would have been stressed to the hilt. There would have been no time for the things in life I love most. Maybe it would have been hell. When I worked my six months as publisher of the shopper, I felt like I had built prison walls around myself. My health suffered and I quit mainly because I was afraid of what it would do to me. I really think God said no because my Higher Self was begging Her to. And with that realization, I say thank you, God. Money isn't everything. Neither is being a pillar of the community. And I don't need to prove to anyone a single thing. Life is too short to waste it on striving to achieve something when all God wants for us is to enjoy life and give of ourselves what we can. Disappointment is bitter, but it's only temporary.
As I look back, I see it dissolving away as I turn back around and face the glorious sunshine of the rest of my life. Now God is saying… YES!

Ann Ulrich Miller is the publisher of The Star Beacon, in print for the last 18 years. She has four published novels and is currently at work on more.

Check out WHAT'S NEW

Subscribe to The Star Beacon


---
Copyright © 2005 Earth Star Publications
For permission to reprint articles or use graphics, e-mail earthstar@tripod.net.