GREETINGS, TERRANS!
CHECK OUT
WHAT'S NEW!

Just Released!
STRANDED ON EARTH
The Story of a Roswell Crash Survivor

Welcome to Earth Star on the Web. Here you will find a wealth of articles on diverse topics including UFOs and extraterrestrials, the paranormal, healing, earth changes, spirituality, the latest sightings, channeling, astrology, book reviews, art, poetry, plus conference news and reports, and a whole lot more.
WHERE WOULD YOU
LIKE TO GO?


The Star Beacon: Earth Star's monthly paranormal newsletter. Subscription info can be found by clicking here.




BOOKS, T-SHIRTS, TAPES -- NEW!
Earth Star's Store features metaphysical, self-help, children's literature and adult fiction, plus original T-shirts and conference lecture tapes. Visit now by clicking here.





PSYCHIC READERS
The NEW Psychic Readers Directory lists Intuitive Counselors from all over. Check out who's doing what, and how to contact them, by clicking here.




THE BEST OF
THE BEACON
Selected articles which have appeared over the years in The Star Beacon
Click here.




CONFERENCES
Earth Star's annual Love and Light Conference. Also check out other conferences by clicking here.





FRIENDSHIP CLUB
Earth Star's Galaxy Wide Friendship Club is the place to find like-minded pen pals. Visit now by clicking here.





ART GALLERY
Earth Star's NEW Art Gallery features paintings by Ryan Ulrich plus an assortment of art (including extraterrestrial). Visit now by clicking here.





ARIZONA PAGE
Visit exotic and beautiful Why, Arizona. You can go there by clicking here.




MULES
Animal lovers will get a "kick" out of our Mule Page, featuring the Stucker Mesa Mules. Click here.


PUBLISHING
Earth Star Publications offers book packaging services for self-publishing authors, as well as a lot more. Please see our List of Services.
ADVERTISE HERE!
Advertise your wares or services here by placing an ad in The Star Beacon. To view CLASSIFIED ADS click here. For more information on advertising, e-mail us at UFOeditor@yahoo.com. For information regarding the Psychic Readers and Healers Directory, please e-mail earthstar@tripod.net.
Quado — Fear of Being Hurt
from the July 2004 Star Beacon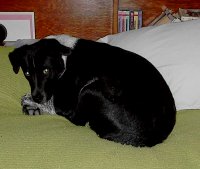 by Carrie Hart
Q: How do I get over a fear of being emotionally hurt in a romantic relationship? I have a fear that if I open up and allow myself to love, I'll be rejected or the person will be unfaithful and leave me for someone else.
Quado, do you have an answer to this question?
Ah, yes, of course, of course.

This adventure, this life, is all about overcoming fear and taking
action, living with zest, living a vibrant and involved life. Yes, yes,
you are surrounded by fear and doubt, for this is the mechanism of your
mind. Your mind, busy as it is, does not understand love, does not
understand how to step out of the trap of the past and move into a
freer future. Your mind knows only what it has experienced. But you are
more than this. You are also your heart and your soul; you are a spirit
who is inhabiting this body. And, if you will but allow yourself, your
spirit can flow down and clear your fears and move you toward the
things which you deeply desire in life.

Fear is a bully who will back down when confronted. If there is
something you fear, you must move toward it, not withdraw from it.
Like any bully, fear will grow stronger and come to dominate your life
if you run away. If, however, you look him in the eye and say, yes, I
am afraid but I will do it anyway, then fear loses strength.

But will you get hurt? Yes, you may. Or you may not. Do not count so
heavily on each encounter. If you will get out among people and take
risks, meet more and more people, go out with them, allow yourself to
care about them, allow yourself to have many different types of
relationships, friendships, love, whatever the relationships hold,
then you will do better.

If you are desperate — desperate not to get hurt, desperate to find
someone who can love you and fill the emptiness inside — then you will
have difficult times. But if you are full of love for yourself, if you
are filling yourself with your own vibrant spirit each day and expect
nothing in particular from others but that they treat you with respect
and offer what they have to offer, if you do not feel that your life
depends upon this one or that one doing or saying anything in
particular, then you will do well.

Fill your own heart with love each morning through a daily practice of
meditation or contemplation or even simply stepping outside for five
minutes and breathing deeply and asking to be filled. It does not need
to be difficult or time consuming. Just begin to connect with what is
there for you, when you are all alone, by yourself, without any
romantic love interest. Learn that you have everything you need.
And then, go out in the world with your object being to give, not to
get. Give love. Give a gift to each person you meet, even if that gift
is just listening or a smile. Give and then allow life to return
the favor. Be open to people that you meet. Be open to new adventures.
Say yes to everything. And when your mind wants to say no, because it
lives in the past, just gently urge it on. Not now, busy mind. I have a
life to live.

Be easy on yourself. Start slowly. And do not allow your mind to
indulge in fantasies, either of loss or of some world which will make
everything OK.

Your life is now, right now. Not in some fantasy of what might be. And
each person is simply another person, with hopes and dreams and hurts
and wounds, just like you. Let them be who they are. Be who you are.
And then sometimes, you will find that you are walking alongside
someone who is walking the same way you are, and you can reach out a
hand and walk together for a time. Your life and your happiness do not
depend upon this other hand in yours. Your life and happiness depend
upon your own ability to connect with your own soul self and experience
the love and joy and peace which is there for you, every moment of
every day. Right now.


About the Author:
Carrie Hart is the author of There is a Garden, the story of her spiritual journey from stressed executive to spiritualist and channeler of Quado. This book, Carrie's CDs of original music, as well as daily messages by Quado are available on www.carriehart.com.
Copyright 2004 by Systematique, Inc.
Check out WHAT'S NEW
Subscribe to The Star Beacon
---
Copyright © 2004 Earth Star Publications
For permission to reprint articles or use graphics, e-mail earthstar@tripod.net.