This is not just another romance novel. This love story is selfless and out of this world. The third in Ms. Ulrich's trilogy stands firmly on its own. It is her most revealing and educational yet.
If you were fortunate enough to read Intimate Abduction and Return To Terra, you'll recognize several unforgettable characters who have adjusted to new locations and grown spiritually in their new lifestyles.
Each character has a dynamic part to play in the development of this eerie yet exhilarating novel. And Good vs. Evil is the greatest theme, as it is in life. If the reader begins thinking they are living in wonderful La-La land, they will soon question this supposition and their part to play in it.
If "the shift" is a phrase already in your vocabulary, you won't want to miss The Light Being!
Scary, tender and a view into how other planets beyond our galaxy live... all add up to another winner for Ms. Ulrich, one of the masters of an exceptional genre of the craft.
---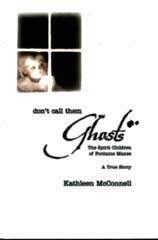 don't call them ghosts: The Spirit Children of Fontaine Manse, A True Story by Kathleen McConnell
ISBN 0-7387-0533-0, 255 pages, paperback
Llewellyn Publications, $12.95
Reviewed by Ann Ulrich Miller
Kathleen McConnell has written an account of her extraordinary experiences three decades ago. In 1971 she, her husband and family moved into the historic Fontaine Manse near Louisville, Ky. The second night in their new home, she and her husband were rudely awakened by the unseen residents — a chilling opening scene in the book.
I have always loved reading about haunted houses and contact with life beyond this physical plane. Kathleen's response to what would terrify most people was to her credit as she began to explore who these spirits were, and to discover that they were three small children obviously trapped in another dimension. In a time where the subject matter was not as openly discussed as it is now, Kathleen carried her secret throughout the years, only sharing her observations with her husband, George, from time to time.
Her youngest son, Duncan, an infant at the time they moved into the Fontaine Manse, was able to see and interact with his "unseen friends" for the five years in which they occupied the home. Others accepted the fact that this small tyke had imaginary pals, but Kathleen knew differently.
She came to know and love the three spirit children as her very own, and gave them names: Angel Girl, Buddy and The Baby. She played ball with them, exchanged Christmas gifts with them, and put up with their innocent pranks of hiding baby bottles and her husband's shoes. One of the spirits even saved her son, Duncan, from drowning.
Parts of the book, I felt, dragged in a few places, but then my anticipation for something "to happen" next kept prompting me to read on. Finally, circumstances led to the inevitable and emotional decision of the family to leave the house. Kathleen was overcome with grief at the spirit children's plight, but her faith and prayers paid off in the unexpected and dramatic resolution that brought tears to my eyes.
An interesting afterword includes those memories from each of Kathleen's children after they have grown up, whom she thought had been oblivious to the goings on at Fontaine Manse. I recommend the book to anyone who has ever wondered if their house is "haunted." It will give you a new perspective on those who share our space but dwell on another plane.