GREETINGS, TERRANS!

CHECK OUT
WHAT'S NEW!

NEW!
READ TODAY'S BLOG


Order your copy of
THE LIGHT BEING

Welcome to Earth Star on the Web. Here you will find a wealth of articles on diverse topics including UFOs and extraterrestrials, the paranormal, healing, earth changes, spirituality, the latest sightings, channeling, astrology, book reviews, art, poetry, plus conference news and reports, and a whole lot more.
WHERE WOULD YOU
LIKE TO GO?


The Star Beacon: Earth Star's monthly paranormal newsletter. Subscription info can be found by clicking here.




BOOKS, T-SHIRTS, TAPES -- NEW!
Earth Star's Store features metaphysical, self-help, children's literature and adult fiction, plus original T-shirts and conference lecture tapes. Visit now by clicking here.





PSYCHIC READERS
The NEW Psychic Readers Directory lists Intuitive Counselors from all over. Check out who's doing what, and how to contact them, by clicking here.




THE BEST OF
THE BEACON
Selected articles which have appeared over the years in The Star Beacon
Click here.




CONFERENCES
Check out conferences by clicking here.





FRIENDSHIP CLUB
Earth Star's Galaxy Wide Friendship Club is the place to find like-minded pen pals. Visit now by clicking here.





ART GALLERY
Earth Star's NEW Art Gallery features paintings by Ryan Ulrich plus an assortment of art (including extraterrestrial). Visit now by clicking here.





ARIZONA PAGE
Visit exotic and beautiful Why, Arizona. You can go there by clicking here.




MULES
Animal lovers will get a "kick" out of our Mule Page, featuring the Stucker Mesa Mules. Click here.


PUBLISHING
Earth Star Publications offers book packaging services for self-publishing authors, as well as a lot more. Please see our List of Services.
ADVERTISE HERE!
Advertise your wares or services here by placing an ad in The Star Beacon. To view CLASSIFIED ADS click here. For more information on advertising, e-mail us at UFOeditor@yahoo.com. For information regarding the Psychic Readers and Healers Directory, please e-mail starbeacon@gmail.com.
Cosmic Book and Music Reviews

Focusing on renewable energy to change our world
from the March 2009 Star Beacon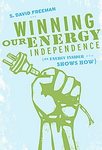 Winning Our Energy Independence: An Energy Insider Shows How,
by S. David Freeman
ISBN 1423601564, Gibbs Smith, PO Box 667, Layton, UT 84041 ($19.95), 2007, paperback, 248 pages.
Review by Marty Ulrich

In my previous review, I revealed that we currently have the technology capable of releasing our dependence on foreign oil and domestic coal. Winning Our Energy Independence covers the step that needs to be taken to make the goal of 100 percent renewable energy a reality. Yes, you read correctly — you are not going blind — I meant one hundred percent domestic, renewable energy for our homes and our vehicles. Of course, this opportunity is not without major challenges and criticism from interests of the status quo.
Our current leaders are acting hesitantly towards renewable energy programs. The book points out that federal mandates will be required to make America green. If left to market forces, oil and coal will continue to dominate well beyond the point of no return.
There is much work to be done, but these changes can take place over a few decades. One example is that we need to set a goal of doubling our fuel economy requirements over the next 24 years (one mile per gallon per year). Other changes include tax credits and federal funding for renewable energy power plants and decentralized power from people's homes and businesses. The plug-in hybrid vehicle needs to be introduced into the marketplace.
So at this point, there is little use in taking personal action, short of spending thousands of dollars on your own renewable energy sources. This is the part where the people need to unite and rebuild our nation. Write to Congress and the Senate, urging them to focus on renewable energy. Protest any federal funding for counter-productive programs such as the "clean coal" movement — there is absolutely no such thing as clean coal. Push local communities to shut down nuclear power plants and outlaw the storage of radioactive waste.
Unemployment is the highest it has been in decades. There are millions of people waiting to work. The recent stimulus package passed by Congress is a big step in the right direction. It will put people to work on the new required infrastructure for an energy independent nation. Be sure to check this book out for a much more detailed description of what exactly must be done to make this dream come true.

---
'Ancient Sun' inspires, transcends consciousness
Ancient Sun, by ThunderBeat
ISBN 978-0-9814651-9-7, ThunderVision Records, PO box 3700, Sedona, AZ 86340, www.ThunderVisionRecords.com

Review by Ann Ulrich Miller


ThunderBeat has a new Middle Eastern CD out called Ancient Sun. You will journey to the Egyptian pyramids, dance your way through the temples with lingering, ancient melodies that are extremely powerful, mysterious... and unforgettable.
ThunderBeat, internationally renowned composer, teacher, author, shamanic practitioner and Reiki master, is a pioneer in sound healing. Her music has earned its place in my collection of higher consciousness music. She uses activational healing music and sacred drums. Not only is this music calming to the nerves and inspirational, but it causes one to transcend reality.
ThunderBeat is of Choctaw and Shawnee heritage. She works with and openly embraces Great Spirit, and has traveled to many sacred sites to bring back the ancient music and the ways of healing. She has won two Native American Music awards and a Beacon of Light award for her wisdom, compassion, creativity, inspiration and service to the world.
You can order the CD through her Web site at www.ThunderBeat.com, and while you are there, take a look at her other wonderful offerings, including Cosmic Dreams (space music), Fly High (trance dance), Chakra Journey (great for massage therapists) and others, my favorite of which still remains — Mayan Landing 2012!
Check out WHAT'S NEW

Subscribe to The Star Beacon


create & buy custom products at Zazzle
---
Copyright © 2009 Earth Star Publications
For permission to reprint articles or use graphics, e-mail lightworker@earthstarpublications.com.